HGTV Stars Tarek And Heather El Moussa Bank A Profit After Flipping California Home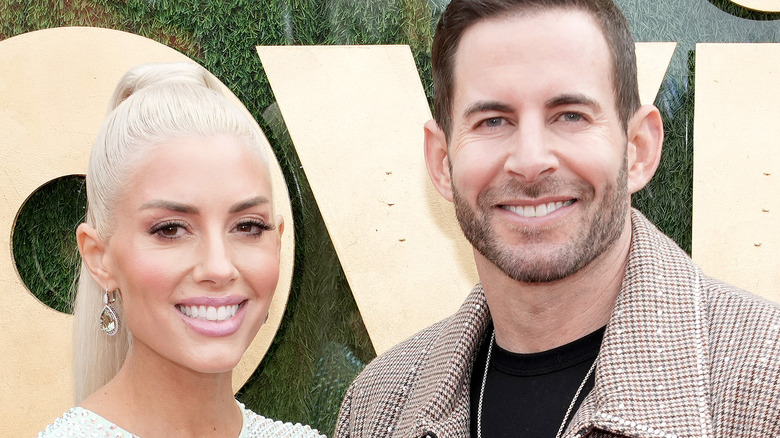 Jeff Kravitz/Getty Images
Co-hosts Heather Rae and Tarek El Moussa of "The Flipping El Moussas" recently sold a home featured on their second episode for $1,635,000, per Realtor. Located in Long Beach, California, this sale was a major win for the El Moussas since the home they renovated on their first episode is still sitting idly by on the market. "It sold super fast at $1,635,000," Tarek said. "So we ended up with a total profit of $103,000."
The home was built in 1972, and they initially purchased it for $1,090,000 in February of last year. Apparently, the residence was a roach-infested nightmare that took the married couple about a year to renovate and put on the market. Heather Rae was even able to talk down the contractors for a better price. Want to know the end result? We'll break down how this power duo turned this home into a beautiful property that buyers couldn't wait to get their hands on.
Mediterranean beauty
In terms of design, Heather Rae and Tarek El Moussa decided to take a decidedly modern Mediterranean approach, which resulted in a beautiful home with five bedrooms and three bathrooms featuring dark, wide-plank flooring, a soothing neutral color scheme, and luxurious finishes. We especially adore the kitchen, which is designed with detailed, light gray cabinetry, a quartz countertop, and contrasting hardware. They also strategically installed subway tile in a vertical pattern to add height to the space.
We also can't fail to mention the beautiful primary bathroom, which was designed with custom, arched mirrors and burnt orange sconces. The patterned tile on the floor acts as a complementary component with its faded shades of blue, and bronze hardware ties the ensemble together. For contrast, they designed the shower with dark gray tile on the flooring and walls. However, to avoid creating a dark space, they utilized a glass panel that allows the natural light to flow throughout the room.