Want Your Home To Feel Like A Resort? Our Design Expert Has You Covered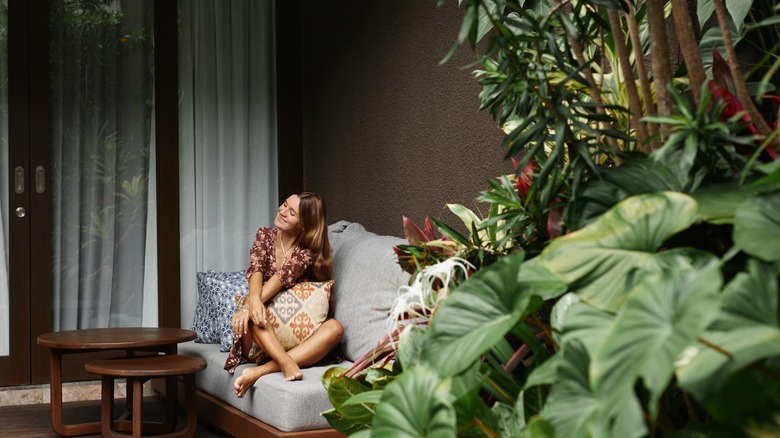 PhotoSunnyDays/Shutterstock
If you're looking for the least stressful way to plan a vacation, 77% of travelers say an all-inclusive resort is the best choice you can make (via Travel Pulse). Unlike a standard hotel, resorts are special because they provide everything that visitors could need or want, and they do it in a fun, refreshing, and rejuvenating way. Once you're settled into your resort room with a fresh drink in hand and dinner on the way, tuning out the stress of life becomes a breeze, but aside from all the perks of all-inclusive travel, there's something about the resort vibe that makes you want to stay forever. What's the secret, and how can you bring that same vacation ambiance back to your home? 
In an exclusive interview with House Digest, we spoke to Kelly Simpson, Senior Director of Design and Innovation at Budget Blinds, who offered in-depth advice for turning your home into a relaxing oasis. "Cultivating a resort-like feel in the home involves creating a sanctuary of serenity and well-being," Simpson explains. She encourages readers, noting, "You can easily create a calming and soothing space with color, lighting, and the right window treatments." Below, she shares her best tips on how you can create a home that feels like your own personal resort.
Visually link the outdoors to your home's indoor space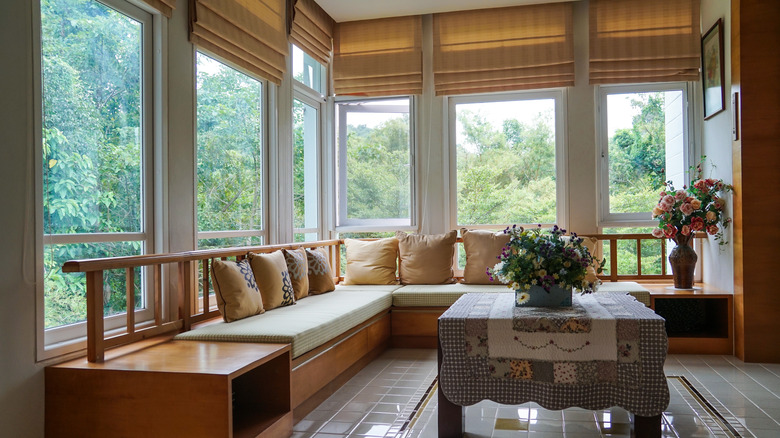 TarnPisessith/Shutterstock
For many people, one of the biggest hurdles in creating a resort-like space is nailing that feeling of luxury on a budget. Kelly Simpson explains that a few simple touches can do a lot to transform your space, the first of which is bringing the outdoors into your home. "When purposely designed, introducing various outdoor elements such as plants and natural lighting can create a connection with nature, which can impart numerous benefits to our health and well-being," she says. "In fact, research suggests that incorporating direct or indirect elements of nature into a home's environment can lead to reduced stress, blood pressure levels, and heart rates, while increasing productivity, creativity, and a sense of calm within the home."
Some examples of direct elements, as Simpson describes them, include open windows, indoor plants, floral arrangements, and biophilic interior designs like living walls. To avoid making your home look and feel like a jungle, it's also important to balance these direct elements with indirect elements including nature-inspired artwork, printed textiles, organic materials, and even natural scents from essential oils and candles.    
Use earthy colors to create a sense of calm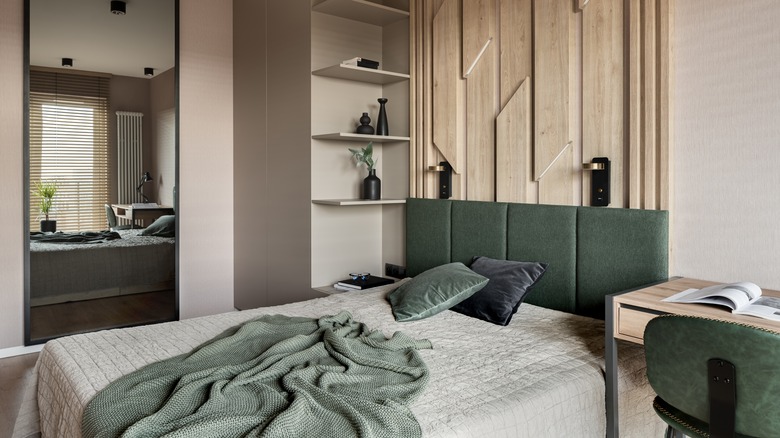 Dariusz Jarzabek/Shutterstock
Another vital way to improve your home's peaceful vibe? Simpson suggests, "One of the simplest ways to make your home feel like a resort is through the use of colors and plants. Natural, earthy colors, such as muted tans, greens, and browns, offer subtle echoes of natural outdoor landscapes." As they say, paint is cheap, and a splash of warm, cozy ivory or soft, green aloe on the walls can take your space from feeling sterile and underwhelming to soothing and refreshing in no time. 
In addition to reassessing your walls, look for unexpected places where you can incorporate subtle natural touches. Instead of rushing to create a cohesive resort-like theme, focus on slowly curating pieces and investing in the details. For example, Simpson recommends, "Installing natural window treatments in rooms is highly beneficial, as they bring the relaxation of the outdoors into your home. Woven wood shades are becoming one of the most popular window treatments because they are made of organic, eco-friendly materials like rattan reeds, jute, and natural woods, and bring a warm and comforting vibe to a space."
Controlled lighting to create the perfect ambiance
medialab67/Shutterstock
Creating a resort-like home is about more than just furniture and décor; you need the right lighting vibe to make your space feel welcoming and relaxing. "Making a visual connection with the outdoors or just simply allowing natural light into your home creates a resort-like sense of well-being. To help optimize natural lighting, consider motorized shades or motorized blinds, which, aside from letting in outdoor light, offer effortless convenience for enhancing your view to the outside." 
But not every room should be flooded with light, Simpson warns. "On the other hand, room darkening window treatments help create a placid and restful environment. Room darkening roller shades, cellular shades, Roman shades, and drapery can block out most sunlight and streetlights, creating a dark environment and promoting healthy sleep." Controlled lighting is key, and if there's one room that deserves your attention first and foremost, it's the bedroom. Simpson explains, "As a room that is already your very own, the bedroom is perfect to transform into a resort-like space. You can easily turn your bedroom into a source of comfort and calm with the right colors, décor, and window treatments — making you feel as if you just stepped foot into your favorite resort."
Designer-inspired accent touches like pillows and rugs
ET Tisomboon/Shutterstock
True signs of luxury are hidden in the details. "Creating a resort-like feel through biophilic design can include complementing your connection to the outdoors by using pillows and area rugs," advises Simpson. "Think about using soft greens that tie into plants and foliage, or earth tones that pair well with outdoor landscapes. Incorporate natural materials — soft, pleasing organic patterns, colors, and textures — that induce feelings of our natural world and the calm, tranquility that biophilic design has come to represent."
Additional ways to implement Simpson's advice and make your home feel instantly more resort-like include investing in high-quality cotton sheets, decorating with chic throw pillows, and keeping surfaces like tables and nightstands clean and clutter-free. Unique textures like silk, velvet, linen, and earthy metallics will bring a luxurious touch to bedrooms and living rooms. Don't forget to add a few indoor plants in each room for a restorative vibe, draw the blinds back to brighten your home every morning, and enjoy some well-deserved breakfast in bed.