What You Need To Know About Pods And Containers For Moving Long Distances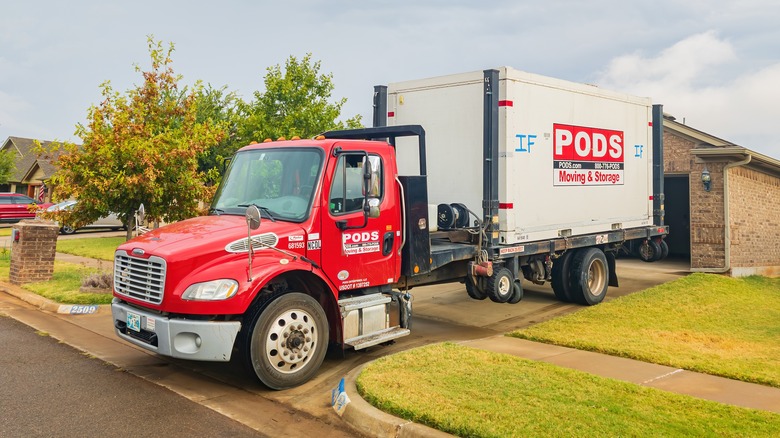 Kit Leong/Shutterstock
Completing a move is always a stressful endeavor. Whether you are moving a town over or across the country, there are numerous moving parts and factors to consider that make the entire process a dreadful experience for many. In a North American Van Lines survey (via New York Post), 45% of 1,000 American respondents reported that moving was one of the most stressful events they've ever gone through, beating divorce/breakups by 1%. The study also found that 43% said they would never complete a self-move on their own again and that moving often costs more than $1,500 after all is said and done.
With how burdensome relocating can be, knowing the ins and outs of all your options is extremely helpful. Pods and containers are often overlooked on the notion that they will be more expensive and complicated than hiring movers, but this is not necessarily true. In fact, there are many benefits to utilizing pods and containers — especially when moving long distances. If you are looking for a flexible storage method that helps keep costs down compared to hiring a traditional moving company, opting for moving containers might be your best option.
What are moving pods and containers?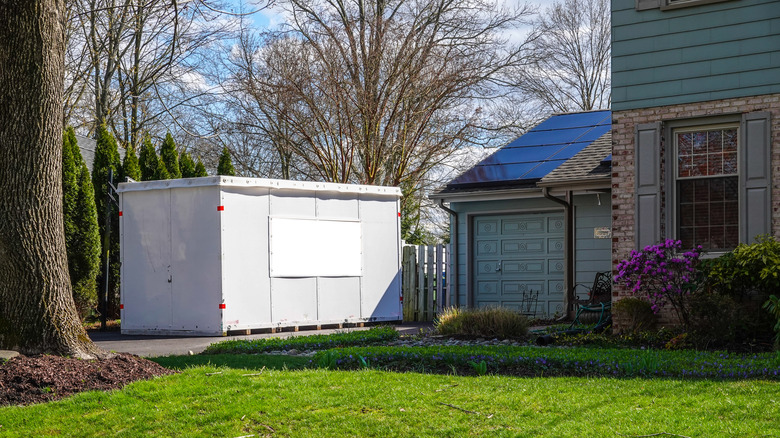 Alan Budman/Shutterstock
Moving pods and containers are storage receptacles that are rented out on a monthly basis to store and transport your belongings. These can be rented out for months at a time if you are in the middle of a living situation and need a place to store your things for an extended period. Your monthly rate begins when it is delivered to your door to when the company picks it back up after it arrives and is unpacked at the new location. You typically won't pay any travel fees, like gas and mileage, as the company covers those, but you will need to pay extra costs if you want assistance loading and unloading the pod. For instance, U-Haul offers a feature where you can hire and schedule local movers in your area if you choose not to hire a moving company.
Most moving container companies operate nationwide and sometimes internationally, offering ample flexibility. Insurance and temperature-controlled pods are also an option at many establishments so that long-term travel and storage are as safe as possible. A simple breakdown of how this process works is it gets delivered to your door, you load it, the company moves it, you unload it, and the company picks it back up.
Moving pods vs. other methods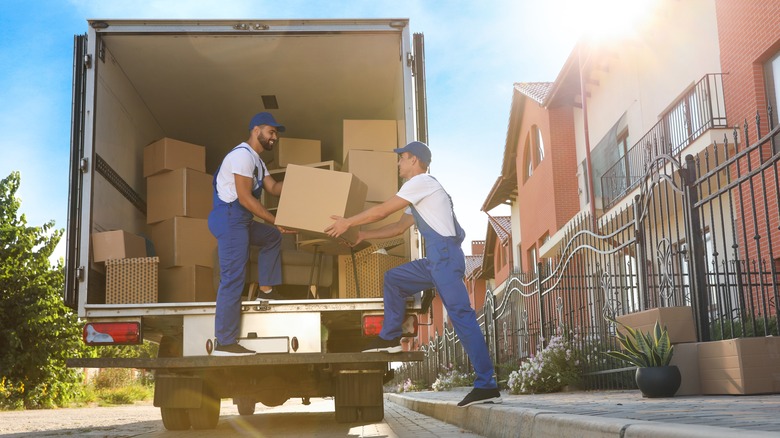 New Africa/Shutterstock
When comparing and contrasting pods versus hiring a moving company, several factors should be considered. On average, moving containers will always be cheaper than hiring a company for long-distance moves. You can expect a 1,500-mile move with a pod to cost around $3,000 while hiring movers would likely set you back a couple extra thousand. This drastic price difference is because you're adding labor and hourly rates onto your bill. Moving with pods will be much more of a DIY experience, cutting out the cost of any workers packing or lifting your belongings.
Pods also adhere to your timeline better by giving you storage access for as long as needed. No company tells you when to unload your belongings; it's entirely at your discretion as long as you pay your monthly bill. However, plan to reserve a spot for the container ahead of time and check parking regulations at your new home. If considering whether or not it would be easier to rent a U-Haul truck, keep in mind that they charge for mileage and expect a full tank of gas upon return. For a shorter distance move, a pod will typically cost less than $500. That being said, professional movers will provide a much more hands-off experience and are more convenient if you lack the time for all the work that goes into planning a move.