What Parents Should Look For In A Backyard When Buying A Home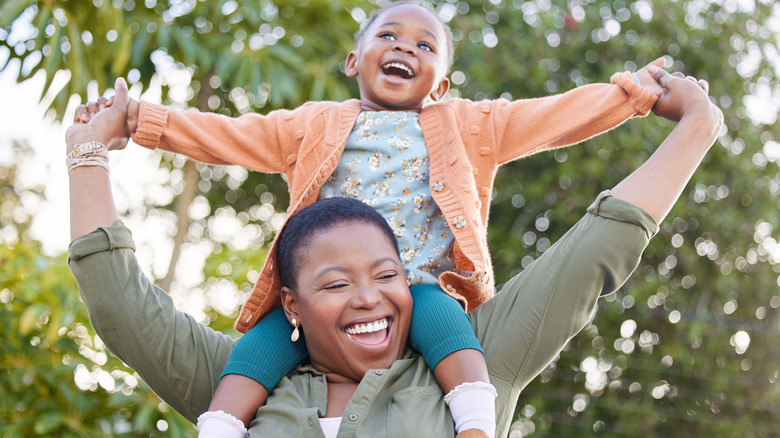 Peopleimages/Getty Images
Choosing a home that is right for both you and your family gives one a lot to consider. House hunting is a multifaceted process, and adding children to the mix can make an already compounded situation feel much more complex. Given that the Census Bureau finds the median age for mothers in the United States is 30 years old and that the average age of first-time homeowners is 33 (via Mortgage Professional America), it's safe to say many first-time buyers are also parents.
As you walk through a house that you're considering putting an offer on, surely you will think about what needs baby proofing, if it has an open floor plan that leaves enough room for rambunctious toddlers, and whether or not the bedrooms are large enough to age up with the kids. Many of the details you ponder for the indoors should also be applied to the outdoors. Your backyard is an extension of the home and a place your children will likely spend many hours, so here are some of the top things to look for in your soon-to-be home's backyard.
An accessible backyard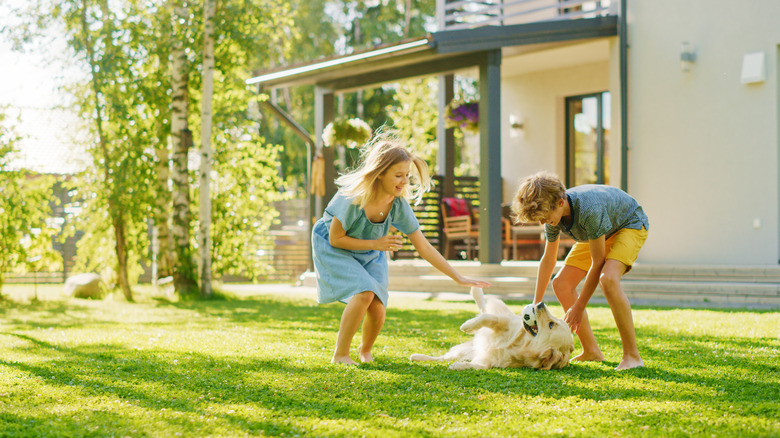 Gorodenkoff/Shutterstock
There are many different ways that a backyard can be accessible, and all of them are vital to safety. Firstly, you'll want a clear line of sight into the backyard from the most used areas of the home. Typically being able to see what's happening outside from your kitchen, bedroom, and bathroom will be sufficient. We give our children many fun activities, such as pools, trampolines, and playsets. A good view of the backyard will ensure an immediate response to any accidents. Having a door that leads to the yard and is easy to open, like sliding glass doors, minimizes the risk of slammed fingers, and railings on any outside stairs lessen the risk of falls.
You'll also want to consider the pathway your yard will feature. Wide, paved, and unobstructed walking paths will prevent injuries, especially for those little people just getting the hang of walking. Non-slip decks are another thing to think about installing or looking for. Health Partners reports that falls are the leading cause of injury in children, with the Centers for Disease Control finding that nearly 8,000 kids are taken to the emergency room with fall-related wounds every day. Some of the top causes for these dangerous tumbles include cluttered paths, raised landings, and stairs.
Safe landscaping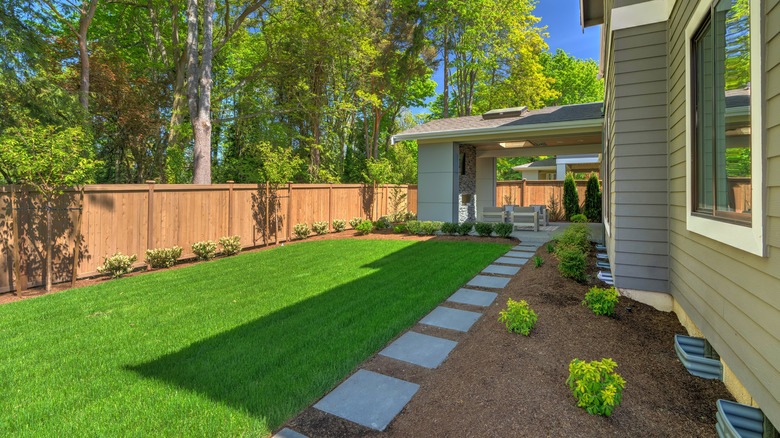 Artazum/Shutterstock
With the wrong landscaping, backyards can quickly become very hazardous. You'll want to survey the yard and make a note of any uneven ground, holes, or debris. The Cleveland Clinic finds that most sprained and broken ankles are a result of uneven surfaces. Broken fences are another thing you shouldn't disregard. Fragmented fencing can lead to nails and screws being littered in the yard. They also pose an injury risk if there are loose wires or boards, and they'll no longer offer the protective barrier they are meant to. Keeping your kids in and unwanted guests out will be much harder with a fence that needs repairs.
All trees in or near your yard should also be assessed. The Occupational Safety and Health Administration (OSHA) estimates that more than 100 people are killed yearly by falling trees, limbs, and other landscaping incidents (via Reiff Law Firm); that does not include the number of injured people and properties. Look closely at how healthy the trees near your home are, and follow the standard rule that they should be 15 to 20 feet away from the house. Keeping these guidelines in mind as your family searches for the perfect home with a perfect backyard will provide invaluable safety for the future.