Couch Patches Can Give Your Plain Sofa A Maximalist Touch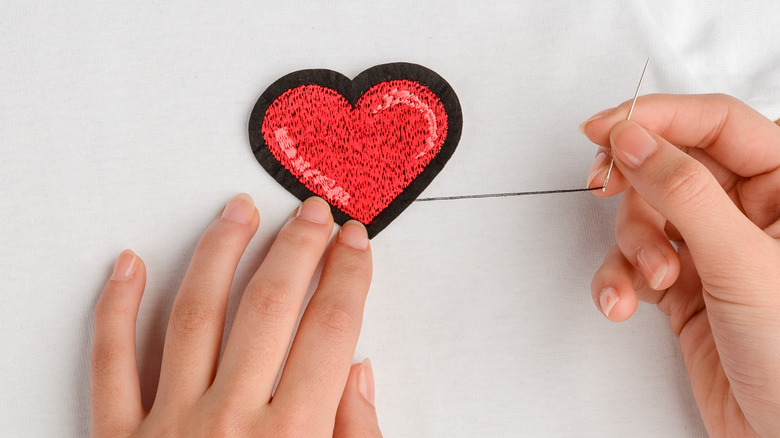 Yuriy Golub/Shutterstock
Secondhand shopping is already big, and most experts predict the market will keep growing, especially when it comes to furniture and home goods. Todd Dunlap, CEO of the online secondhand marketplace, OfferUp, told CNN, "While recommerce has become popular in culture with its use for clothing resale, our research found that 76% of items bought and sold pre-owned are not apparel and instead fall into the categories of electronics, furniture, home goods, home improvement, sporting goods, outdoor equipment and auto parts." Buying second-hand furniture is a great way to save money, reduce waste, and collect unique pieces, but many of these items are discounted because they are damaged. 
If you have furniture that is damaged — either by its previous owner, your furry companions, or yourself — a simple embroidered patch can make a huge difference. Embroidery patches are affordable yet creative mini-artworks that can express a lot about your personality. Fans of maximalist décor are sure to love this useful handicraft hack, and what's more, the sofa patches can be used for more than just rips and fabric damage. Here's everything you need to know about the couch patch trend and how you can beautify your sofas yourself.
A creative couch cure
Rips and tears can be difficult to fix on sofas because the material tends to fray. Cats are especially disastrous for couch corners, where they love to stretch their claws and pluck out tiny threads. More often than not, you'll need to add more fabric to create stability and hold the damaged material together — and that's if you can even find a fabric that matches your sofa perfectly. For a gorgeous sofa repair solution, throw out the matchy-matchy idea altogether and consider using large embroidered patchwork to fix rough spots and tears, cover up unsightly stains, or just add a bit of fun! 
Mixing and matching patches creates a totally unique look for a maximalist home, and little changes can make even the most boring furniture work for you and your design goals. Interior designer, Frieda Gormley from House of Hackney explains, "The key to maximalism is that there really are no rules — it celebrates a freedom of self-expression and the joy of an interior filled with color, pattern, and life" (via Living Etc.). Sometimes life brings us imperfections, but maximalism is all about learning to roll with the punches and craft an interior that feels comfortable, lived-in, and expressive. Patches don't just tell a story about your sofa, they also reveal facets of your personality and express care for your belongings.
Fun and easy ways to engage
If you're ready to take your sofa to the next level, you should be able to find small and mid-sized embroidered patches at local craft or fabric stores. For covering up large rips or stains, your best bet is to get handmade supersized patches from Etsy or use several smaller patches. If you've got an artistic streak, you can even get creative and make your own patches, printed fabric squares, or crochet doilies. Choose patch colors that complement your sofa by either blending in with the predominant fabric or standing out with contrasting tones. 
Using a curved upholstery needle, carefully sew the patch onto the sofa, securing all the edges so they won't peel up or pull threads. If you're inexperienced with sewing needles, you can opt for a high-quality fabric glue to attach the patchwork, although it may not last as long. It's a good idea to add a few more decorative patches to non-damaged areas or your couch cushions, to make the whole design look intentional. When it comes to your patches holding up to future pet visits, it may help to spray the spots with an odorless cat deterrent and provide plenty of alternative scratching posts and toys. Luckily, if your patch does get damaged again, you can easily remove and replace it when necessary!