Urinal In Luxury Bathroom Divides Rock The Block Stars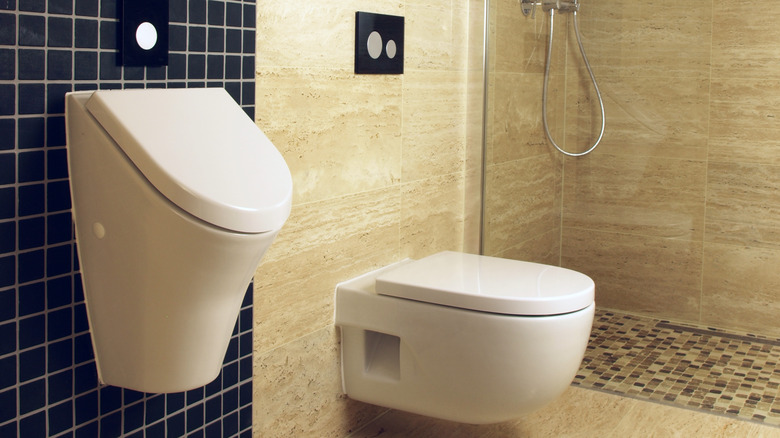 Katarzynabialasiewicz/Getty Images
With numerous creative designs to examine, HGTV's "Rock the Block" can sometimes create intriguing debates between the contestants and the judges. In episode 3 of season 4, a few of the innovative bathroom reveals included a fireplace, heated floors, and a urinal. Along with his "Luxe for Less" co-star Anthony Elle, the idea was suggested by Atlanta-based designer Michel Smith Boyd. "You don't see a lot of urinals in homes these days, so it is a risk," explains Smith Boyd, per Realtor.com. A practical item commonly found in men's public restrooms, Smith Boyd continues to clarify the notion, "But our vision is mountain modern for a bachelor, and he would appreciate this feature." The urinal left both female judges, Lyndsay Lamb and Leslie Davis, a bit conflicted with the concept, including Elle, who advised against it.
While Smith Boyd's urinal idea is a unique, complementing design, it remains an interesting topic of discussion — can a urinal be a luxury item? The question may pose disagreement for many, especially for Lamb and Davis. Depending on the number of men in one's household (Davis has four), a urinal could be the perfect, accommodating feature. However, Lamb thinks it would feel too strange. "I don't know if I would want to sit next to a urinal if I was going to the bathroom," she explains. Although a urinal installed within a home may be taboo for some, it could also offer the right amount of convenience and style for others.
Why urinals seem out of place at home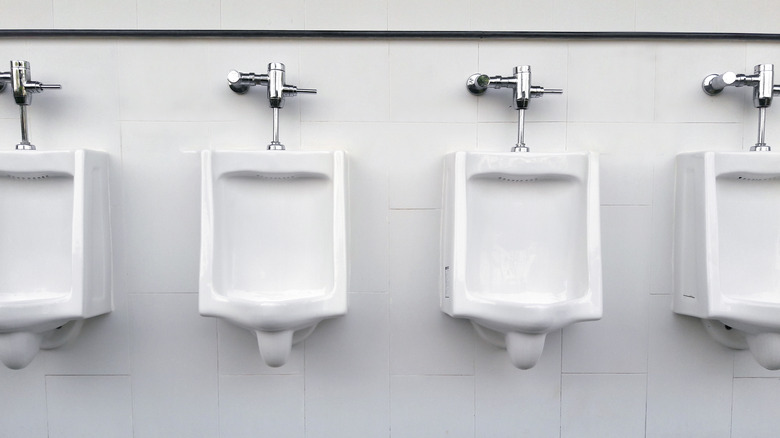 Panya_sealim/Getty Images
Ever thought of installing a urinal at home? While a convenient facility to alleviate yourself when you're out of the house, urinals are typically absent from residential bathroom designs. Besides taking up extra space, there may be a few other significant reasons why they are forgotten. Compared to a toilet, both are used for the same purpose; however, urinals cannot fully flush. While many systems have a rinse feature, the level of cleansing may be much lower than within a toilet. Additionally, they are more of a challenge to clean with the constant presence of dried fluid throughout. Unlike the toilet, the surface of a urinal is consistently open-air, so the scent of urine can easily irritate passersby. Urinals also lack a lid, which would help contain germs and unappealing odors until the next big clean.
Despite its physical burdens, the cost of a urinal may also be unessential. According to Beehive Plumbing, typical ones can start around $600 and reach approximately $2,000 for something of higher quality. Although, you might save a little more on water (a gallon a day) by incorporating one. On the other hand, a urinal could be the ultimate bonus for the man of the house.