The Viral 'Marble Door' That TikTok Can't Get Enough Of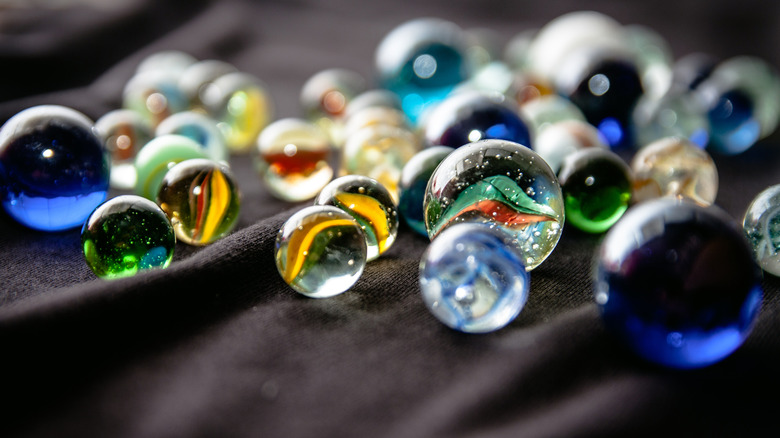 Nino Pecek/Shutterstock
Marble accents have taken over interiors in the past few years. From subtle inclusions like convenient white coasters to full, luxurious slabs for countertops, this white, subtly-patterned material was hard to avoid. Now, however, there's a new trend on the horizon, thanks to creative Jodi White on TikTok. Instead of the minimalistic, sleek look of rock-solid slabs, White interpreted the trend a bit differently, opting for the nostalgic childhood toy over as a building material for a DIY door.
Although toy marbles carry the same name as a stone that's been used in our homes for thousands of years, the toys are small, polished, spherical balls used for various games. Modern toy marbles are mostly made of glass and come in a variety of colors and patterns, making them the perfect choice if you're looking to bring a creative element into your home that still lets a bit of light in.
How to build a marble door
With trends like maximalism and cluttercore taking over our interiors, it's no surprise that we're all looking to bring a bit more personality and fun into our homes. Luckily, Jodi White has laid out exactly how to create her now-viral marble-filled door in a series of TikToks, and it turns out it's deceptively simple. 
In a TikTok that's now amassed almost 750,000 views, she shows the process and final product of her DIY. She began by sourcing an old door secondhand that already had space for a long-forgotten pane of glass and noted that it was best to find something made of heavy, sturdy wood to support the weight of the marbles. She then ordered two metal grates and had them cut to size slightly smaller than the original window frame. From there, she got to work finding the perfect size of marble that fit in each hole, eventually settling on 9/16 of an inch. After sandwiching the two frames together with the marbles inside, she installed the piece in the frame and hung the door, creating a colorful, interactive, and unique accent in her home.
What to keep in mind before this DIY
If you plan on tackling this marble door project yourself, there are a few things to keep in mind before jumping in head-first. Firstly, this project will be different for everyone. Jodi White based her measurements on a specific door, and because you'll likely be sourcing your own vintage frame, you can expect some changes in measurements. In the TikTok, White also says she custom-ordered a grate that was already cut to the desired size, so the size of the marbles you need could vary based on the specifics of the metal pieces you choose.
Another important factor to consider is that this project is best for indoor use. A marble-filled front door would be quite the entrance into the home, but it's not airtight because the marbles have a bit of wiggle room to allow them to roll around the frame. Building this DIY for a bedroom or bathroom instead of an entrance will help you reduce energy costs while enjoying a fun new statement piece.