The TikTok Viral Wide-Width Desk Chair Is The Perfect Addition To Your Home Office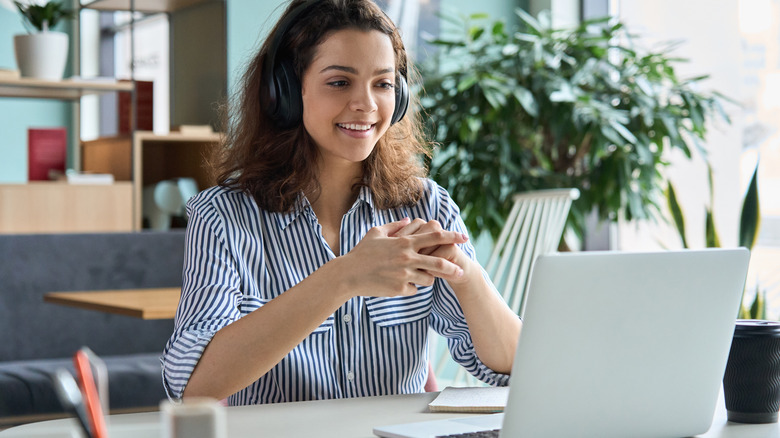 Ground Picture/Shutterstock
We may receive a commission on purchases made from links.
Finding the perfect desk chair is no easy task. It has to be a comfortable, adjustable, and stylish asset that ties together the design of your home office. With thousands to choose from, it can be a pain to determine which option will best satisfy your needs — but taking the time to do so is important as you'll be spending a lot of time sitting in it. If you've found yourself in this predicament, TikTok can help you narrow down the options with another viral furniture product. 
TikTok user @thelindseysfit posted a video showcasing the benefits of a new chair she purchased from Amazon. Its popularity stems from the ample width of the seat, which she says makes working from home a much more comfortable experience. So far, the video has garnered over 27,000 views and 800 likes, and other users have posted similar videos praising the chair's wide design. Here are the different purchasing options and details to help you decide if it's the right addition for your office.
A cozy home office chair
The product @thelindseysfit purchased is called the Pukami armless office desk chair. It's currently priced at about $135 for the light grey option and $129 for those who prefer beige. It features a ribbed design, and the seat's dimensions are approximately 25 inches wide, while the backrest is 22 inches wide and about 15 inches tall. Lindsey mentions that there are different versions available online that are sold at various price points, so it's smart to take a look at the reviews and dimensions before purchasing. However, she says the one she bought has been able to support her properly.
"I have really, really bad back problems and I have been sitting in my chair for full eight-hour days throughout the week," she said. "And I'm gonna be completely honest and tell you that it's 100 percent comfortable." She also notes the seat is wide enough to allow users to cross their legs, providing alternative ways for people to get comfortable while they work. This product is also sold at Wayfair for about $148 and features the same dimensions.