HGTV's From Fixer To Fabulous Takes One Property From Bank To Shop (With Living Space Up Top)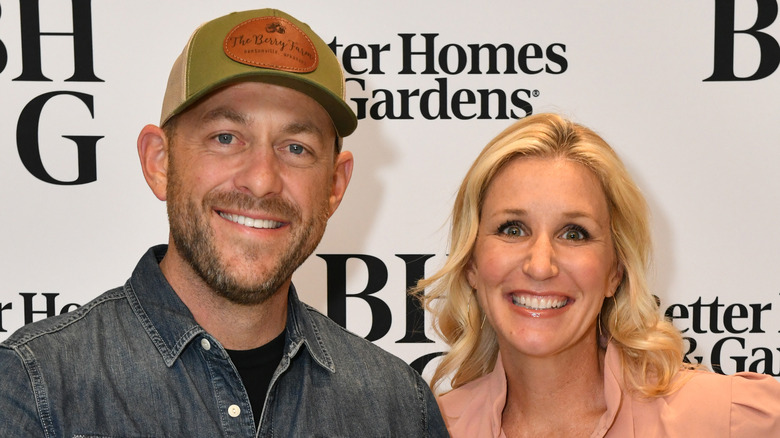 Craig Barritt/Getty Images
We may receive a commission on purchases made from links.
We all remember when Chip and Joanna Gaines of "Fixer Upper" transformed their hometown of Waco, Texas into a beautiful travel destination by renovating various abandoned and severely distressed sites. One of their first projects was to remodel a historic building and turn it into an adorable cupcake shop. Now, it seems that the stars of "Fixer to Fabulous," Dave and Jenny Marrs have taken a page out of the their book and begun giving their town of Bentonville, Arkansas a brand new look, per Realtor.com.
In the show's most recent episode, the married duo decided to spend about $330,000 overall to purchase and repurpose a bank built in 1905. The upstairs was remodeled to accommodate an updated apartment and office space while the downstairs was transformed into a stylish store that sells treats and goods made by the locals. We'll reveal the steps they took to make this project a success and the final outcomes of the design.
Bank to store transformation
As Dave and Jenny Marrs worked together to renovate the almost 120-year-old building and turn it into a store, they decided it was important to include a unique feature that would honor the history of the bank. So, they had someone create a bank vault-themed door for the bathroom with the words "Bank of Centerton" across the top. They had it painted black with gold accents, which really makes it stand out against the surrounding white walls. 
For the exterior of the building, they wanted to add a pop of color in an artistic and fun way, so they called over one of their HGTV friends to get the job done. "Keith Bynum [of HGTV's 'Bargain Block'] is an artist, and he is here to help us make a beautiful mural on the wall of the new store that we're building," Jenny said (via Realtor.com). "Everybody that comes will see this beautiful mural, and they'll be able to take pictures in front of it, and it will make them smile." The end result of the project was a bright, chic farmhouse designed store that they chose to name Marrs Mercantile.
Upstairs apartment and office space
In regards to the upstairs, Dave and Jenny Marrs were dealing with a two bedroom, one bath, 860-square-foot apartment, per Realtor.com. However, not only did the interior need a good touch up, so did the exterior. The building was covered with vinyl from head to toe, and the design team was especially surprised to see it plastered over the ceiling of the deck. Dave decided to replace the aged material with cedar planks, which corresponds nicely with the brick wall.
Inside the apartment in the living room, there was yet another unexpected design feature. What looked like a fireplace was actually made of "faux brick with a faux schmear,'" noted Dave. They made a plan to remove the entire thing since the living room would be turned into a primary bedroom, which they agreed had no need for a faux fireplace. They designed the space to feel bright and airy, and introduced sage green wall paneling complemented by delicate floral wallpaper (via Amazon Prime). Additionally, they turned the other bedroom into a multifunctional space that serves as an office and laundry room with the washer and dryer hidden by a custom made door.