11 Ways To Incorporate Rattan Into A Backyard For A Flawless 70s Boho Look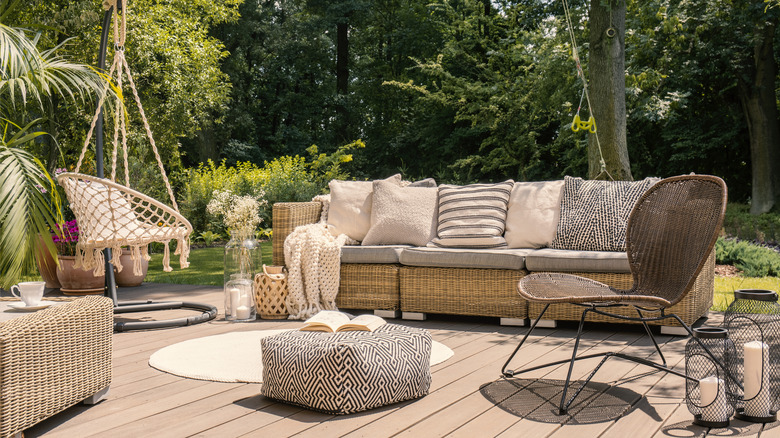 Katarzynabialasiewicz/Getty Images
In recent years, the groovy look of the 70s has come back into style. Beyond the brightly colored patterns, 70s interiors were also marked by the use of natural materials, namely rattan. Rattan is a vine-like palm that's used as a material in a variety of furniture and décor pieces. Modern boho style has influences from both nature and classic 70s design, which makes rattan a cornerstone material to achieve this design. But before jumping into purchasing pieces for your backyard, there are a few things to know.
Synthetic rattan is low-maintenance, which makes it a great choice for the outdoors as it won't be damaged by weather or the elements. However, if you purchase natural rattan, you should be cautious about letting it get wet — it's prone to mildew growth. Whether you go natural or synthetic, you're not limited to furniture or buying newly made pieces. There are tons of ways to incorporate this material — and plenty of recycled pieces, especially from the 70s, so you can give your backyard a little vintage accent. Here's some inspiration for nailing the boho-rattan look in your yard.
Seating, of course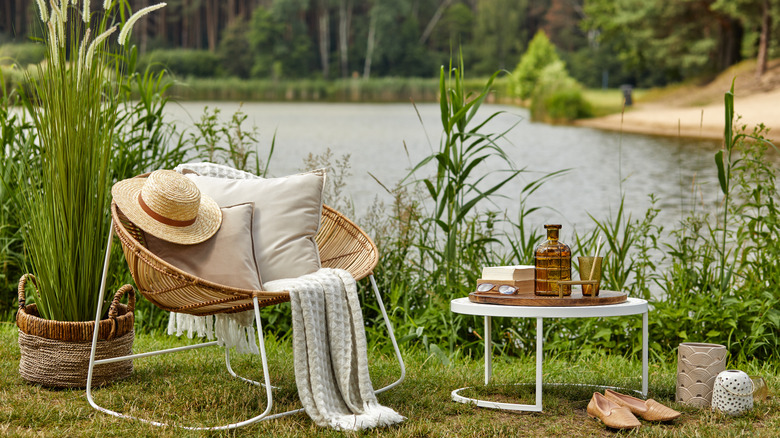 Followtheflow/Shutterstock
One of the easiest ways to incorporate rattan into your backyard is with furniture. Choose rattan for an outdoor sofa and side chairs to create a relaxing seating area. Rattan side tables and coffee tables are also great ways to bring the material to a backyard patio or deck. If the furniture has a rattan frame, outdoor cushions can make the seating much more comfortable.
Hanging pendant lights
Outdoor lighting brings some of the comforts of the indoors to your yard. If you have a covered deck or patio, use hanging pendant lights to help illuminate the space. Adding a rattan shade can soften the light, creating a cozy glow for when you're hanging outside at night. But if you don't have a ceiling to hang a light fixture, look for string lights you can hang over the space. You can also use rattan lanterns on the ground or on tabletops.
A shelf for your garden
Add some greenery or a burst of color to your backyard with a vertical garden housed on a rattan shelf. Look for a large shelf or plant stand to hold houseplants, flowers, and potted herbs. Rattan furniture, because of the way it's woven and molded, naturally has spaces, which makes it ideal for draining when watering your plants. If you're low on floor space, look for shelves that can be installed on the side of the house or on a support post to save space.
House your floor plants
If you have larger plants that can't sit on a shelf, you can still use rattan with them. Look for wide and tall rattan plant baskets, no stand required. You can place the plant pot directly in the basket. This is a great method if your plants are still in the plastic nursery pots or you just want to give your backyard a cohesive look. You can use this same method with hanging plants or choose a rattan vase to display pampas grass or greenery.
A sideboard for serving
If you're one for outdoor dining, you probably have plenty of serving and dinnerware. Use a sideboard as storage, so you can keep outdoor cups, plates, and flatware within reach. A sideboard is not only great for storage but also provides another surface where you can place food when serving guests outside buffet-style. These furniture pieces are best under covered patios or decks, so they don't get water-logged from the weather.
Baskets and trays for storage
You don't always have to go big when incorporating rattan into your outdoor décor. Use rattan baskets to hold blankets and extra pillows when they're not in use. Baskets with lids can hold outdoor toys, dog toys and accessories, or gardening supplies to help keep your backyard tidy. Rattan trays can help corral smaller items on an outdoor coffee table or sideboard, such as candles or small plants. If you have outdoor entertainment systems that have remotes, a basket or tray can keep them in one place.
Dining outdoors
If you're one to dine al fresco, then consider using rattan in your setup. Whether it's a little dinette set for your balcony or a formal table fit for eight people, rattan is a great option because it adds plenty of texture and visual interest to the space. This could also be a great opportunity to look for vintage pieces to bring the 70s vibe to your home. Antiques often have unique shapes and details that will make your outdoor dining area a focal point.
Tabletop décor
Consider adding rattan through small tabletop décor. Trinkets will add a decorative element to the space. You can also look for more functional items like coasters and placemats if you're one to enjoy food or drinks outside. Rattan wraps on cups and pitchers also add a subtle boho element to your outdoor space. Tiered serving trays are great for setting out food or storing napkins and flatware during a barbecue.
Bring in the bar cart
A rattan bar cart is a stylish and functional way to incorporate the material for a boho look. Store any glasses, bottles, and bar accessories in one place and in a small space. Look for a cart with wheels if you want to move from inside to out or around the backyard. Glass-top options will make cleaning up spills easier.
Mix materials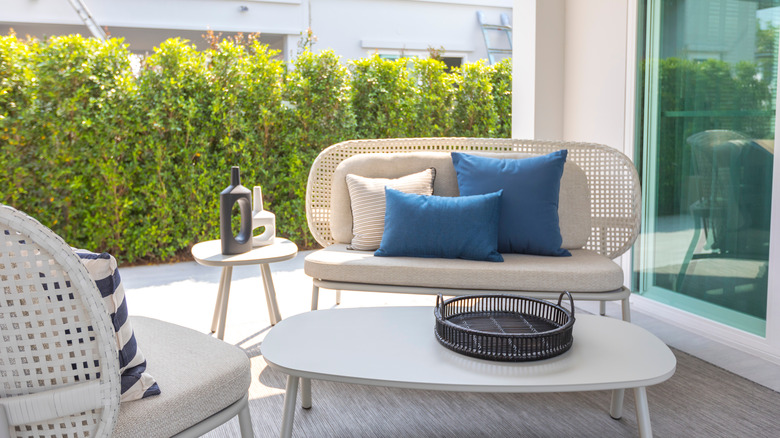 ben bryant/Shutterstock
Rattan is super versatile and mixes well with all kinds of materials. You can find plenty of pieces with glass and metal accents. These are often more functional, especially as tabletops, because it creates a flat, even surface to place things. It also brings in some visual interest and can break up the woven look.
And add some color
Rattan usually comes in natural shades like tan, beige, and brown. But using a few painted pieces can bring in a pop of color without giving up any of the boho vibes. You can choose all painted rattan or opt for one or two pieces to create an accent. This is also a project you can take on yourself to give new life to a piece of furniture. An oil-based paint will work well for outdoor pieces and stand up to any weather.