5 Ways To Dig Into National Gardening Month In April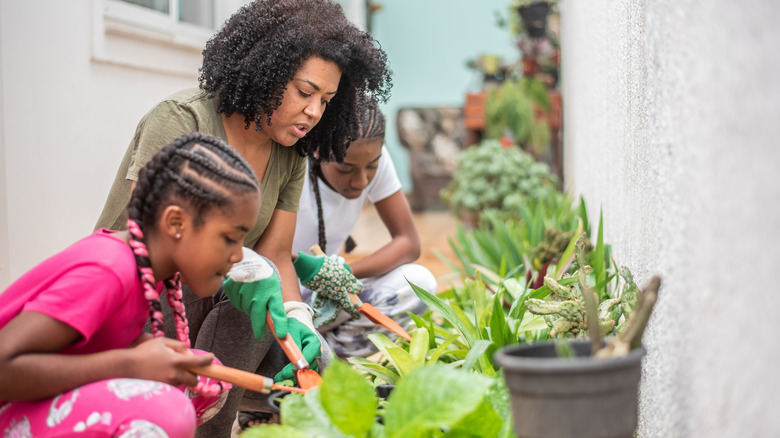 Drs Producoes/Getty Images
Here at House Digest, we love everything about gardening, so we're very excited to celebrate National Gardening Month. Anyone who has dug their hands into the soil to plant something, regardless of the eventual outcome, knows that gardening is good for your mental health. There is stress relief, a connection to nature, and a sense of satisfaction to be found in the act of tending a garden. This effect is so universal that, in 1986, President Reagan declared that one week every year would be used to highlight the undeniable benefits of the practice. As his Proclamation 5462 aptly puts it, "Gardening is a wholesome avocation that encourages appreciation for nature and concern for the preservation and enhancement of our environment. Gardening, above all, provides a special source of fulfillment when foresight, patience, and collaboration with soil and sunlight finally are repaid by lovely flowers and luscious harvests."
From 1986 until 2002, American plant enthusiasts had to somehow find contentment with merely seven days of celebrating their favorite hobby. But for the last 20 years, we lucky gardeners have gotten to enjoy the entire month of April dedicated to every aspect of horticulture. There's a lot you can do over the course of four weeks, and we've got some inspired ideas to get your celebratory garden plans rolling.
Get your own garden started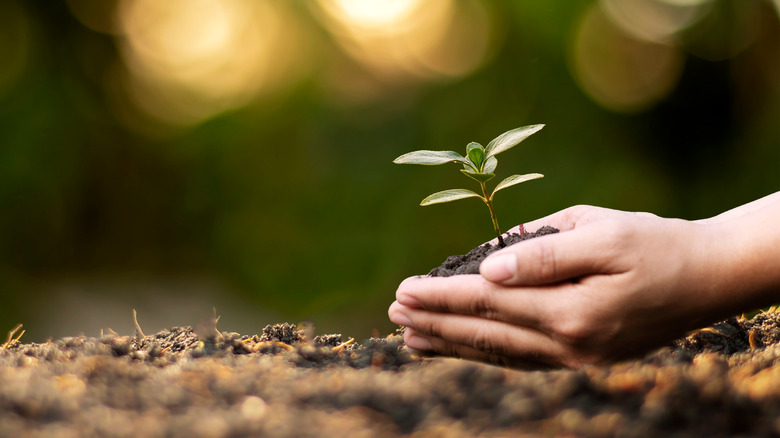 MEE KO DONG/Shutterstock
March goes out like a lamb, meaning the last of the snow is finally melting, the ground is thawing, and the air temperatures are warming up to the point that we can be comfortable working outdoors again. The longer days of April mean more sunshine to help your seedlings grow and more time in the yard planning and starting your garden. These early stages of garden development involve a hands-on chore list that includes weeding and clearing out any debris that accumulated during winter, and cultivating your beds by adding compost to the soil and installing edging to differentiate the garden from the lawn. If your area has made it past its final frost, you can now get trees, shrubs, perennials, and hardy annuals into the ground.
Rainy April days are perfect for sipping tea at the table while you draw up a rough plan for structural supports and that greenhouse you've always wanted to build. You could also use the time to put together a watering and fertilizing schedule to keep you on track throughout the summer. If you haven't yet considered the best layout for your plants, now's the time to do it so that you have a plan in place when you start planting.
Head to the nursery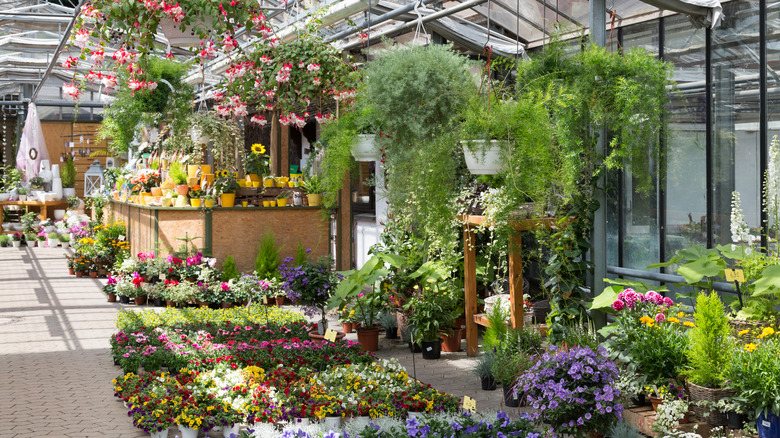 Kruwt/Getty Images
For most of us, gardening wouldn't be possible without the supplies, knowledge, and all-around guidance offered by our local nurseries. National Gardening Month is the perfect time to head to your town's garden center and get to know the staff. Ask questions as you shop so you know you're picking appropriate plants for whatever type of landscape design or garden you want to experiment with this year. Knowledgeable staff will set you on a path to success before you even get your first seedlings into the ground. Start gathering supplies now to beat the rush that will be sure to hit garden centers at the beginning of May when the rain eventually subsides.
The benefits of supporting local nurseries go beyond what they can do for us gardeners. These small businesses support biodiverse ecosystems by focusing on native plants that grow best in your region. They tend to sell healthier plants that have been tended by invested caretakers; quality plants will last longer in your garden, be better acclimated, and may produce a more abundant fruit and flower harvest. Furthermore, native plants grown at a local nursery will carry zero risk of foreign pests that transmit detrimental diseases or destroy your other plants.
Support a botanical garden, conservatory, or arboretum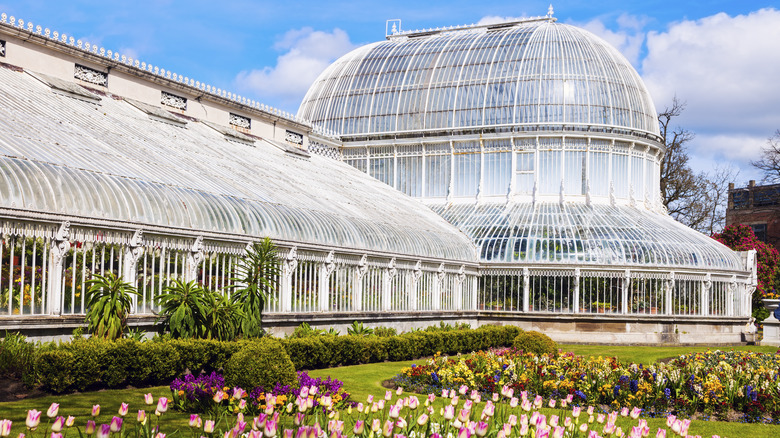 Benkrut/Getty Images
Even if you're not the type to dig your hands into the dirt, you can still celebrate the boundless beauty of nature and the people who work hard to grow the food that nourishes our bodies and the flowers that delight our visual and olfactory senses. Botanical gardens, conservatories, and arboretums are not only community assets offering stunning exhibitions and plant sales; they're vital institutions dedicated to the study and protection of all flora. The first of its kind, the Botanical Garden of Padua, was constructed in Italy in 1545. Fast forward to today, and there are close to 2,000 gardens worldwide.
These horticultural centers have the resources to house rare species, further research on plant taxonomy and genetics, provide education to the general public, and make sure valuable experience and knowledge from indigenous people are never lost. A day trip to a garden, conservatory, or arboretum will result in everything from an interesting history lesson to an unexpected tip for how to get your stubborn gardenias to bloom. Whatever happens, it's sure to be a beautiful day.
Volunteer at a community garden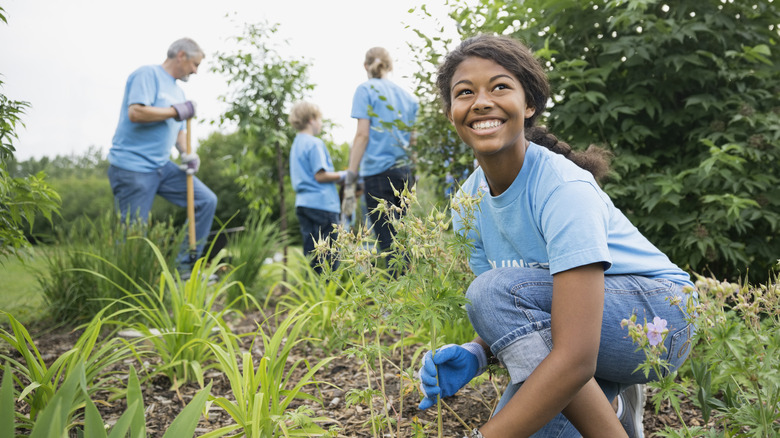 Hero Images/Getty Images
After hitting up a botanical garden you may find yourself itching to get out into the dirt yourself. In addition to your own backyard, consider volunteering to clean up a community garden and get it ready for planting season. What better way to celebrate the joy of gardening than joining others with the same passion? For beginners, it's like a free education; you'll learn a lot from the seasoned gardeners on hand. For those who have been working the soil for years, community garden involvement offers a really nice way to give back.
Some community gardens will provide food for homeless shelters, and others will offer Community Supported Agriculture (CSA) programs. When you join a CSA you are essentially purchasing a share of the harvest from a local garden or farm. Often you'll have the option to receive a weekly or monthly allotment of whatever vegetables (and sometimes flowers) are currently being harvested. If your community garden does not offer a CSA, find a local farm that does. Some farms offer tours or other events that could be fun for the whole family or a band of close friends.
Host a garden party and swap seedlings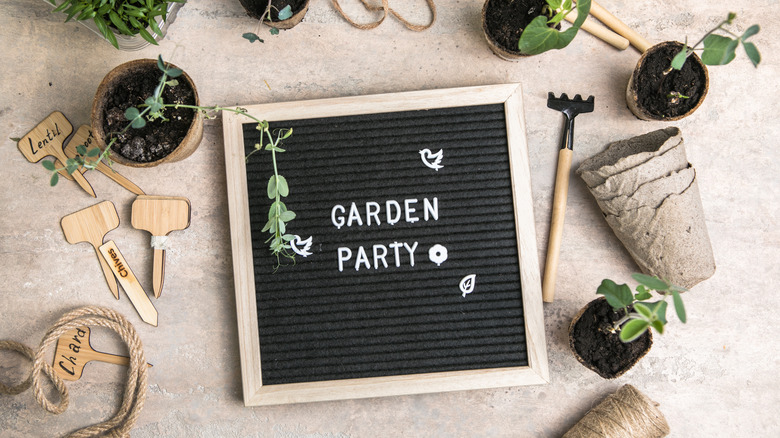 Sokor Space/Shutterstock
Towards the end of the month, host a garden party where friends and neighbors can bring their extra seedlings and swap them out for something new they'd like to try. Maybe you know the absolute best cherry tomato variety for the micro-environment of your neighborhood, and someone else down the street grew last season's most delicious summer squash. Whether vegetables or perennial flowers, ask everyone to bring a few of their favorite seedlings to the party, and then you'll all get to take something home to add to your own garden.
Pick a spring bouquet made up of tulips, daffodils, and hyacinths for table centerpieces. And ask around the neighborhood to see who is already harvesting early-season vegetables, especially frost-tolerant greens like kale, spinach, lettuce, and arugula. If everyone pitches in, you should be able to create a dish to share that's made with what has already been grown. Raise a glass to the season and dig in because it's time to get back into the garden!