HGTV's Nate Berkus And Jeremiah Brent Prove Small Home Updates Yield Big Results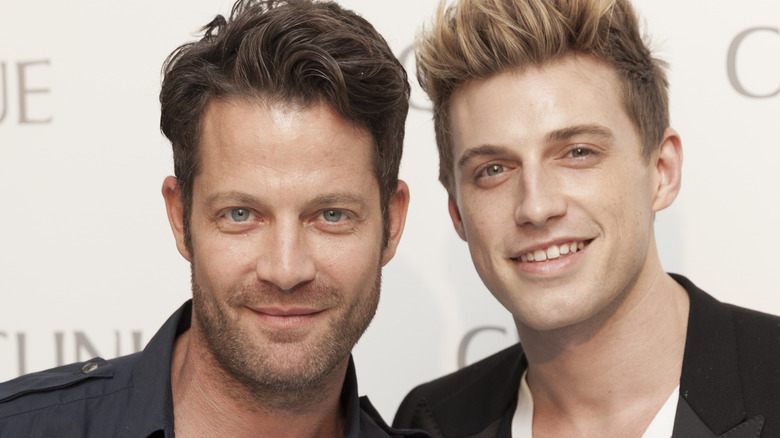 lev radin/Shutterstock
There's no denying that while many home updates deliver seriously impressive results, they also come with eyebrow-raising price tags. In fact, the average cost to remodel or renovate a house is anywhere from $15 to $60 per square foot (via Home Guide), and that figure could certainly climb even higher if you have expensive taste. If you're dreaming of refreshing several rooms in your home, the cost might seem so prohibitive that you decide to not even bother doing anything. Don't resign yourself to spaces you don't truly love, though; there are plenty of small home updates you can undertake that deliver big results without a sky-high price tag. As Realtor.com reports, on an episode of "The Nate and Jeremiah Home Project," Nate Berkus and Jeremiah Brent helped a family breathe new life into their space.
With the family's $175,000 budget, Berkus and Brent were able to make some bigger upgrades such as swapping out the existing flooring for a lighter tone plank and selecting furniture crafted from durable performance fabric, two updates that made the home more low maintenance while delivering on visual impact. They also modernized a fireplace by removing the wings and swapping out the mantle. That said, if you're not looking to get new furniture, swap out your flooring, or tackle a tricky fireplace, don't worry. The design duo also shared two great updates that you can try at home for next to nothing (or, in one case, for free).
A coat of white paint works wonders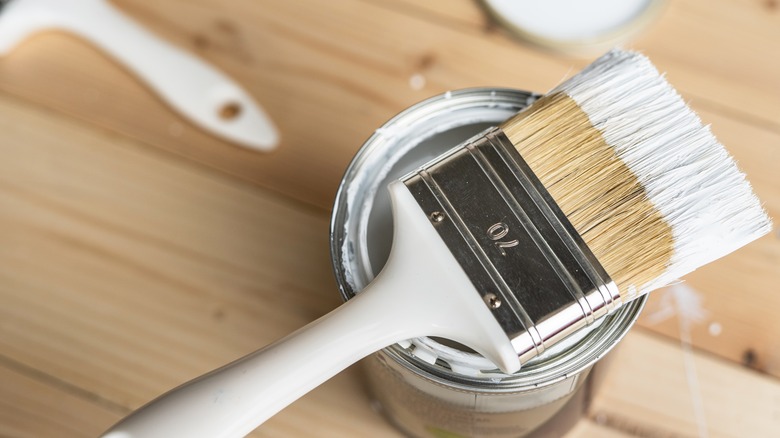 Miljan Zivkovic/Shutterstock
Paint is one of the easiest ways to transform a space, whether you're splashing it on the walls and furniture, or creating DIY art pieces. And if you're looking to tone down a bold or outdated hue on your walls, white paint is a common choice. It offers a solid backdrop for any aesthetic, as everything from super modern pieces to rustic vintage finds go well with a simple white hue. However, don't overlook the transformative effect white paint can have on other surfaces — Nate Berkus and Jeremiah Brent didn't. In the family home they were remodeling, budget issues meant they could no longer replace the existing faux wood beams on the ceiling with real wood. Rather than giving up, they pivoted and painted the faux beams so they remained an eye-catching architectural detail with a fresher look.
If you happen to have faux wood beams, paneling, or any other type of woodwork that immediately dates your space, a coat of white paint can work absolute wonders. Suddenly, that '70s paneling will be transformed into chic Joanna Gaines-approved wainscoting. It's an easy upgrade you can do in a weekend, and it'll immediately give your space a whole new look and feel. Do be mindful of the exact shade you choose, though, because not all white paint is created equal. You'll want to consider how it looks in different lighting, whether it's a warm or cool-toned white, etc.
Edit your collections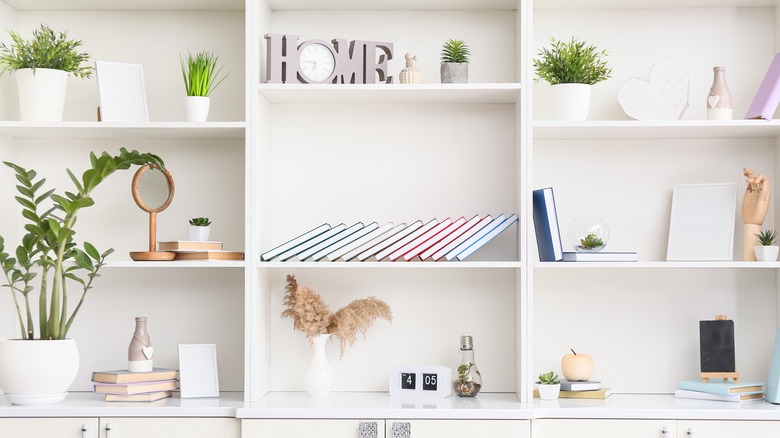 Pixel-Shot/Shutterstock
If you're a fan of home décor shows and magazines, you'll know the appeal of a perfectly-styled vignette, whether on a bookshelf, console table, or wherever else it fits in a particular space. You may even have memorized a few rules of thumb, such as the strategy of grouping items in threes, or the approach of incorporating different textures and finishes for a richer, more complex look. Still, you want to resist the urge to fill every shelf, corner, and surface of your home with endless items just because you have a lot to play around with. The "less is more" adage definitely applies, and it's something that Berkus and Brent considered when paring back some of the items in the family's home.
Editing is crucial, and free of charge. You need to really take stock of what you have and select the pieces you truly love or that hold sentimental value, and don't feel bad about donating them. If you love to swap things out seasonally, consider storing the extra accessories so you can change things up when the mood strikes, for example, pulling out warmer-toned metal and rustic wood pieces in the cooler months, then opting for wicker and linen accessories in the hotter times of the year. Paring down what's on display is a simple update that allows the few pieces you do showcase to truly make a statement.