How To Lacquer Walls To Give Your Home A Whimsical, Shiny Finish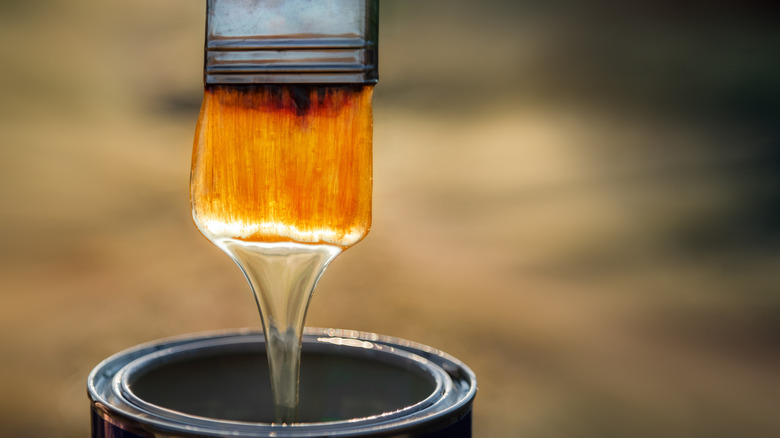 Ja Crispy/Shutterstock
If you want to add brilliance and shine to your home, you might give your walls the extraordinary touch of lacquer. Known for its sheer, luminous texture and reflective appearance, lacquer can be applied to a diverse number of materials like ceramics, metal, and wood. It can even be used on furniture and walls. Originally utilized to preserve various valuables in ancient China and Japan, the thin yet durable glaze showcases a unique gleam when dried while offering considerable protection. Highly decorative, lacquer can brighten up various spaces in need of glamour. While its mirror-like quality is highly distinctive, places like a hallway, living room, or lounge area might benefit from its undeniably glossy finish.
So how can you achieve a sleek lacquer finish? Although a tedious process, lacquering your walls can be done by applying the clear sheen, which involves spreading on several coats (7 to 12) or from a high-gloss paint. Lustrous lacquer might complement bold, saturated colors like blue, green, yellow, orange, and black for unusual yet enchanting vibes. Depending on the look you're going for, you might also consider dark, indistinct areas to feature the lacquered technique, as too much natural light may further intensify its luster. Whether on an accent wall or an entire room, lacquer offers many options for your walls amidst its definitive allure and style.
Apply a high-gloss lacquer paint
The most basic way to achieve shiny, opulent walls is to cover them with multiple thin layers of high gloss lacquer paint. Before priming and painting, clean the walls entirely and fill in any holes or nicks with spackle. Whether it's wood, drywall, or even brick, apply a primer that best suits the surface you're working with. To achieve the sleekest look, sand down the walls using an electric orbital sander, which can be done intermittently between coatings. Always remove excess dust following each sanding as well. You can paint with a brush or roller, although spraying your high gloss would evade unsightly brush stroke marks. 
High gloss paint is made to reflect the light, giving it that ghostly, mirrored effect. Paint colors that benefit from its brilliance might be bright red for a sensual air in a dining room or entertainment area. In the TikTok video above, @heygranty shows various high gloss painted walls with vibrant colors like a lush green along a fanciful hall. If you don't want to stress over every little flaw that may appear from the application, go with deeper shades like dark blue or black, as seen in the ornate bathrooms. Depending on how bright you want your lacquered walls to look, yellow and orange would add an extra energy boost.
Coat with a clear sheen for ultimate shine
While applying a pure lacquer coating seems simple, achieving an immaculate finish can be tedious and takes tremendous effort. When beginning your project, clean the walls, then sand down the area thoroughly. An electric orbital sander is an ideal tool to move the process along efficiently. Wipe down the dust and particles and repeat this cycle as often as needed while smearing on your polish. Can you apply lacquer over the paint? If you incorporate lacquer over painted walls, make sure it's latex-based instead of oil, as it will not act cohesively with the lacquer. If you prefer oil-based paint, you could prime it with a coat of latex, then apply the lacquer. Wood paneling should take to lacquer just fine while giving it a rustic brilliance.
Jeff Pollastro says you can maintain a pristine look by rolling a new sleeve on some masking tape before an application. Make sure to fill in any divots or imperfections beforehand as well. Additionally, you can avoid streaks from brushes or rollers by sanding, and a sleeker appearance should emerge by repeatedly smoothing out the wall between layering. Here pictured, we see Pollastro's gleaming finished product in bright, quirky orange. If you find the job too tedious or overwhelming, reach out for help, whether it's personal or professional.