What It Really Looks Like Inside Joanna Gaines' Charming Garden Cottage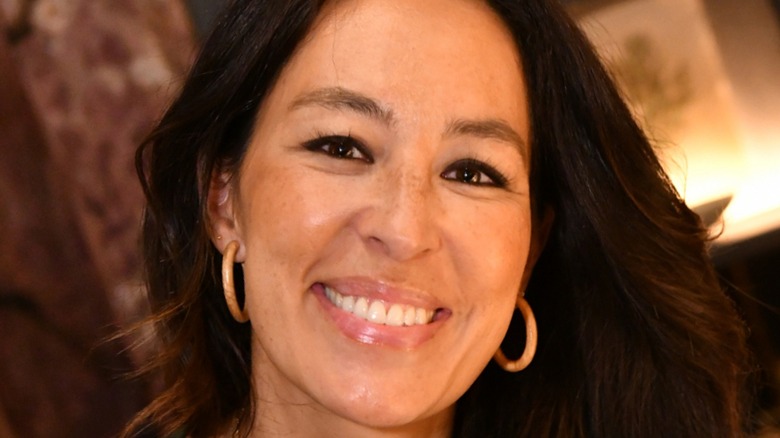 Craig Barritt/Getty Images
Having found fame and fortune through HGTV, you might expect that Chip and Joanna Gaines would live in L.A. or some other star-studded city, but the interior design power couple happily resides in Crawford, Texas, just outside of Waco. Life in rural Texas certainly comes with perks for the creative couple and their family. When she's not running the show over at Magnolia Market, Joanna Gaines loves to retreat to her affectionately named "garden shed," — but this isn't your grandma's rusty tool shack. As seems to be the case with anything Joanna touches, the garden shed is a marvel of coziness and country life. The mini cottage-like shed is equipped with a practical potting bench and deep farmhouse sink, but inside, you'll also find tall lattice windows, rustic wood furniture, and shelves of books just begging to be picked up on a rainy day. 
Are you looking for inspiration to create your own DIY shed getaway? Wondering how the family incorporates the hard work of farm life into an aesthetically pleasing dream? Here we take a peek inside the warm and wonderful garden cottage and explore some other incredible features on their property. 
Garden necessities meet cottage curios
From the dreamy windows to the roaring stone fireplace, everything in Joanna Gaines' garden cottage feels like it's straight out of a storybook. Tall bookshelves accompany either side of the main window, and Joanna even installed a rolling ladder to whisk books and apothecary jars from the upper shelves (or, for a moment, pretend you're Belle from "Beauty and the Beast"). While Joanna hasn't confirmed, some commenters on her Instagram photo speculated that the beautiful wood table in the center of the room may have been handmade by Clint Harp of Harp Design Co. What we do know is that it looks stunning with the organically textured wooden floors and cozy rattan chairs, a perfect spot to enjoy breakfast on a sunny weekend. 
In addition to looking beautiful, the space is totally functional. Deep storage shelves keep spare pots below the tidy metal-wrapped countertops. The farmhouse sink makes watering and propagating plants a breeze, and Joanna keeps easels nearby for holding garden books or artworks in progress. On Instagram, she captioned her photo, "Did some spring cleaning in this cottage in the garden — now I just walk around in here and make up things to do bc I don't want to leave," and honestly, who can blame her?
Even more outside the door
But if you can work up the courage to leave the cottage, you'll find no shortage of surprises waiting outside. Farmhouse living is more than an aesthetic for the Gaines family; it's a lifestyle, and their core values shine through in every corner of their property. The Gaines' 128-year-old home is surrounded by 40 acres, and the land just outside the cottage features rows of roomy garden beds and trellis where the family grows flowers and a flourishing vegetable garden, some of which even feeds guests their restaurant, Magnolia Table. The property also boasts a large, white-framed greenhouse where Joanna keeps some of her most prized potted plants and a dining table ready for hosting guests in the charming outdoor space. Beyond the blooming garden beds lies an adorable wood cabin-like chicken coop with a run that allows the hens to graze without wandering onto porches and garden beds. 
A quick scroll through the mother's social media shows how much her family adores life on their farm. In a recent Instagram post, Joanna wrote, "When we got back from our snow vacation, everything had BLOOMED in the garden. [My son] Crew could not contain his excitement about all our new flower friends." The cottage and garden grounds of Chip and Joanna Gaines' home prove that with a little inspiration and renovation, life can feel like a dream.