HGTV's Erin And Ben Napier Show How Small Budget-Friendly Changes Can Create A Brand-New Home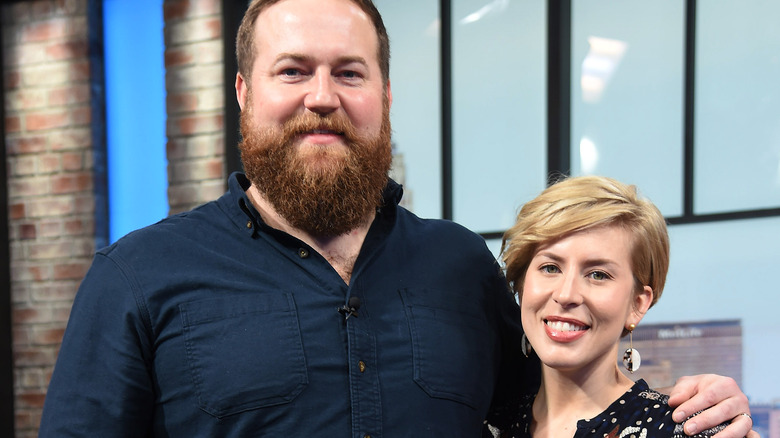 Gary Gershoff/Getty Images
Home renovations are bound to come with some lofty expenses, especially if you're working on a complete fixer-upper. However, whatever your budget, there are ways you can save money. When redoing the design of a home, HGTV stars Erin and Ben Napier are always looking for ways to spend less while still giving their clients exactly what they desire. "There are a lot of affordable options out there that give the house a fresh look while also not breaking the budget," Ben tells Insider.
In one episode of "Home Town," entitled "The Clock Starts Now," the clients had a budget of $300,000. However, the home cost $150,000, leaving only $150,000 for renovations. As such, when the Napiers first enter the property, they quickly realize they must think outside the box to save money. Throughout the process, they reveal two cheap and easy ways to make a significant impact in the space — reusing elements that already exist in the home, and opting for budget-friendly renovations (like painting key fixtures) instead of wasting money on high-dollar additions. Once they finish the project, they actually manage to stay $20,000 under budget.
Use existing home features
The first tip the Napiers always try to follow is to utilize things that come with the home. This is why Erin decided to save money in the kitchen by recycling an element they already had on hand for this particular project. "I would love to keep the paneling as the backsplash, 'cause we have it, it wraps this whole wall. It could be really pretty and fresh once it's painted out, and then we don't have to buy tile," Erin explains (via Realtor.com). Because they're knocking out a wall of paneling anyways, this gives them the perfect opportunity to reuse an element to create a custom look that matches the client's style. In this case, they paint it a light green tone that adds to the traditional feel of the space.
However, if your home has no reusable material, you can always choose elements that are still within your budget. "The most expensive option isn't necessarily the best choice," Ben tells Insider. If you need to save some big bucks in the kitchen, try vinyl flooring, an inexpensive tile backsplash, and butcher block countertops.
Update items with paint and hardware
Another way to save money is by focusing on inexpensive upgrades when updating existing items. For example, to complete the thrifty renovation, the Napiers decided to paint and replace the hardware on the bathroom vanity instead of purchasing a whole new piece. Erin calls this "a budget bathroom update," which still makes a massive difference in the room's design (via Realtor.com). While the vanity used to be white and outdated, it received a rich green color and bold hardware that completely revitalized the piece. "It's amazing what you can pull off with paint," Ben tells Insider. "A lot of times the cabinets are fine, and they just need to be painted."
A gallon of cabinet paint typically costs around $20 to $60, illustrating the cost-effectiveness of this type of renovation. While the price of hardware varies, some pieces can be found for $1 to $2 per handle or knob. Therefore, if you wanted to update a vanity with these elements, the project could easily cost you under $100.