Upholstery Walls Are Making A Comeback - Here's How To Modernize The Look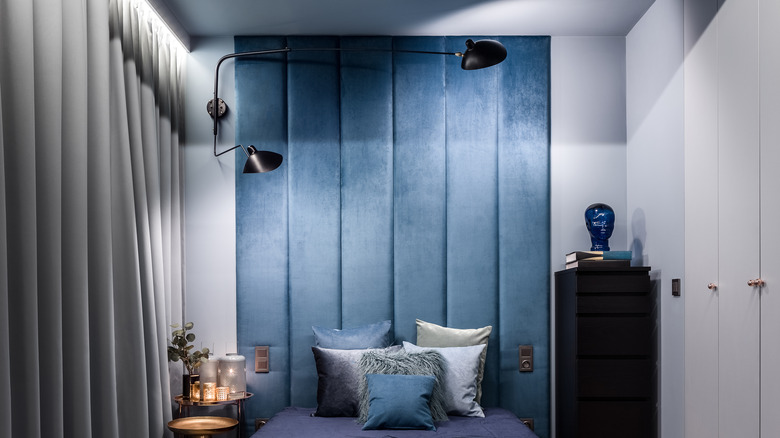 Dariusz Jarzabek/Shutterstock
If you're looking for a clever way to fill in awkward vertical space, an upholstery wall can be an excellent alternative to wallpaper, paint, or an art gallery wall. Upholstery walls are somewhat easy to put up and serve as a practical and renter-friendly solution for noisy neighbors and thin walls. More than anything, this unique wall treatment makes a bold design statement as we're exiting the era of sparse, minimalist homes and entering an age of unabashed self-expression and maximalism. Upholstery walls aren't just indulgent décor pieces; they can also be surprisingly versatile and modern. The biggest key tips to making an upholstery wall work in a way that feels elegant and fresh today are investing in the right materials, opting for quality craftsmanship, and styling the room with clean lines and distinguished accent pieces. 
Nonetheless, an upholstery wall is a big undertaking, especially if you're worried about overdoing it. What else can you do to avoid it looking like a pincushion and make your upholstered space feel open yet cozy? Here's what you need to know about this luxe trend coming back in style and how you can adapt the look to suit your design aesthetic. 
Explore the endless possibilities
Before diving any further, it's important to note that there are two main ways to approach the upholstery wall trend. The most obvious is a plush upholstery wall with soft tacking and batting that creates a cushion effect. Pillow-like panels are ideal behind beds and in cozy nooks, allowing you to interact with the fabric. The secret to styling a plush wall is to keep a good amount of empty wall space, or else risk making it feel a bit like a padded cell. The other common form of wall upholstery involves applying a sheet of fabric directly to the wall using staples, starch glue, or another paste-like material. This might look like regular wallpaper from a distance, but the overall effect is much softer, and it can be done with woven fabrics, brocades, corduroy, or burnout velvet to create some striking textural interest.
Carefully choosing your fabric material, pattern, and upholstery style can make a big difference in your space. For example, leather or faux leather panels lend themselves to a luxurious, masculine vibe that's ideal for the primary bedroom, while a pastel velvet or flower print works glamorously in living rooms and breakfast nooks. To create a balanced and cohesive feel, consider color-matching your walls to your drapes or furniture by covering them with the exact same fabric. If you're not sure about wholeheartedly embracing the trend just yet, you can also play with upholstery in window nooks or space out panels between wainscoting. 
Invest in good craftsmanship
Unless you're a highly confident and experienced DIYer, you may want to leave your upholstery wall project to the pros. Tacking down just the right amount of fabric and batting can be tricky for plush styles, and keeping the design bubble-free is a real challenge for fabrics directly applied to the wall. In the end, you'll likely save a lot of time, money, and frustration by hiring a professional to ensure that the final result looks classy and modern. If you're determined to give it a go, invest in high-quality, flame-resistant fabric and practice stretching the fabric and batting over cardboard sheets before moving on to thin plywood panels.
Once you've put up your upholstery wall, you'll need the right ingredients to help it shine. Clean and sleek interior design will allow the wall texture to take center stage, so keep furniture or décor as simple as possible. At the same time, you can still embrace a maximalist home décor style by pulling colors and textures from the wall and incorporating them around the room. Strong edges, metallic finishes, and smooth surfaces like marble and natural wood can help to reign in the bubbly effect created by the upholstery. Finally, ensure your space stays clean and bright by dusting the upholstery regularly and letting plenty of natural light flood into the room.