Curtain Walls Are The Latest Decor Trend - Here's How To Get The Look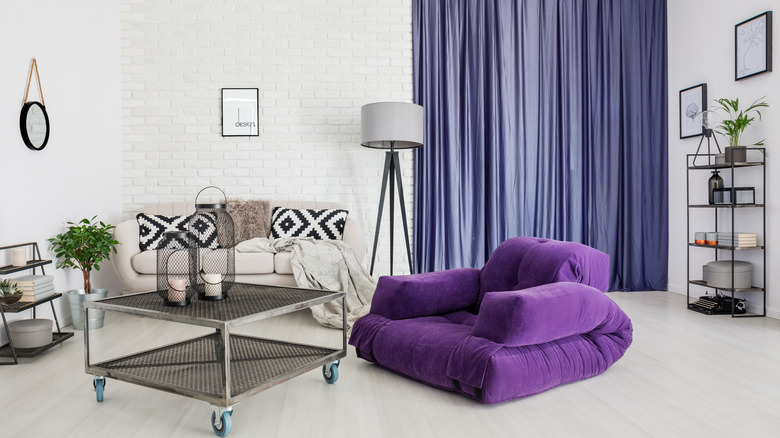 Ground Picture/Shutterstock
If you're looking for a new interior design trend that hasn't quite taken over Instagram yet, curtain walls may be right up your alley. A curtain wall — also known as a drapery wall — is a large, ample curtain that you can hang anywhere in your home, not just over a window. In fact, the whole idea behind a curtain wall is to cover a windowless wall, fill the empty space, and create dimension in a room by drawing the eye upward. Curtains can be a surprisingly great alternative to a painted wall, wallpaper, or gallery wall, especially in rented spaces. 
Although they make a big impact on the space, curtains require fewer screws than a gallery wall, and they can easily be removed, unlike wallpaper or paint. As an added bonus, fabric curtains can even muffle sounds, giving you more privacy from your neighbors and reducing echo in the room. In addition to being practical, curtain walls can transform your space to feel more urban and artsy, classic and cozy, or breezy and natural. Ready to wrap your walls in this new home décor trend? While the Wizard of Oz may hide his secrets behind curtains, you don't need any magic to master this look — here are our tips for pulling it off.
Choosing the perfect curtain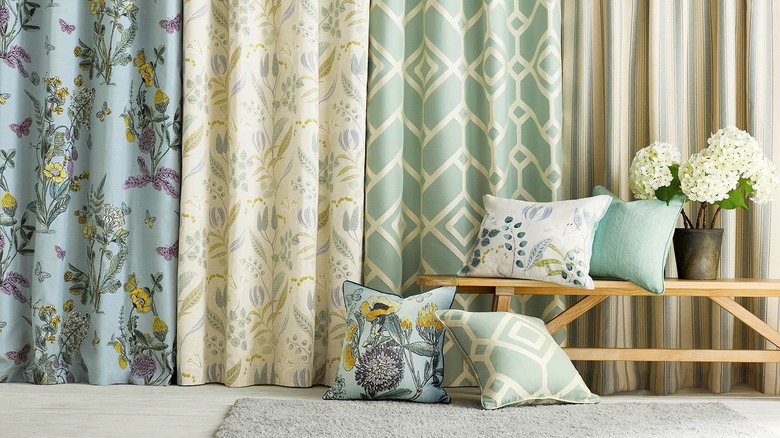 Gaf_Lila/Shutterstock
Before you settle on a curtain design, think carefully about where you plan to hang it in your home. You can use a curtain to fill in any blank wall, but they look especially poignant when hung as a backdrop behind a headboard or living room sofa. Once you've chosen the location, measure the whole wall. Ideally, your curtain should cover the majority of the wall space, and reach from the ceiling to about one inch or less above the floor. If you don't want to cover the whole wall, consider creating symmetry with two large curtains on either side of the couch, for example. 
A curtain that's too short or narrow could end up looking cheap, even if it's made of luxurious materials, so it's much better to choose an affordable curtain than it is to skimp on size. For a seamless and cohesive feel, pick a curtain color that matches your walls. Alternatively, a bright pattern can work well to customize a bare-bones rental unit. Material matters too, heavy fabrics like velvet and brocade will make the space feel more intellectual, warm, and moody, while breezy cotton and linen can create a sense of freshness and light. 
How to hang your curtain wall
The rod should be installed near the top of the wall, just a few inches below the ceiling. Considering the length of your material may help you determine where the rod needs to be, as the bottom of the curtain shouldn't be more than an inch above the floor. It may help to have a friend or family member climb a ladder and hold the rod while you guide them into the perfect position. Once you've pinpointed the height and leveled the rod, use a pencil to mark exactly where your brackets need to be attached to the wall. 
Some people may be hesitant to drill holes in their wall, especially if they currently rent their home, but screws are a much sturdier solution than Command hooks or tension rods for holding large curtain walls. After you've drilled your brackets and popped in the curtain rod, slide your curtains onto the railing and you're done! You'll see how the curtain wall suddenly makes the room feel deeper, almost as if there could be a secret room or window hiding behind the veil. To keep your curtain wall looking gorgeous, be sure to steam out any wrinkles and dust the fabric as needed. When move-out day comes, simply unscrew the brackets and patch any drywall holes with spackling paste.