The Viral Disco Door Hack Adds An Easy DIY Sparkle Accent To Any Room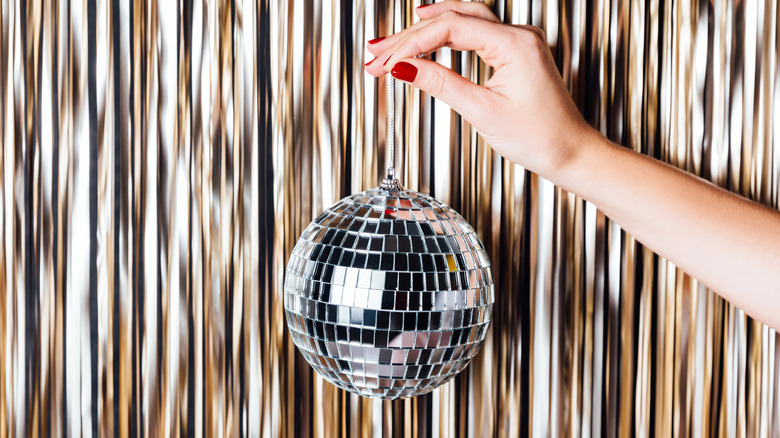 Magic Cinema/Getty Images
We may receive a commission on purchases made from links.
With maximalist and retro glam trends taking the design world by storm, many homeowners are looking for tiny, extra touches that send their décor into the stratosphere and add just a little bit of unique charm and statement to their interiors. Disco balls and glass tiles are at the top of trends, being endlessly glamorous and filled with fun retro style. TikTok has recently been abuzz with a little disco tile hack that takes advantage of a typically unused space but has an enormous impact in jazzing up a room.
Kate Rose Morgan on TikTok recently revealed her bright and colorful space, dripping with shimmer and bright pastel colors. Everyone is raving over her disco tile door with its peekaboo sparkle. Since this little strip of glass tiles is visible whenever the door opens, it's an instant bit of reflection that feels fresh and unique. Not only does it add a nice little visual surprise, but it's also very easy to make happen in your space for little effort and expense.
Getting the look
Peel and stick glass tiles with disco flair come in a number of sizes and varieties. You will want to seek out the styles with low relief, allowing the door to close. Flatter, smaller tiles will prevent the chipping and loosening of constant wear and friction. While many varieties come in sheets (via Amazon), you can also find tiles in rolls (via Amazon), though you still may need to trim the width to the desired size. Begin by measuring your door to see how much you will need, both vertically and horizontally. Make sure the surface is free of dust and debris.
Trim pieces to match the size of your door according to measurements and begin at the top of the door, moving down as you go and removing the backing, pressing down for a smooth, even finish. As you work, open and close the door periodically to ensure the tiles do not interfere with the door use. Use a utility knife to cut around the metal hardware of the latch. For an extra dose of sparkle, you can also do the other inside edge of the door visible when the door is open, trimming around the hinges and other hardware or covering them.
A touch of sparkle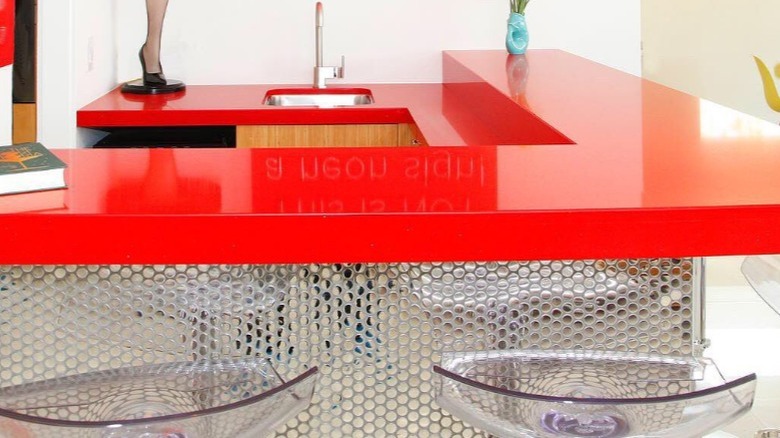 maxa0109/Shutterstock
Disco tiles are a perfect element to add a bit of sparkle and retro energy in large or small doses. They are particularly great at adding light to otherwise dark and dismal areas, so consider placing them on shelves, inside cabinets or drawers, or any spot that needs a little touch of glamour. They go well with eclectic and maximalist rooms, ultra-feminine or glam spaces, and vintage-inspired interiors. Or you can use them in bright and colorful kid and teen rooms.
While disco tiles are eye-catching in unexpected spaces, they can also be a unique statement by covering larger pieces like an accent table or nightstand in full view. Typically the size of the space will help you determine the size and depth of the tiles needed, with larger areas looking better with larger squares of glass to avoid looking too busy. You can even use them to cover decorative objects like boxes, vases, lamps, and frames.