Use Turquoise Stone To Make Your Home More Loving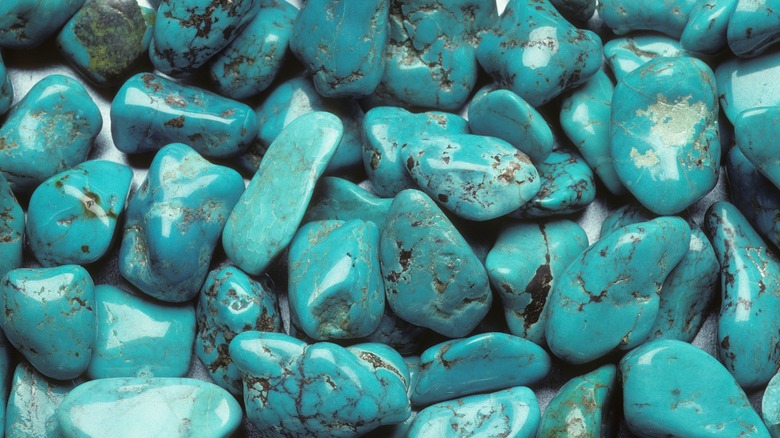 Inam Sawan IS/Shutterstock
Known for its diverse healing properties, turquoise stone is a brilliant gemstone that may create a more loving atmosphere within your home. With its tranquil blue color, the soothing stone is often displayed in jewelry while resembling elements of the sky or ocean. Recognized as one of the earliest gemstones excavated, turquoise is an opaque mineral widely valued for its ability to promote balance, communication, and protection. Often seen in a variety of blue and green tones, turquoise stones may either have a smooth, opaque texture or a vein-like pattern.
How can you establish a more loving home with turquoise gems? While the December birthstone has a cool aqua tone, placing one or several of them in your home can generate affection and love. You might find serenity through its peaceful vibe in the bedroom or another discreet nook. However, with its power to calm and purify, you could display some stones in the bath, pool, or spa areas for an abundance of warmth. With its multitude of restorative benefits, the energy of turquoise stone can circulate more joy and love alongside your other home décor and furnishings.
Promote love and harmony in personal spaces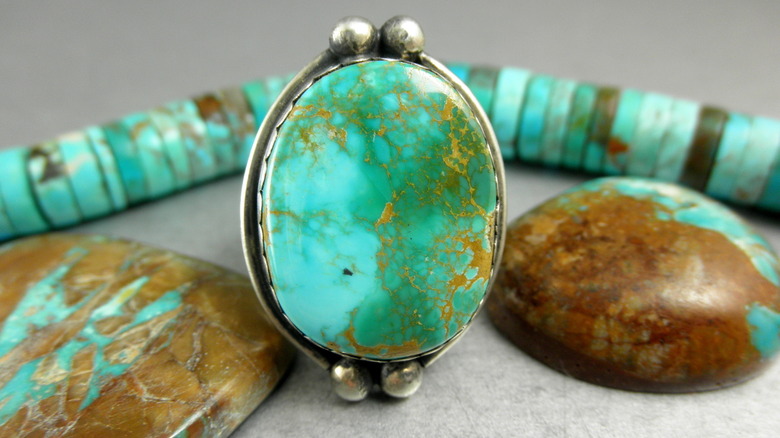 Jewelzz/Shutterstock
With an intense blue-green hue, turquoise stone is a fascinating tool to utilize within the secluded spaces of your home. Whether you're feeling stressed or disconnected from yourself or your partner, place a few stones or pebbles on your nightstand. Other areas to experiment with might be the window sills, especially under the moonlight. However, keep it out of direct sunlight, as too much light can weaken its vivid color over time. You might also place a stone under your pillow to aid your inner peace and a successful night's rest. Wherever you choose to put turquoise in your room, be clear of your intention to fully benefit from its potential.
With a further focus on self-care, another private space to implement turquoise gems, particularly palm stones, is in a meditation garden or room. Also, if you frequently read or study, place your favorite pieces in a small library or window nook for an optimistic aura. Besides gemstones, you might display your own turquoise jewelry in an obvious way. Arrange them on a dresser or hang beaded bracelets or necklaces on the walls or within a walk-in closet so the peace of turquoise is always present. Like flowing water, the bathroom also offers a serene opportunity to showcase teal pieces in a bowl or dish on the sink, shower, or spa.
Generate communication amidst work and play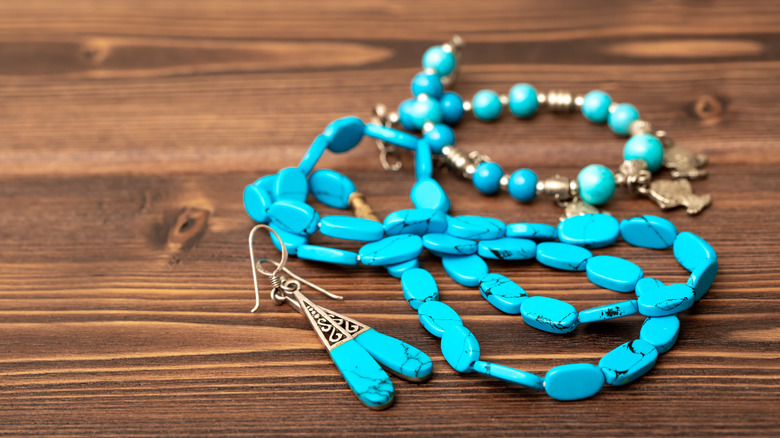 Vera Larina/Shutterstock
If you want to establish clear communication within your household, look to the turquoise stone. Related to the throat chakra, turquoise is highly adaptable and can help release emotions and expressions that may be obstructed. To help build or resolve your relationships among family and friends, place several tumble stones or chip stones in a jar or small vase and place it within your favorite gathering area. For added support, consider specific feng shui elements to complement your turquoise décor. Wooden containers or surfaces would coincide naturally, or silver metal, which is also present in many authentic jewelry pieces like the bracelet and earrings shown above.
If you work remotely, your home office or studio might benefit from the influence of turquoise crystals as well. While working from home can offer various challenges, incorporating turquoise pieces near your laptop or workstation may transcend the mundane miscommunications that can occur to a more positive level. Openly display them on a desk, shelf, or wall to assist in the utmost clarity among co-workers and clients. However you acquire it, make sure your turquoise is authentic by giving it the test of weight, color, and texture. Howlite pieces often pose as being genuine, although they scratch easily compared to real teal gemstones.