The Dated Slipcovered Furniture Trend Is Making A Huge Comeback In 2023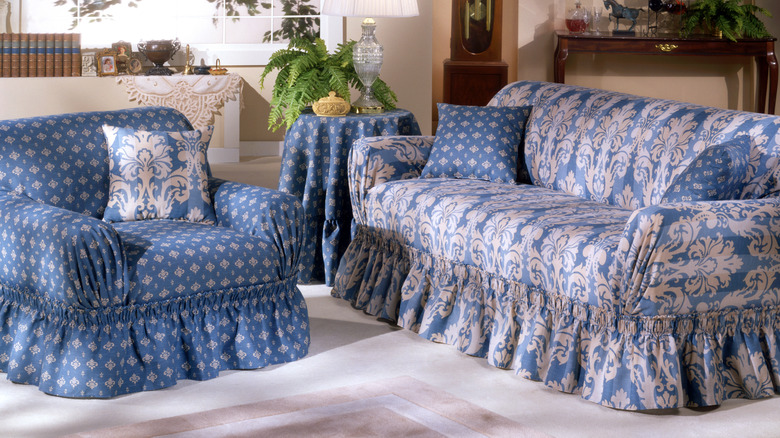 Paul Orr/Shutterstock
It seems that old interior design trends keep coming back left and right this year, such as floral wallpaper, vibrant color schemes, textured ceilings, and more. But one design tactic we thought would never come back is the slipcover trend. Slipcovers have been around since the 18th century and have gone through many phases. You're probably envisioning the plastic versions commonly noticed in older movies featuring the home of a germaphobe. However, they've adapted in order to offer a variety of fabrics and patterns, and many interior designers have praised their benefits.
"Slipcovers are a great option for high-traffic areas as they are so easy to clean," Interior Designer Samantha Pappas told Homes and Gardens. "I like to have an extra slipcover on hand for when you need to launder the one being used." From adaptability to color harmony and more, there are many reasons why you should hop onto this slipcover trend.
Give your home a brand new look
Neutral color schemes have been a popular option among homeowners for a while now, but this year, many have chosen to branch out and create color palettes that are more fun and cozy. Painting walls or buying new furniture may not be an option for some, which is why slipcovers are a great alternative. "Identify what style speaks to you and find a slipcover that matches," Samantha Pappas said (via Homes and Gardens). "If you lean more towards traditional pieces, choose a structured silhouette. However, if your design style leans more eclectic, choose a slipcover that gives the space a pop of color."
Slipcovers can also be used to give old pieces of furniture a more updated and modern look that will complement your current design scheme. "A slipcover will transition your sofa or chair to blend into your design and make the space feel put together and cohesive," Pappas explained. If you'd prefer to stay within the traditional realm, we suggest incorporating a slipcover with a ruffle skirt. If you want to go modern, opt for fun textures or patterns.
Change with the seasons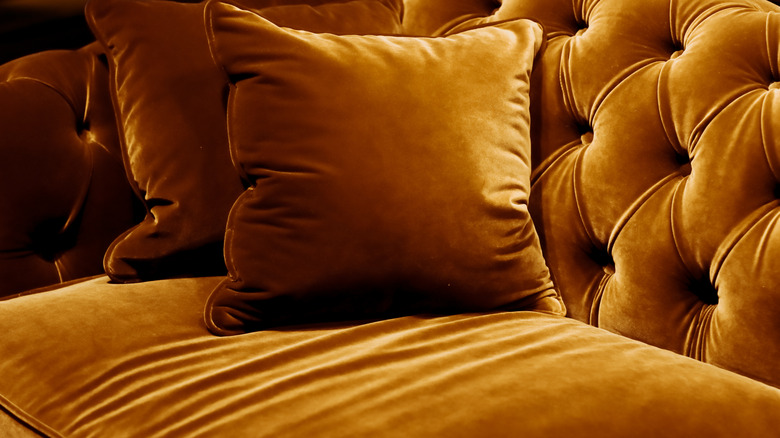 Anneleven Stock/Shutterstock
Arguably one of the best benefits of using slipcovers is that you can change them to coordinate with the season of the year. "One slipcover set is a pale neutral, the other is a spice-shade neutral," Homes and Gardens' Editor-in-Chief Lucy Searle said (via Homes and Gardens). "I swap them out so that the lighter color slipcover is on from spring, and the darker one from fall." This is also a convenient tactic to use to quickly adapt to ever-changing furniture trends.
Additionally, if you decide to rotate your slipcover styles throughout the year, this will make them last much longer. Especially since the typical lifespan for one slipcover is three to five years. In order to ensure your slipcovers stay soft for as long as possible, it's also recommended to wash them on a consistent schedule. Searle says she stores away her products in a moisture-proof bag to maintain their quality until it's time to use them again.