Here's How To Make Paneled Ceilings Work In Your Space
Nowadays, it's common for interior design features that were once thought of as traditional to transform into something complementary to all aesthetics. For example, floral wallpaper was once thought of as a tacky choice you'd only see in your grandma's bathroom. Now, it's evolved to offer a variety of beautiful and stylish options even completely modern homes can incorporate. The same goes for paneled ceilings, which interior designers have experimented with for some time, meaning that any homeowner can incorporate this technique to add more texture to their space.
So, whether you prefer a minimalist, rustic, or eclectic design, the experts have shown that there are a variety of ways to make a paneled ceiling work in your home, whether that's through the use of unique colors, materials, finishes, or patterns. If you're looking to add some interest to your flat and boring ceiling, we'll show you exactly how to get it done without diminishing the ambiance of your home.
Color and contrast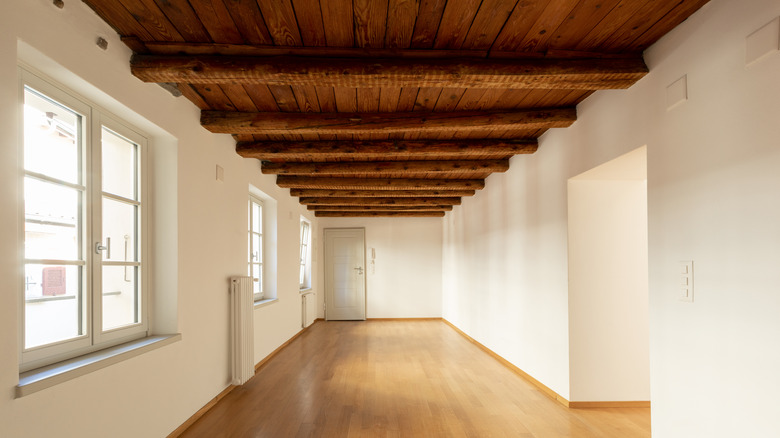 Piovesempre/Getty Images
If you've recently moved into a home and noticed that it feels too traditional due to the paneled ceiling, giving it a touch of color can provide an updated look. "My advice for modernizing a traditional ceiling is to use unexpected and bold color combinations," designer and co-founder of Toledo Geller, Virginia Toledo told Livingetc. "Here we used a cobalt blue on the beams and trim and the palest lavender within the coffers." The results? A modernized French country dining room.
However, if you're craving something simpler to contrast a rustic design, there's also the resurgence of dark wood paneling. Not only will it make a space feel cozier by adding a bit of depth, but it can also be used to balance out a room decorated entirely with light colors. Additionally, the more graining your wood paneling has, the better it will complement other rustic textures in the room, such as any wood or leather furniture.
Eye-catching materials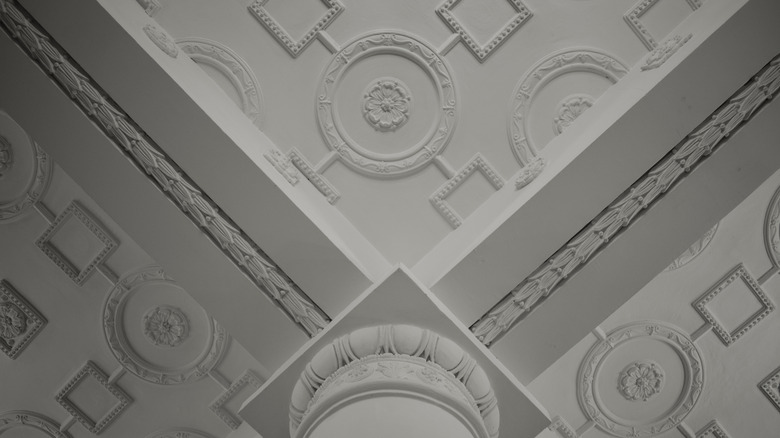 MaskedCat/Shutterstock
Although wood is most commonly used to create ceiling paneling, there are a plethora of other materials available to create a stunning design. For instance, some designers choose to use mirrors, which not only reflect the light and create a brighter and seemingly larger space, but are accommodating to a variety of aesthetics, from modern to industrial. However, it is advised to combine mirrors with dark walls rather than a coat of white paint to avoid creating a sterile environment that's too reflective.
Victorian ceiling tiles have also become a popular choice to add a touch of elegance to any room. They are available in a range of styles and sizes and are best suited to a space that uses neutral or light colors, which also allows sophisticated patterns to shine by hiding marks and imperfections. This style can also be very effective when used in a room with a high ceiling and complemented with molding.