How To Use Ceiling Medallions As Wall Art For A Vintage Traditional Look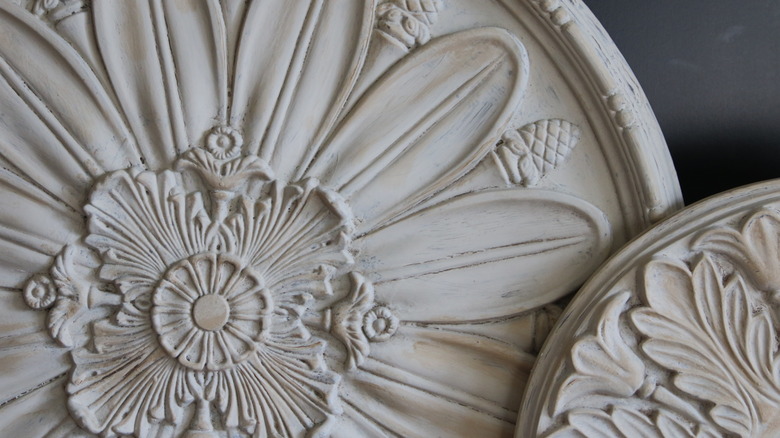 Jacquie Klose/Shutterstock
Antique ceiling medallions are a beautiful decorative element found in old homes and vintage apartments. Sometimes, they go completely unnoticed until you look up, but once you do, they have an immediate impact. Medallions come in a wealth of sizes and intricate designs intended to augment and camouflage unsightly holes made by ceiling light fixtures and add visual interest that draws the eye upward. While many are bedecked in ornate floral-inspired carvings, you can find more streamlined modern or Art Deco-inspired medallions of simple concentric circles. 
Even if you don't have an overhead light or chandelier, that doesn't mean you can't revel in the beauty of this distinctive element. Many homeowners use the medallions not as functional objects on the ceiling but as decorative elements on walls. With their charm and vintage flavor, new or old medallions can add whimsy and visual interest anywhere in your home. They can also be transformed by paint or modified to serve as mirrors, clocks, and table bases.
Finding and decorating ceiling medallions
There are a number of great places to find new or vintage ceiling medallions, including architectural salvage shops, antique stores, and flea markets. New medallions can also be readily found at home improvement stores like Lowes and Home Depot, sometimes in more modern and streamlined designs. On the other hand, vintage medallions, often rescued from demolished older homes, can be readily found with a bit of old-fashioned treasure hunting.
Making this beautiful element a piece of art all on its own is easy. Many are already stunning and ready to hang with a shabby chic or decayed victorian finish that perfectly fits cottagecore and farmhouse decor. For a more traditional look, you can paint it a single color, or utilize many shades for full-color beauty. For example, a gold-painted or gold-leaf finish is a fitting addition to glam or more formal rooms. You can also use textured stone paint that will mimic the look of stone.
Using ceiling medallions as art
While ceiling medallions look beautiful all on their own, they can also be made into other useful, artful objects with the help of some easy hacks. For instance, try making a clock from a medallion by installing a clock hardware kit in the center. Round mirror insets are available in many craft stores and come in a variety of sizes that can be easily affixed to the center of an ornate medallion. Finally, you can make an even larger piece of decorative art by framing a medallion centered inside a square frame.
Ceiling medallions also make beautiful bases for accent tables. Or add a wood disc to fill the center and use the medallion as a DIY tabletop. You can also use these decorative flourishes as a unique stand-in for a holiday wreath with the addition of a bow. For larger spaces, you can add several to a wall for a whole gallery-style installation using various styles and shapes. Large, oversized pieces look great hung over a sofa or bed.