The Best Types Of Bedsheets For Every Season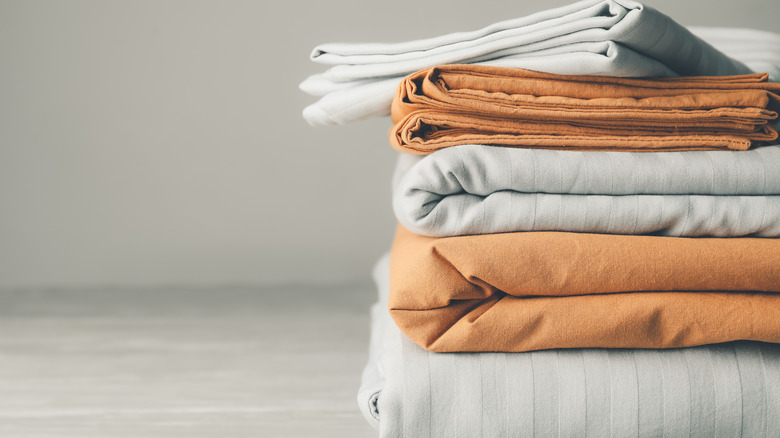 Pixel-Shot/Shutterstock
It's common advice to keep a few extra sets of sheets on hand, which makes it easier to change your bed weekly without being overwhelmed by laundry. But do you keep different sheets on hand for each season? There are tons of different materials available, from cotton, silk, and polyester, to bamboo, linen, and satin. Moreover, each has its unique set of advantages and disadvantages — for example, some textiles are lighter and more breathable, which is preferable for the summer, while others are heavier and warmer for the winter months.
Not only do different sheet materials perform better in different weather conditions, but changing them up can help set a visual tone for the season. Changing your entire bedding every season can be very expensive and isn't entirely practical in terms of storage. However, your sheets are an inexpensive and compact way to change up your look every few months.
Spring and summer sheets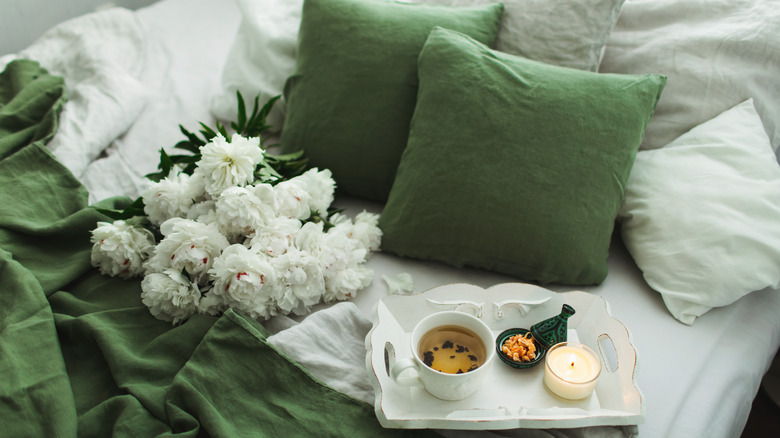 Kryvenok Anastasiia/Shutterstock
When it comes to the warmer months, you'll want sheets that are lighter and more breathable. One of the best materials for your bed in the summer and spring is linen. Many people tend to shy away from linen bed sheets since the material tends to be stiff at first. However, after a few washes, it quickly softens up. It's very light and absorbent without feeling damp or wet — perfect for those humid summer nights.
Percale is another great spring and summer sheet material. Percale is cool and breathable — perfect for pillowcases and sheets alike. They also have a very smooth look, making them a bit fancier than linen. In fact, this is the sheet material most hotels use.
Another great and cooling sheet textile is bamboo, which is often touted as being able to regulate temperature — In fact, bamboo sheets are about three degrees cooler than standard cotton. Bamboo is also moisture-wicking, and ideal for those with allergies — especially in the spring. As for colors, have fun with bright shades during these brighter months — such as sunshine yellow, sage green, sky blue, salmon, or lilac.
Cozy up in fall and winter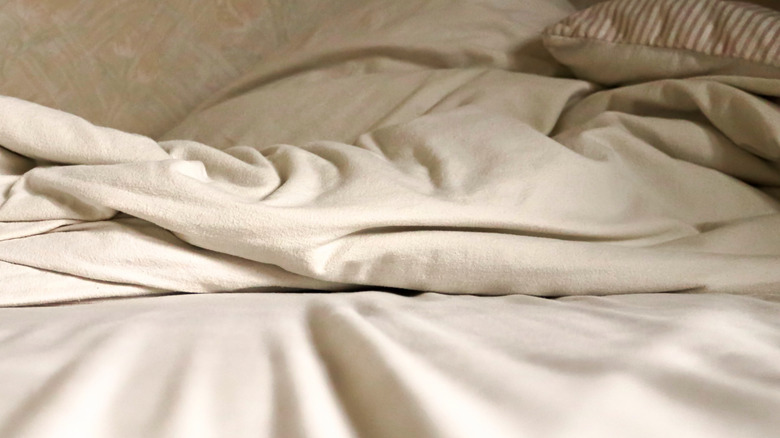 Amelia Martin/Shutterstock
The colder months call for warmer and cozier bed sheets that'll keep you snuggled up throughout fall and winter. Just as cool materials are lovely in hot weather, a warm and inviting set of sheets on a chilly night is indescribably luxurious. One of the comfiest materials available is flannel. It's thick and naturally warm, but also breathable and moisture-wicking, meaning you can be as bundled up as you'd like without getting uncomfortably sweaty.
Sateen sheets are the cold weather equivalent of percale, as they're a little smoother and heavier, making them more suited for fall and winter nights. They're also moisture-resistant and allergen friendly, so like with flannel, they won't be overbearingly hot. Finally, fleece and microfiber are pretty warm materials. However, while some people love the fuzzy feeling, some are put off by it — if you're someone who doesn't like a lot of texture, steer away from these. As for colors, seasonal fall and winter shades, like brick red, pumpkin orange, forest green, and cool wintery blue shades are a surefire way to ring in the cooler weather.