The Extra-Wide Affordable Wayfair Desk Chair That's Going Viral On TikTok
TikTok has been buzzing due to the Wayfair Yumaira task chair which provides extra width and is comfortable enough to sit cross-legged. This swivel chair has extra seat padding and can hold up to 300 pounds. It looks chic, is available in soft pastels like beige, gray, and blue, and has many positive customer reviews. TikTokers have also been hyping it up for being versatile and straightforward to assemble, as seen in this video.
In one unboxing, a TikTok user said she purchased the Yumaira for its affordability compared to the other work chairs she had considered. One critique about the chair is that it doesn't have wheels, but she prefers that due to her uneven floors. While it is great to have a chair that's accommodating to your body type, here are some other things to consider about the Yumaira and what to look out for when choosing a suitable work chair.
Potential issues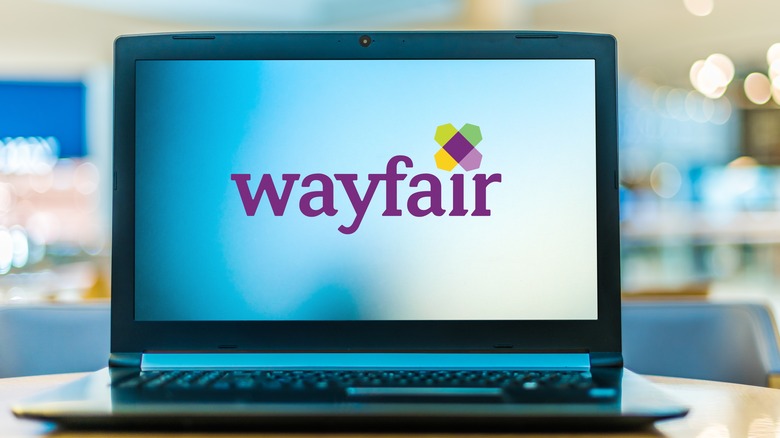 monticello/Shutterstock
This versatile chair might have a seat and backrest that's wide enough to sit cross-legged, but the best task chairs have other ergonomic features like armrests, lumbar support, and an adjustable seat height to facilitate good posture and minimize the chance of discomfort or injury. This is because armrests help to minimize slouching, high backs provide more support to the neck and entire back, and lumbar support devices reduce the chance of developing lower back pain.
This chair doesn't have these things so it might be hard to sit in it for a long time. Its lack of wheels is another potential issue because wheels make it easy to move around and maintain stability. However, if you do decide that this chair is right for your home, you can easily buy a separate lumbar support cushion or DIY one by rolling up a towel or using a small pillow. 
The ideal chair
Though used interchangeably to refer to work chairs, task and desk chairs are slightly different in their designs and purposes. A desk chair is typically designed to stay in place, whereas a task chair is more flexible and versatile, which is why it can have more ergonomic features. Desk chairs are better for sitting down for long periods while task chairs are better when you need to move around and use them in different spots. Task chairs can be more multi-purpose, allowing you to use them while working at your desk or doing your makeup at your vanity.
The ideal chair for your space, no matter how you use it, should be able to support your entire body properly and be comfortable enough to sit in for long periods of time. If you'll be spending a lot of time sitting and working, it's worth investing in a quality chair that provides the correct support and is ultimately better for your health.