'Coastal Luxe' Is The Beachy Yet Sophisticated Home Decor Trend You've Been Missing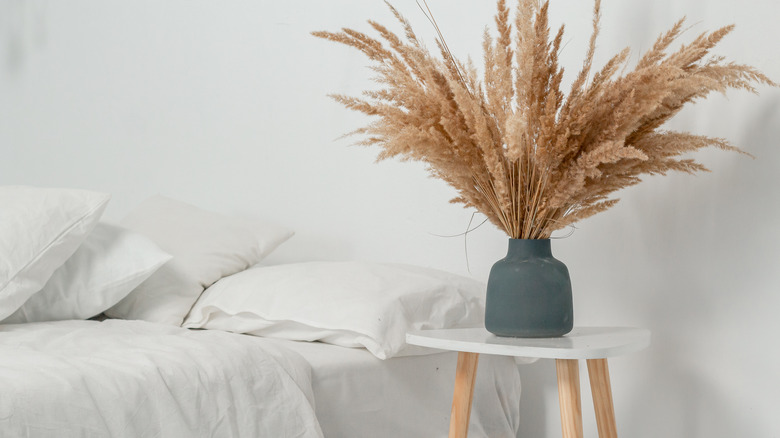 Nastya.ivs/Shutterstock
Even those who have never been to the beach can picture what the typical coastal-decorated home looks like. Utilizing blue and white paint colors, these houses are often filled with decorations that showcase anchors, shells, and animals like crabs and fish. However, this isn't what's referred to when someone discusses coastal luxe, as this style is inspired by more than just the sea and the sand. It's actually a mix of modern, bohemian, and coastal styles with large Balinese and Australian influences as well. Therefore, this aesthetic juxtaposes the relaxed feel of boho and beachy spaces with the sophisticated look of a modern home.
A huge benefit of creating a coastal luxe space is that, while influenced by numerous cultures, there are plenty of pieces that fit into this style being sold right near where you live, as they can be found at retailers like Target, HomeGoods, and Amazon. Basically, anything that's a warm, neutral tone with an interesting texture will work. 
How to elevate a beachy style
A huge downfall of the beachy style is that it can easily become cliché or cheesy and lose all sophistication. For instance, while decorating with elements like driftwood or woven baskets adds an elevated feel, hanging a sign that says "take me to the beach" makes the room suddenly feel like a tourist attraction. Therefore, when creating a coastal luxe space, choose pieces that subtly nod to the beach instead of being too in-your-face. Beaded tapestries, jute rugs, tropical plants, and pampas grass will all bring in the subdued appearance you're going for.
Further, instead of leaning too heavily into cool tones like blue or green, focus on warm and neutral elements, such as tan, beige, and greige. This will add a cozy vibe and take your design from just beachy to fully coastal luxe. While you can still use brighter or cool-toned colors, they shouldn't be the main focus of the design. Finally, adding modern pieces, such as gold hardware or white marble countertops, will add the contemporary appearance that just beachy spaces sometimes lack.
Tips on creating a coastal luxe home
Perhaps you want to create this look in your space but are unsure where to begin. If so, start by changing your light fixtures. While most homes have metal sconces or traditional chandeliers hanging above the kitchen island and dining room table, these won't fit with the coastal luxe aesthetic. Instead, use beaded chandeliers or woven fixtures that add a bohemian vibe. 
Next, consider the artwork hanging on your walls. Brightly colored artwork or boxy frames with sharp corners can be softened by layering with tapestries. Really think outside the box and display items that add texture, such as woven hats or baskets. You can also add textured pieces to your home with textiles, as throw pillows or blankets with fringe or other unique details can elevate your space as well. When choosing the right furniture, prioritize real wood, handmade pieces, things with soft edges, and high-quality pieces that make your home feel luxurious.