The Best Bedroom Color For A Beachy Vibe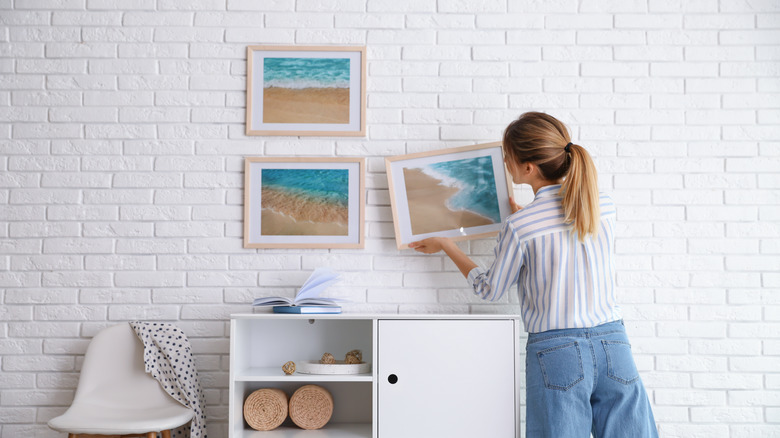 New Africa/Shutterstock
Wouldn't it be nice if every day were a beach day? If you aren't fortunate enough to live near the ocean, you'll have to wait until your next vacation to soak in the coastal vibes... or will you? Lucky for you, there's a way to bring that beachy vibe to your bedroom — paint. According to Benjamin Moore, with the right paint color, you can transform your bedroom into a beachy oasis (without the sand). When you think of the beach, what colors come to mind? Pale blue, like the ocean? Peach, like the sunrise? A calming white to remind yourself of the shells that adorn the beach?
By using this simple trick, your bedroom will always feel like a day at the beach. Not sure which paint color to choose? There are an array of colors you can paint your bedroom to achieve that summertime feeling, but there's one in particular we recommend most. Here is the best bedroom color for a beachy vibe.
Soft blue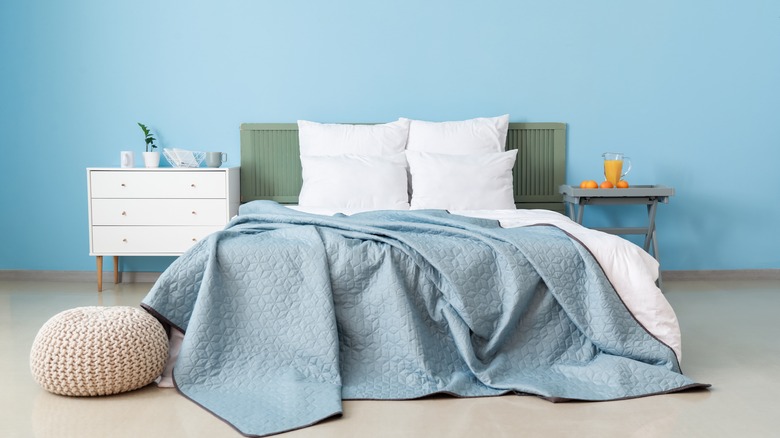 Pixel-Shot/Shutterstock
To give the illusion you're soaking up the sun and feeling the ocean breeze on your skin, opt for soft shades of blue, such as Azores by Benjamin Moore or Bluebird by Paint & Paper Library. If you're like us, you may be curious as to why the ocean and the sea breeze make us feel incredible. According to Common Seas, ocean waves are scientifically proven to lower stress levels (which is why many people use the sound to fall asleep).
Another reason the beach invigorates us is because of its blue seascapes. Studies have shown that just by being in proximity to the color blue, people automatically feel a sense of calmness, which often leads to a meditative headspace. Stress levels significantly decrease, making room for a state of total peace and tranquility. By painting your bedroom a soft blue color, you're enhancing your mental health without even leaving the house.
How to create a cohesive beachy room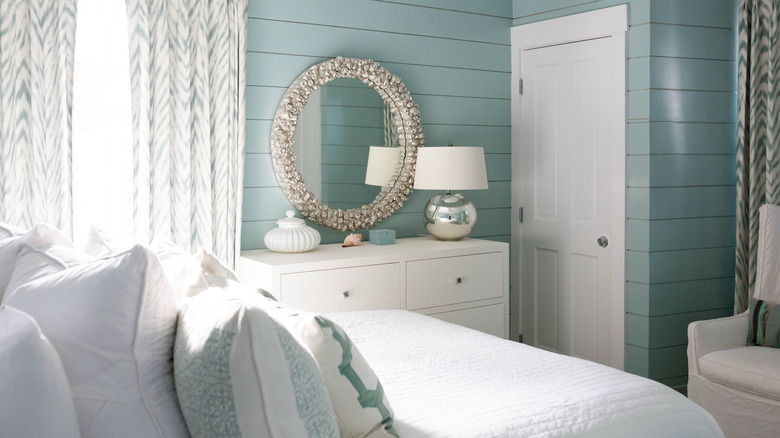 Karen Culp/Shutterstock
After you've selected a paint color, we recommend keeping with the coastal theme throughout the rest of your bedroom. To complement the soft blue walls, Home Decor Bliss suggests a blue and white striped duvet with matching decorative pillows and white sheets. Though white sheets may seem intimidating, we promise the aesthetic is absolutely worth it. This color combination is sure to make you feel like you're cozied up in your beach house, listening to the ocean waves.
As for your bedroom furniture, Impressive Interior Design recommends a rustic aesthetic while still sticking to the coastal theme. This may include pops of wicker furniture, such as chairs and ottomans. Combine this texture with cleaner, more modern furniture to really capture that beachy feel. If you prefer, you can also choose an all-white furniture set to accentuate the white in the duvet and sheets.