The '10 Things' Rule Gets The Whole Family Involved In Decluttering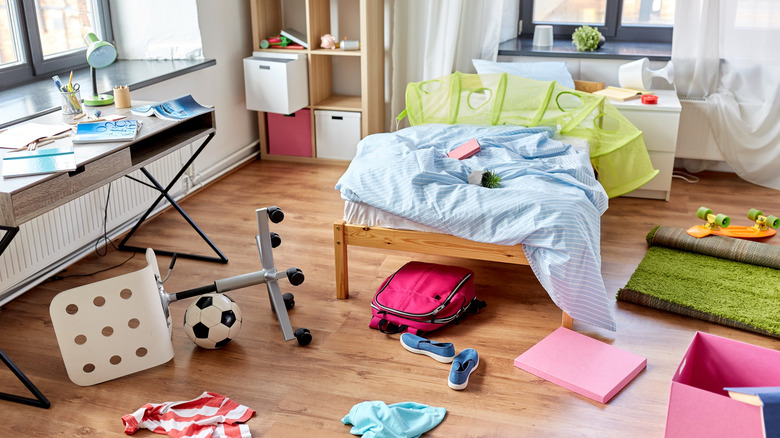 Ground Picture/Shutterstock
A cluttered home can quickly become overwhelming, especially if you know that you'll have to do most of the cleaning up yourself. You can ask your kids to help with cleaning the bathroom or tidying up their rooms, but it only makes a small dent in the mess. With the '10 things' rule, you can make cleaning fun, easy, and consistent throughout the day. Instead of begging your kids to clean up after themselves, everyone can work together to create a happier environment. The '10 things' rule is pretty self-explanatory. Put simply, whenever the rule is invoked, everyone must pick up 10 things. To avoid putting it to use at inconvenient times, it's recommended to use this rule when you transition between activities or locations. This includes before leaving the house, after breakfast, before bedtime, after friends leave, and so on.
Furthermore, everyone can be involved. From littles to elders, the rules can be tweaked to make the '10 things' rule work for the entire family. Delegating tasks to each person in the household will bring a sense of teamwork and fairness. As a bonus, it also means that the work will go more quickly and your house will be cleaner in the long run. For less able-bodied family members, including toddlers, keeping them employed with a simple task such as putting toys back into their bucket or piling blankets into a basket can serve as an immobile chore that still gets them involved in the process.
Change the rules to hit the mess even harder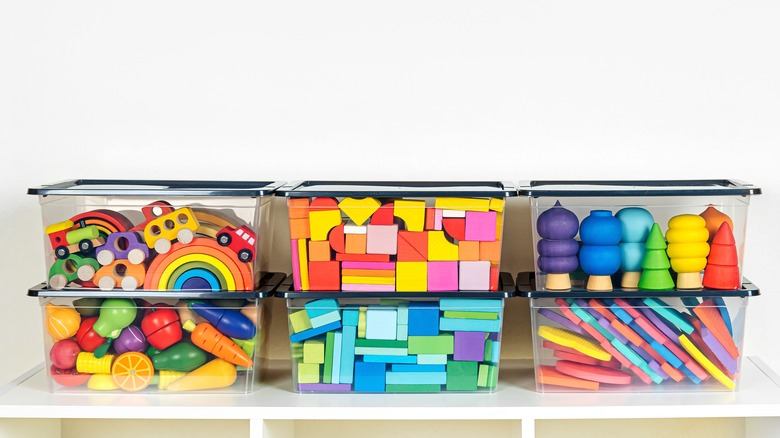 Igisheva Maria/Shutterstock
Not all messes can be cleaned with everyone picking up just 10 things. Don't hesitate to change the rule depending on the clutter and time limit. Typically, on weekends and after dinner, families have a little extra time to clean things up. After breakfast on a Saturday, you could change it to 15 or even 30 things for a deeper clean before jumping into your weekend activities.
Alternatively, if you're trying to get out the door fast but you still want to stick to the rule, consider asking everyone to pick up three to five things each just in the living room and kitchen. This keeps the whole family in the same location and reduces the chances of you being late to a reservation or another planned outing. Simply hanging up coats and putting away shoes in the foyer, folding up blankets on the couch, and moving dishes from the table to the sink will allow you to come back to a much cleaner home.
Get everyone and every room involved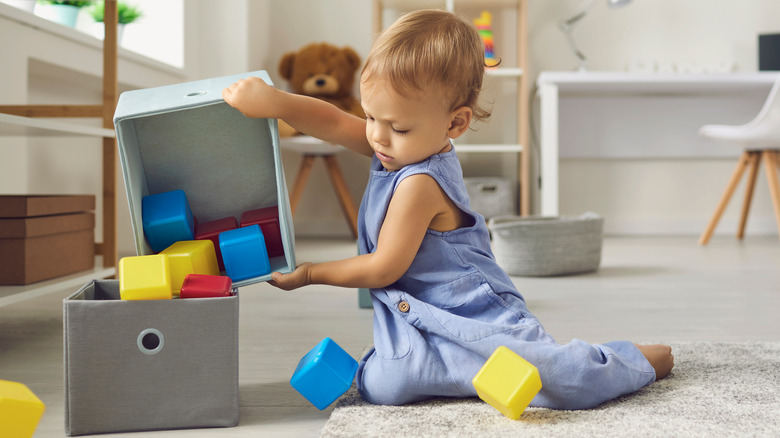 Studio Romantic/Shutterstock
As noted previously, everyone can be involved in the '10 things' rule, and we mean it. Young kids can be assigned simpler tasks that contain them to a single room picking up toys or collecting dirty clothes. While older children and adults could take over the back yard clearing pets' toys and straightening the patio furniture. You shouldn't be afraid to get friends involved, either. Anyone in the home during a transition can help pick up. This makes it much easier to continue on with your day after a playdate or sleepover. As the friends are waiting to be picked up, invoke the '10 things' rule to get toys, clothes, and blankets put back into their homes with ease. This can help teach responsibility to the kids while cleaning up after themselves, and you can take the time to straighten up your own room, kitchen, or living room.
One more thing that helps to keep children interested is to break off into teams or assign them to rooms, your family can race to see who picks up their 10 things the fastest while every single room becomes a little bit less cluttered. You'd be surprised how quickly your house can go from cluttered to perfectly clean when you have someone in every room picking up just a few things. The longer you stick to this rule, picking up misplaced items will begin to feel instinctive.