How To Incorporate A Calendar Into Your Design Aesthetic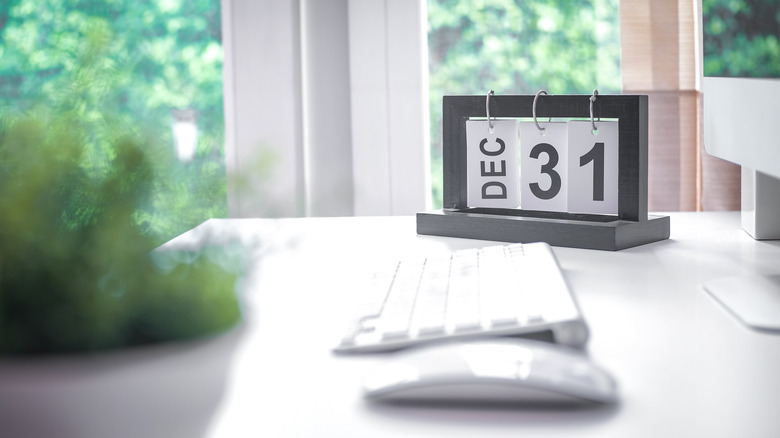 M3nizz/Shutterstock
We have calendars on most of our electronic devices, however, for some, nothing beats a physical calendar that can be taken in at a glance without scrolling or clicking. A physical calendar can often be the perfect addition to your space — and because they are available in various sizes, shapes, and formats, they can also blend in with your design aesthetic. Moreover, shared calendars in the home are useful for orchestrating busy families and keeping track of necessary information like appointments and chores.
In the past, calendars often served much more of a utilitarian function than a design one — the classic spiral-bound format, bedecked with everything from kittens to beautiful mountain scenery, could be found in every home long before they were in our pockets. There are, however, some stylish and practical alternatives today that can blend in with, and even enhance, your decor. Whether you are placing it in your kitchen, your home office, or in key spots like entryways and command centers, there's a stylish way to incorporate a calendar.
At a glance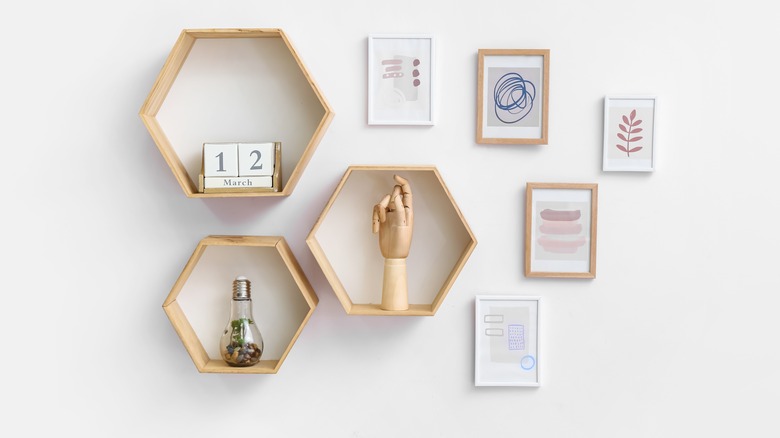 Pixel-Shot/Shutterstock
Finding the perfect format for your calendar will depend on your particular design style. For more rustic styles like cottagecore and farmhouse, wood calendars are available at retailers and craft markets with removable blocks. Many contemporary artists create calendars (some of which are downloadable in pdf). These sheet calendars, which come in various sizes, can either be clipped, affixed, or framed as a piece of art on your wall and changed out each month. You can also purchase a poster-size calendar that contains an entire year at a glance if you are looking to fill a larger space. 
If you are lacking wall space, desktop or blotter calendars are a great alternative. You can find a number of beautifully illustrated desk calendars, either bound or unbound in places like Etsy. Blotter calendars, which sit on your desk and lay flat, are also lovely, particularly when placed under glass or plexiglass for protection. Perpetual calendars, featuring moving parts or flippable cards, come in a wealth of styles and are a more sculptural alternative that can be used year after year.
Fillable calendars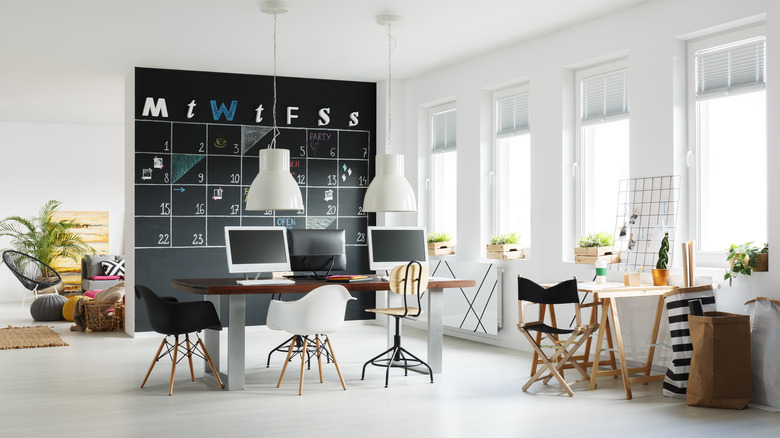 Ground Picture/Shutterstock
If you need a calendar that serves more of a scheduling purpose than a referential one, there are also some great solutions. You can either make yourself one from a standard chalkboard or purchase a ready-made calendar grid. Whiteboard calendars work similarly and allow you to add and remove details as needed. You can place your chalkboard or whiteboard in a frame that matches your decor, or build one from simple molding that can be painted any color. Using a gilt or simple black frame can make your calendar look like an integrated part of your decor.
If you are into home DIY, you can create a large-format calendar with some cut sections of MDF and wood molding, which is a nice addition to a home office or studio. If you require an even larger calendar, for instance in a kitchen command center, consider painting a segment or entire wall with chalkboard or whiteboard paint and then draw the grid in whatever size you would like.