Erin Napier's New Peel-And-Stick Wallpaper Makes Your Home A Cozy Garden Retreat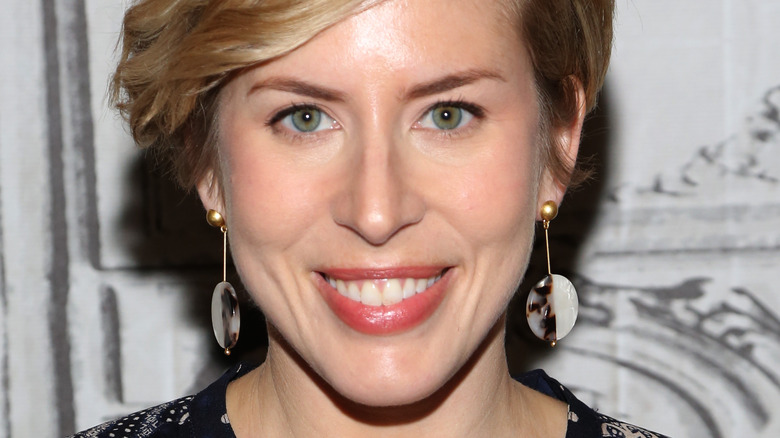 Manny Carabel/Getty Images
HGTV star and co-host of "Home Town" Erin Napier has released her own peel-and-stick wallpaper collection with York Wallcoverings, and it's a floral wonderland. Peel-and-stick wallpaper has recently become a more popular option than its traditional counterparts due to its easy application and removal. And Napier's products are part of the Erin and Ben Co. collection, which features a variety of floral patterns painted with calm, muted hues.
"It's been years in the making, and I'm thrilled to announce my professional quality US-made peel-and-stick wallpaper collection," Napier wrote on Instagram. "Every design is a homage to heirloom wallpaper patterns of the early 20th century in multiple modern colorways."
There are a total of nine patterns available, including a more neutral option, such as the tick mark texture premium peel + stick wallpaper, which would be a stunning addition to any home with any color scheme. Below, we'll show you the other patterns that will have you in awe.
The collection
One of our favorite patterns from the collection is the woodland floral, which features flowers in soft shades of pink, blue, green, and yellow. There are also various critters found across the pattern, such as deer, peacocks, and squirrels. Additionally, this option comes in different background colors — light beige, dark green, and warm red, making it a versatile piece that can accommodate various color schemes. This pattern would look especially stunning in a home library or even the bathroom. The price is $70 per roll.
The scenic pastures mural wallpaper is another beautiful choice — but it comes with a price hike at $395 per roll. Unlike the previous two products we mentioned, this design is more intricate and works as a mural rather than a pattern as it draws you into the woodland landscape. This option can be used to complement a rustic or farmhouse setting, where it could be placed almost in any room, such as the dining area or even the kitchen.