How To Recreate Ryan Reynolds And Blake Lively's Black Porch For A Dramatic, Trendy Twist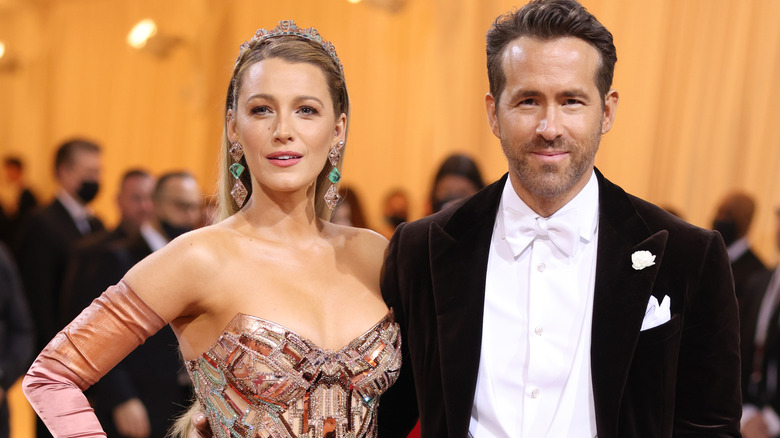 John Shearer/Getty Images
Whether you're looking to put a house on the market or spruce up your own home, adding or renovating your porch might just be the change you need. Porches add extra space to the home that can encapsulate many different purposes. Enclosed or open, front or back, a wrap-around or veranda, the possibilities of implementing and transforming these structures are endless. The Hollywood power couple Ryan Reynolds and Blake Lively, known for their many acting roles, have transformed their back porch into a personal retreat. In a natural, rustic aesthetic, the husband and wife duo incorporated striking design elements that you can use in your own porch constructions.
Many people shy away from using black paint, unsure of how it will affect their home's mood and lighting. But this uncertainty has not stopped this color trend from growing, and the Reynolds and Lively home shows us exactly how this can be incorporated for a sophisticated and enchanting aesthetic.
Going bold with black
In their rural and tucked away New York home, Lively and Reynolds stained the ground of their back porch black and painted sections of the wall in the same dark shade. The couple surrounds it with natural, rustic wood and stone for an outdoorsy yet contemporary and modern setting. Using black outdoors won't impact lighting nearly as negatively as it might indoors, and although it may attract heat in the summertime it does a great job of protecting your home's materials from UV rays.
The benefits of black paint don't end there — it is actually found to increase your home's value. Shane Lee, a real estate data scientist, tells Homes and Gardens, "One of the best ways to add value to a home is to paint it black. In New York State, many agents and interior designers have noticed that you can charge a premium of $15k-$20k simply by painting your house black."
Contemporary country aesthetic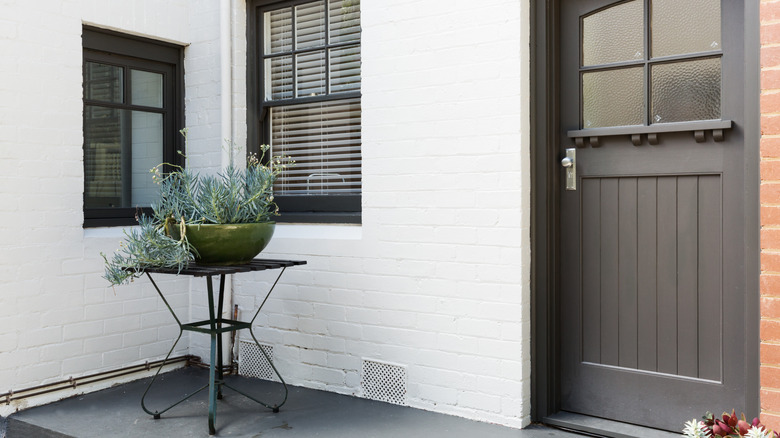 Jodie Johnson/Shutterstock
As a neutral color, black allows creative room for all other design elements and colors. Reynolds and Lively decided on contemporary country and rustic charm. In a combination of raw wood, exposed stone, and other natural materials, the family has kept it simple with little furniture seen on their porch. The family tends to be pretty private, so a wooden tool cart, a grey sofa, and some of their children's toys are some of the only items seen on the deck, giving off an effortless and authentic vibe.
Creating a contemporary farmhouse look can also showcase industrial and geometric design, reclaimed materials, and statement light fixtures. Jute and woven rugs or pillows are great ways to add texture, and vintage trinkets only increase the appeal. With contemporary country design, you'll find the perfect balance of keeping your home modern and new while reveling in the simplicity of the past and soaking in nature-driven spaces, just as Reynolds and Lively have.