How A Vacuum Can Help You Clean Your Bathroom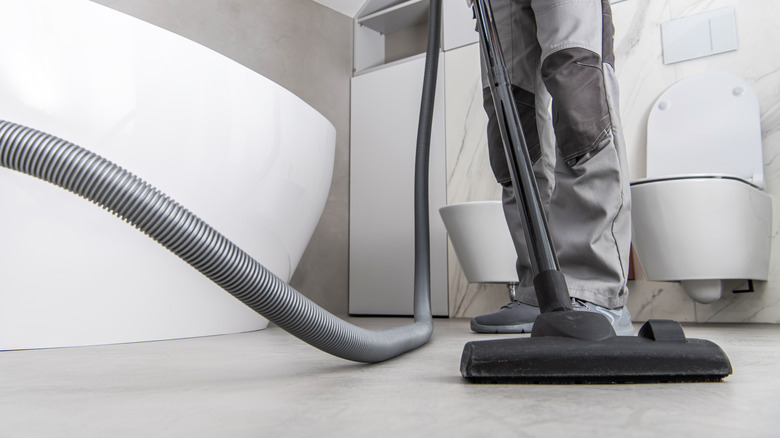 Virrage Images/Shutterstock
If you live in a home with carpeting, your vacuum likely already gets a lot of use. It's the most convenient way to pick up hard-to-reach dust and hair from the fibers of your carpeted floor, but when it comes to tiled spaces like the bathroom, it's more common to focus on mopping and scrubbing to remove any annoying grime. It turns out, however, that using your vacuum in your bathroom is much more helpful than many people expect.
Instead of going all in with a mop and a wet rag during your routine bathroom cleaning, consider giving the space a once-over with your vacuum first. While it initially might feel a bit out of place, it's a great way to cut down the amount of work you have to do during the rest of your cleaning process, allowing you to focus on disinfecting heavily used spaces instead of fighting against annoying hair and dust that never seems to clear away with the help of a mop.
Why vacuuming your bathroom is helpful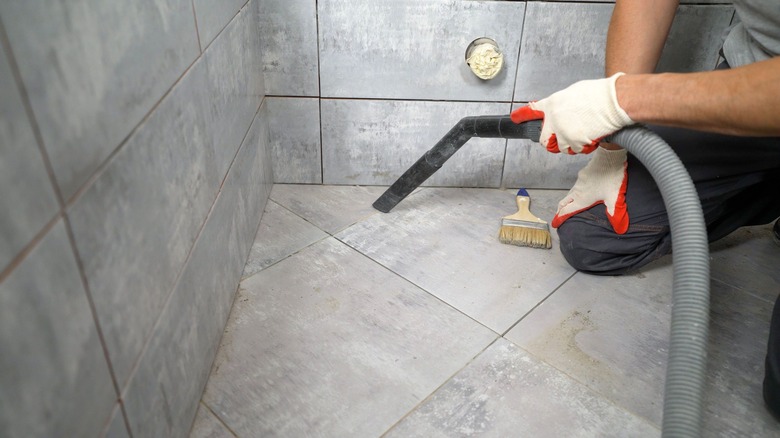 Sidorov_Ruslan/Shutterstock
When you vacuum your bathroom before you mop, you're able to pick up all the dry debris that collects on the floor, fixtures, and countertops, essentially dusting everything away before you focus on disinfecting. When dry, dust is easier to clear away without leaving a ton of mess, but once it gets wet, you're stuck dealing with annoying lines of grime that cling to your surfaces.
This is especially helpful when it comes to people who frequently style their hair in their bathroom — the amount of fallen hairs that collect on the floor and seem to lodge themselves into corners can be quite frustrating once you introduce water. Instead of lifting up and clearing away, these hairs are more prone to stick to the tiling, meaning you'll either have to focus on specifically cleaning them up or accept their permanent residence on your floor. By doing a quick run-through with your vacuum, though, you'll cut a massive amount of time and effort out of your bathroom cleaning schedule.
How to vacuum most efficiently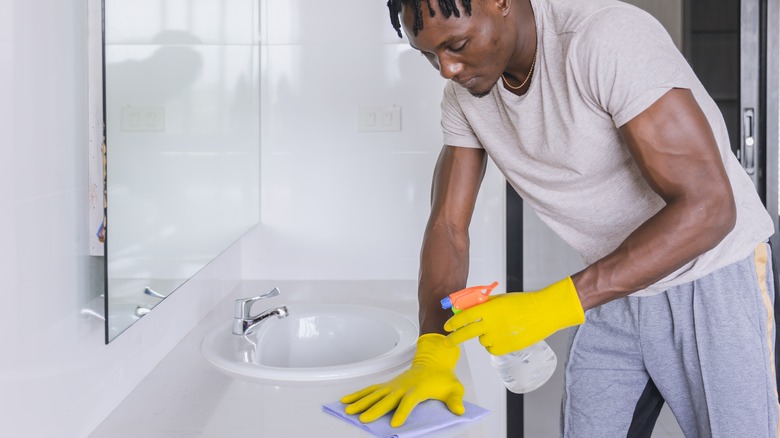 Quality Stock Arts/Shutterstock
In order to ensure you don't have to re-dust certain areas, it's most helpful to vacuum your bathroom from the top down. If you have a vacuum with a removable hose, hit the high points, like lights, fixtures, and shelves, first. This way, you'll be able to vacuum up any dust that falls as you continue on without having to double back.
From there, focus on the floors, making sure to vacuum behind trash cans, in corners, and on top of the baseboards to remove any hidden dust. If your vacuum doesn't have a removable hose, you can still do this hack — just dust everything you can't access from the top down, then vacuum the floors as normal.
After all the dry debris is cleared away, you'll have a clearer slate to get to work on mopping and disinfecting, free from any debris that could extend your time and derail your progress. Vacuuming in the bathroom might seem a bit silly or uncomfortable at first, but sometimes, the simplest tricks yield the best results.