The Hack That Will Give Your Vacuum Cleaner A Much Longer Reach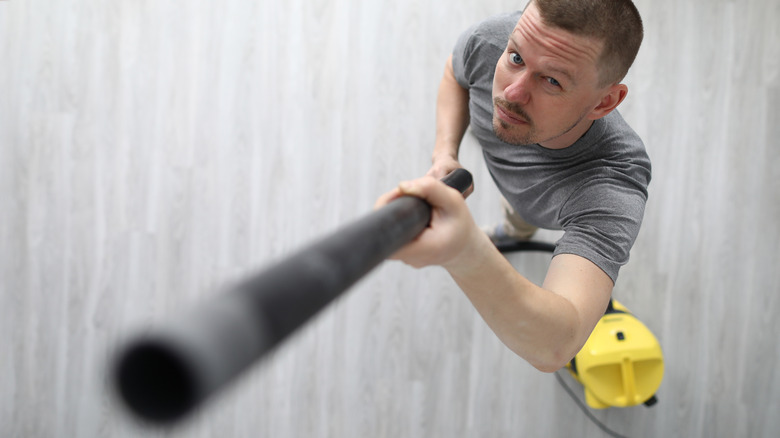 H_Ko/Shutterstock
We may receive a commission on purchases made from links.
Vacuums are one of the most versatile cleaning tools at your disposal. Not only do they obviously clean rugs and other flooring, but they can be used to clean upholstery, window treatments, and appliances, such as dryers and behind the fridge. One incredibly helpful way to use a vacuum if you have high ceilings is to make use of the extension wand to clean out dusty, hard-to-reach corners. But if the reach isn't long enough, consider using a PVC pipe.
While there are plenty of fancy vacuum extensions you can purchase, it can get costly quickly. Some vacuums come with a whole hoard of attachments, and many of them are extendable and have a good amount of reach. However, if your ceilings are particularly tall, or a corner is uniquely difficult to get to on your own, there's no need to go hunt down a pricey extension when a (cost-effective) PVC pipe can do the trick just fine.
Why PVC pipes are the better option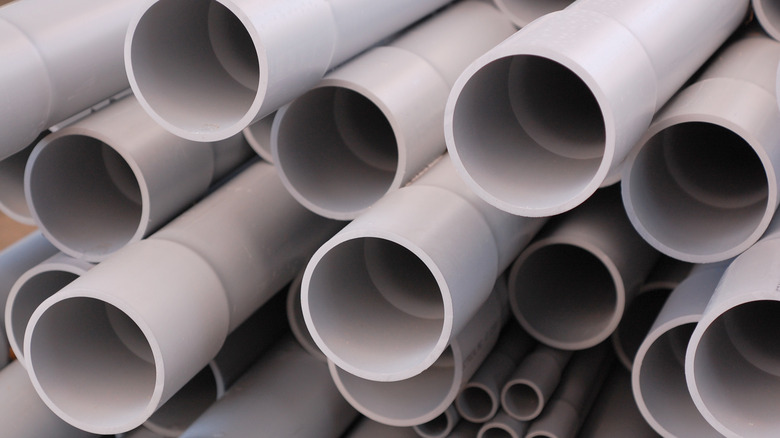 Cynthia longhair Douglas/Shutterstock
Some situations where you may need a PVC pipe over a simple extending vacuum wand include trying to clean skylights, vaulted ceilings, tall bookshelves and other surfaces, and so on. There are attachable pieces you can buy, which are pre-cut and already fit the opening of many vacuum hoses, but they can be expensive. Plus, they ultimately may not be long enough.
This stackable six-piece attachment kit from Huiaway on Amazon, for example, costs $23. Each individual piece is 14.6 inches in length and can be combined for a total of 87.6 inches, or 7.3 feet. However, you still may need more reach, as most vaulted ceilings start at 12 feet in height. Not to mention, the opening is only compatible with vacuums with a 1.37-inch opening.
Depending on the width of your PVC pipe, a 10-foot long piece costs around $4, like this one from The Home Depot. More than that, they're much more customizable than pre-cut vacuum attachments.
Making the pipe fit your vacuum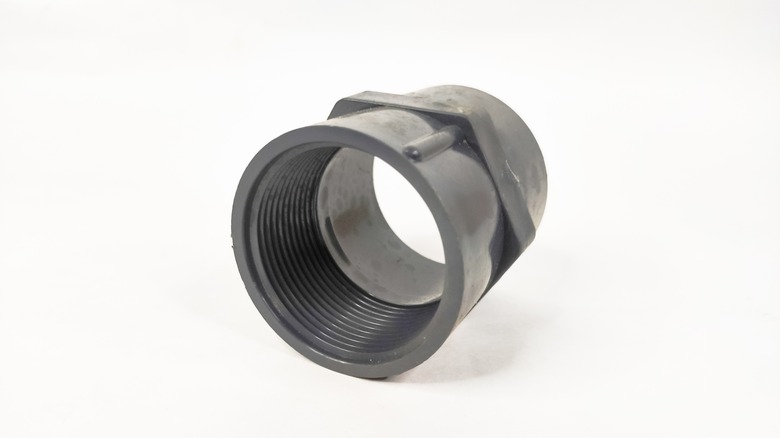 Qutub khan Japan/Shutterstock
This hack is as simple as visiting your local hardware store and searching for a PVC pipe that's the length and opening you need. For the opening, consult your vacuum's operations manual, research it online, or simply measure it. You'll want the opening of the pipe to be just a little bit bigger than the hose, so that it fits over it, but snuggly.
If you're having trouble with this, you may need one more attachment to make it fit. There are plenty of hose reducers available at most hardware and home improvement stores, as well as online, that will fit to the narrow opening of your vacuum hose, as well as the wider end of your PVC pipe. Look wherever you find the PVC or the plumbing aisle. There are even vacuum-specific reducers, like this set of three from VACEXT on Amazon for $12. Even with the PVC price in mind, this is still cheaper than an extending kit.