The Cleaning Hack That Makes It So You Don't Need To Lug Around A Mop Bucket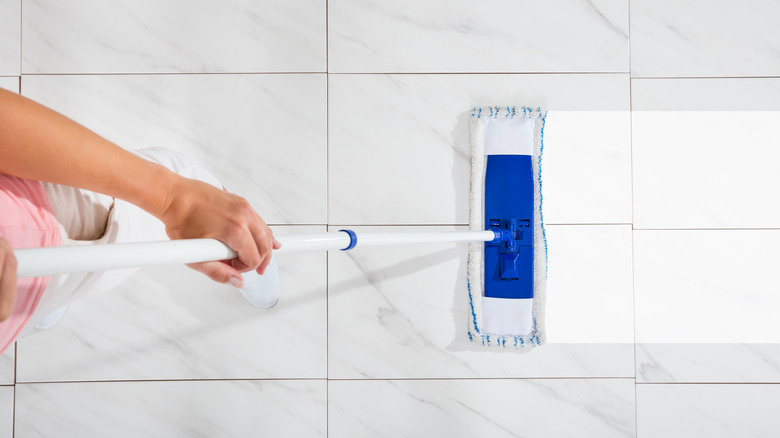 Andrey_Popov/Shutterstock
On cleaning days, we dread nothing more than having to carry around a bucket full of soapy water around the house. Whether you're mopping, cleaning the windows, or spot cleaning, the water gets dirty as you soak in your mop and towels. By the time you're done cleaning, you've probably dumped and refilled the bucket with water at least twice. While using clean water helps make the process easier and cleaner, it's detrimental to our environment. So, using a spray bottle filled with a cleaning solution can make everything spotless and polished by using only what you need instead of having to throw out filthy water.
Cleaning days don't have to be a chore; instead, find ways to make them fun, especially when it comes to mopping. For example, switching up your cleaning routine can give your day a nice mix so that it doesn't feel like the same mundane routine. In addition, finding new hacks to clean your spaces might cut down your cleaning time, so you'll be able to enjoy your free time doing other things. Here's how using a spray bottle can lower your cleaning time and prevent you from lugging around a mop bucket.
Spray bottles are easy and efficient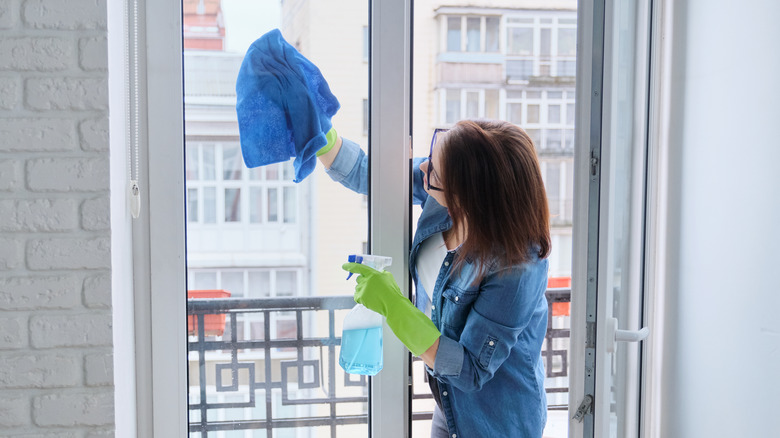 VH-studio/Shutterstock
Carrying mop buckets filled with water can be heavy, which causes the water to splash out to the floor and create a bigger mess. We mentioned how refilling the bucket can be wasteful, so using a spray bottle filled with a simple cleaning solution can make those problems nonexistent. In addition, spray bottles are lightweight, so you won't feel like you completed an arm workout by the end. You can use your spray bottle to give the floor a spritz and mop the area right away with a microfiber mop.
On the other hand, when you're not mopping, you can use the spray bottle to clean the windows or countertops around the house without buying multiple cleaning solutions. Once you're done using it, put it away in your cleaning supplies closet until you have to use it the next time. Then, you won't have to worry about tripping over a bucket anymore or leaving it outside for spiders or snails to make a home out of it.
How to make a cleaning solution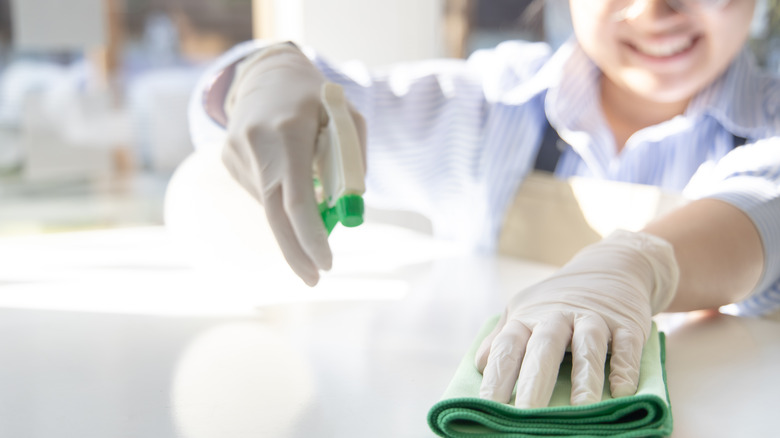 89stocker/Shutterstock
Making your own spray bottle cleaning solution is fast and easy, and you most likely already have all the ingredients at home. Blogger Clean Mama shares her DIY recipe; you'll need a measuring cup, a spray bottle, warm water, dish soap, and essential oil. To get started, first, you'll want to measure out 1 3/4 cups of warm water and add one to two drops of your dish soap and mix it together. Then, you can add essential oil, like peppermint, if you want your house to smell clean after you've mopped or sprayed down the counters. Once your solution is completely mixed, transfer it to your spray bottle, and you can use it immediately.
The cleaning solution is safe for hard surface floors, such as tile, wood, and vinyl. It's also safe to use on windows and countertops since it contains dish soap and water. If you want a stronger cleaning solution, add a small amount of white distilled vinegar instead of dish soap. However, if you mix in vinegar, you can't use it on hardwood or tile floors, or it will damage the surface. Stick to using it on countertops, mirrors, and windows.