The Viral City Furniture Couch That Offers Tons Of Space And Storage For An Affordable Price
The Amber Chaise Sleeper Sectional from City Furniture has gotten a lot of attention on TikTok for its size, style, and storage capacity. The couch can fit into most décor themes, its middle seats can be pulled out to provide additional space, and the side cushions can be drawn up to reveal storage compartments. TikTok creator Krystal Dunn demonstrates opening the storage units and revealing the additional cushions. At the height of 5 feet and 9 inches, Dunn can sprawl out on it with ample space left, as seen in this video.
Unlike typical sleeper sofas that pull out to reveal something like a mattress, this one has more seats. This can be beneficial if you want to keep the living room look so the couch doesn't look like a bed. It can also save space because the pullout part isn't as long. At a price of about $2,200, the website reviews recommend this relatively affordable couch for its comfort and simple look. Customers appreciate the ability to lie in the living room properly and say it fits their space well. Other reviews, however, mention that the seams ripped within months.
How this couch fits into current décor trends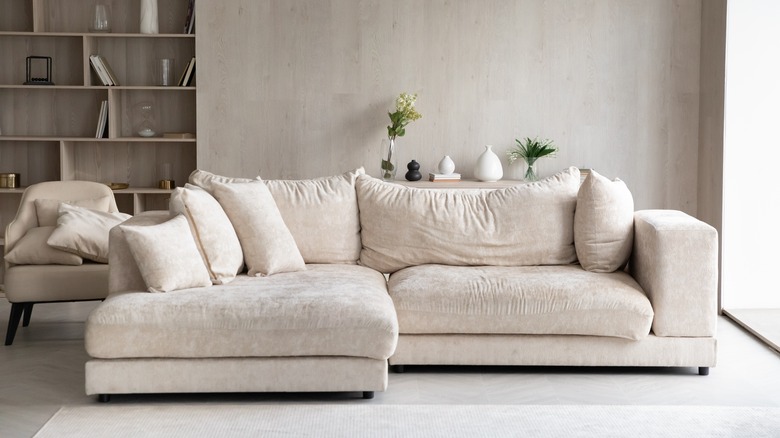 fizkes/Shutterstock
This isn't the first couch that has gone viral on TikTok. The cloud couch, one of the recent trends, was a blanket term created for big, plush couches that look stylish in your living room and also very comfortable to just sink yourself in. So, what can we learn about modern décor from these couch trends? They show a shift toward furniture that prioritizes comfort and makes a statement in the home.
People are no longer afraid to show off their personality and tastes in their spaces, especially with strong, central pieces like couches. Consumers want their homes to look and feel like them, thus creating an inviting atmosphere for whoever is there, but they also want their furniture to look like art. It's now important that furniture is functional and provides comfort instead of being mainly decorative. This is why rounded furniture and soft curves are trendy — they look great in a room while feeling warm and welcoming.