HGTV's Erin And Ben Napier Restore Bargain Home That Honors Its Stunning History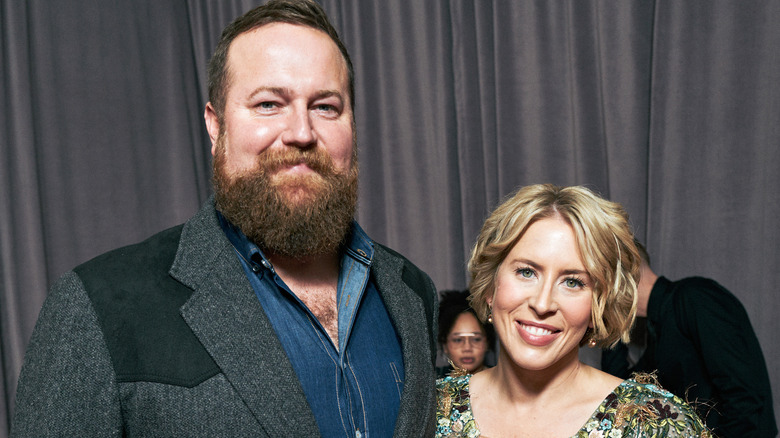 John Shearer/Getty Images
Renovators deal with a plethora of issues when handling homes that are decades old, let alone those built over 100 years ago! When dealing with such a historic property, hiring those who know how to preserve its classic details is a must. That's where "Home Town" stars Erin and Ben Napier come in. In the most recent season 7 episode, "New-Stalgic Restoration," the restoration couple helps three siblings bring a Victorian-era home built in the 1900s back to life. They had purchased the property for only $15,000, but with a renovation budget of $215,000, the Napiers worked their magic inside and out.
As expected, the exterior was worn out, with paint chipping and the siding falling apart. To stay true to the Victorian-era style, the power duo restored the wraparound porch and designed it with a beautiful wooden rail and complementary decals at the top of the beams. "It changes the personality," Erin Napier said (via Realtor). "It changes the style. It's going to change literally everything about the way people have thought of this house." On the inside, they continue to respect the era of the home as they introduce new finishes and innovative design tactics.
Staying true to the home's character
Tackling any kitchen renovation can be daunting, but this one in particular required plenty of planning. Tommy — one of the three siblings who purchased this property — advocated lifting the 9-foot kitchen ceiling to match the 12-foot ceiling height consistent throughout the home, per Realtor. However, although Erin Napier wasn't against this renovation detail, she did recommend keeping the cabinets lower rather than building them up to the ceiling. "It would feel really strangely proportioned," she explained. Leaving space between the cabinets and ceiling is also a better representation of this home's time period since cabinet-to-ceiling designs are more modern.
In the dining room, Erin introduced green floral wallpaper to accommodate the Victorian-era aesthetic of the residence. "I love it when a dining room is in the heart of a house," she said. "You make it feel like the most intimate and cozy space in the house, and you do that with saturated color and dark color." However, she kept the space light by installing white, airy drapery and off-white, tufted dining chairs, which are beautifully contrasted by the dark trim.