The Scandinavian Decor Trend That Will Boost Home Value Before Selling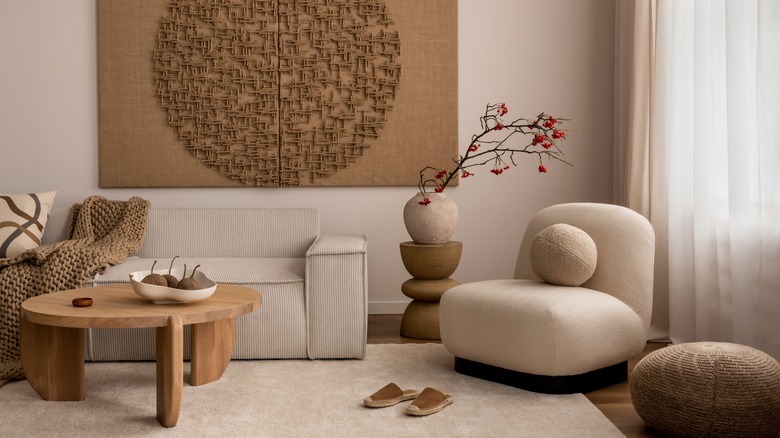 Followtheflow/Shutterstock
When you're designing and planning your home, you are inevitably faced with the question of how much you should build and customize to your own tastes, and how much you should think about resell value. These concepts can seem at odds, but certain styles have been shown to be more popular amongst buyers, and there's one décor trend that can marry both worlds. According to an analysis from Bankrate, the design style that adds the most value to your home is Scandinavian. 
Despite recent trends that have accelerated the popularity of rustic, bohemian, and mid-century modern design, Scandinavian beats them all out for home value and appeal. So much so that Scandi-decorated homes were listed for an average of £572,079, £50,000 more than the second most popular decor scheme, farmhouse. Scandinavian design is defined by organic, clean, and inviting spaces that place a lot of value on domestic comfort, and that means a lot to prospective home buyers. 
Why do home buyers love Scandinavian décor?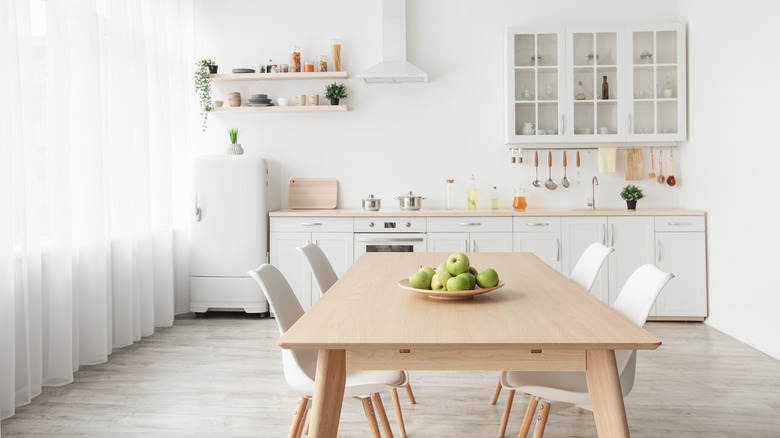 Prostock-studio/Shutterstock
Scandinavian-inspired design is defined by organic but minimal contemporary styles. Picture lots of natural wood tones, warm lighting, and cozy accents. Because it can be used as a base design aesthetic, you can adapt it to your own, more niche preferences, whether you lean more modern or rustic. Mette Aamodt, the co-founder of the architectural firm Aamodt/Plumb, says of the style, "Function combined with inspiration from nature creates a very warm strain of modernism that is very easy to relate to and continues to appeal to many people." And thanks to that accessibility and adaptability, prospective home buyers can easily project their own tastes on it during the walkthrough. 
And because it's so familiar to many home buyers, it feels comfortable and relaxed and doesn't distract from the features of the actual house. After all, Scandi décor has been a major influence on American homes since the 1950s, and thanks to Ikea, Scandinavian — specifically Swedish — furniture and home accents have been accessible to Americans since 1985. 
Incorporating Scandi design into your home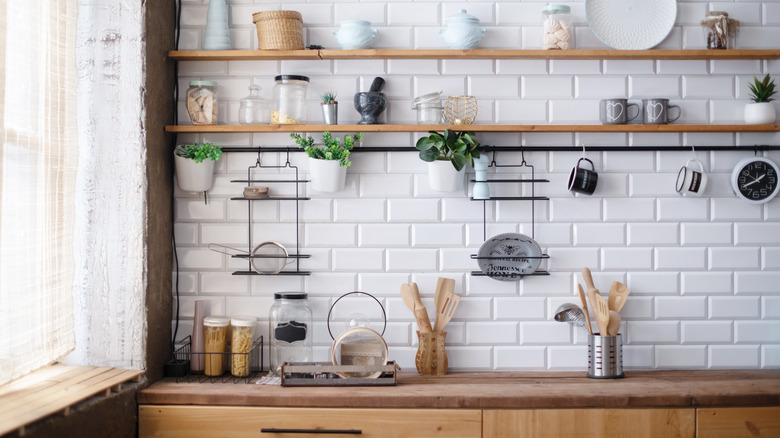 Zakharova_Elena/Shutterstock
As established, Scandinavian design is made up of airy, light spaces with touches of organic and raw materials, and equal focus on both function and style. Keep these guiding principles in mind as you try to incorporate Scandinavian design into your home. Remember that no matter what design practices you follow, you need to identify what elements will make you happy while you're living in your home, not necessarily what a future buyer would want. 
To get the Scandi style, you can make small decorative changes with accessories, or carry out structural alterations to your home's floor plan. Minor design choices would include things like adding house plants to the mantel, replacing painted furniture with exposed wood finishes, and decorating end tables with taper candles and warmly lit lamps. The other end of the spectrum could involve removing bulky cabinets and replacing them with open shelving, reducing the number of furniture pieces you have — unencumbered living spaces are a key component to Scandinavian design — or replacing cold tile floors with hardwood.