Here's Why You Should Seek Out A Home Depot Manager If You Want To Save Money On Lumber
Sergeyryzhov/Getty Images
If you're planning a trip to a home improvement store to buy some materials for your next project, Home Depot is a good option as it has a wide variety and generally affordable prices. Their lumber selection is particularly worthy of consideration because it's ethically sourced. You can also price-match anything you want in the store and save money on most items by haggling, especially on products that are open-box, damaged, or overstocked. However, to get the best deals on lumbar, you should try to speak with a superior like a manager for the highest discounts.
The lumber section of Home Depot already has planks that are heavily marked down, but you can also ask nicely for some additional discounts. The employee you talk to matters when you do this — while the floor associates can shave up to $60 off the price, managers can offer you even more, according to The Deal Guy on YouTube, so seek out a manager if you want to see even more substantial price adjustments.
Secure the deal first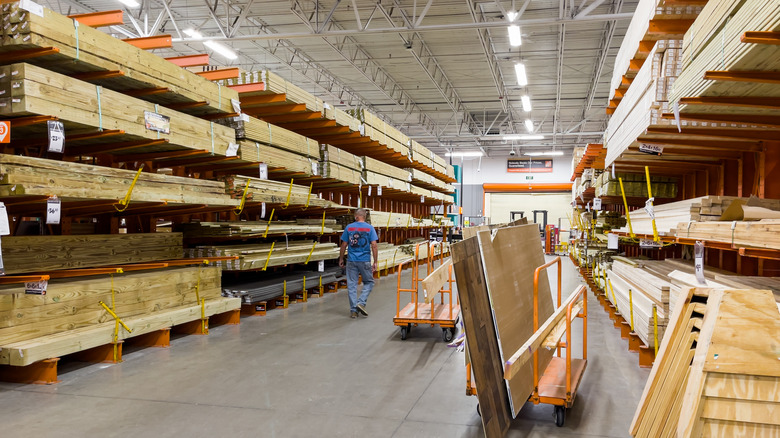 The Toidi/Shutterstock
Before you contact the manager, make sure you have taken advantage of all the deals already available to you. Check competitor stores and even the Home Depot site to find a lower price that you can get matched in the store. Be aware, however, that lumber grades differ and it must be the exact same grade you are trying to match. In addition, if you notice that the items you want are wrongly labeled, you can try to get them for the lower listed price.
When in the lumber section, check the planks to see if any have little imperfections that you wouldn't mind, as this can be a good reason to ask for a discount. There will often be a pile of cull lumber, which refers to damaged or leftover pieces that are already discounted. if you want to have your pick of the newest pieces added to this pile, go to the store at opening time. Depending on your project, you can also be flexible by choosing the wood that's available and staining it to get your desired finish.
Then find the manager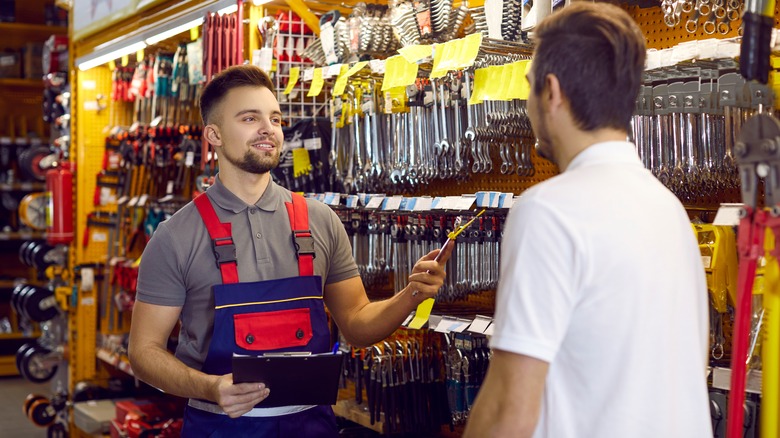 Studio Romantic/Shutterstock
When you've selected your lumbar and are ready to check out, it's time to look for a manager or supervisor to discuss any possible discounts. A department head or supervisor can give you up to $100 off your total purchase price, an assistant manager can offer up to $500, and the store manager has the authority to knock off up to $1000. However, it is ultimately up to the employee and they aren't required to give you these discounts, so do be friendly and courteous when negotiating.
Your chances of receiving a good discount are also better when you're making a substantial purchase. Whether you pick up a lot of lumber for a big project or use this shopping trip to get the other things on your list, the employees will want to close a sale and ensure that you leave satisfied. It also helps to let them know what you're working on as they might be able to point you in the direction of other deals or special offers that you weren't aware of.