Get Your House Ready For The Warm Weather With Home Depot's Annual Spring Black Friday Event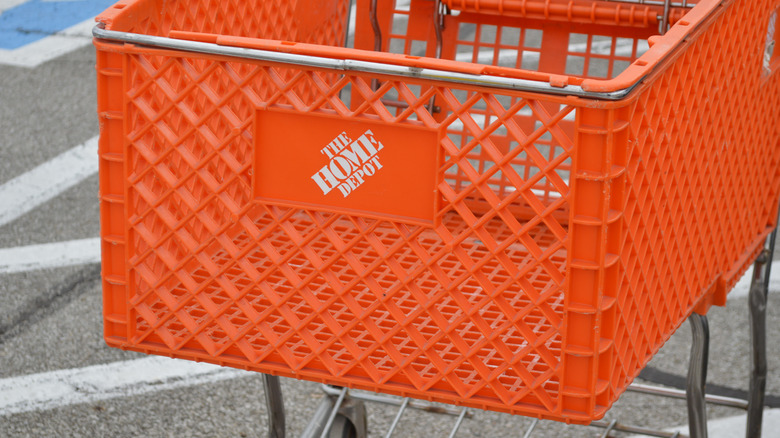 Eric Glenn/Shutterstock
While the fall and winter months bring many deals for areas around your home, including electronics, entertainment, and furniture, the cool temperatures usually mean your garden gets left out. Not at Home Depot, though — the popular home improvement store has an annual Spring Black Friday, which allows outdoor enthusiasts, green thumbs, master grillers, and more to save lots of money on great seasonal deals.
This year's Spring Black Friday starts today, April 13, and will end on April 23. Both online and in-store, you'll find tons of gardening and outdoor supplies with significantly reduced prices and major sales, from more basic items like mulch, soil, and plants, to larger purchases like grills, tool kits, and mowers. In addition, if you missed Black Friday deals on home appliances like washers or refrigerators, these items are also currently discounted as part of the sale. Other items seeing markdowns include patio furniture, flooring, organizational cabinets, DIY supplies, and more. 
Gardening supplies on sale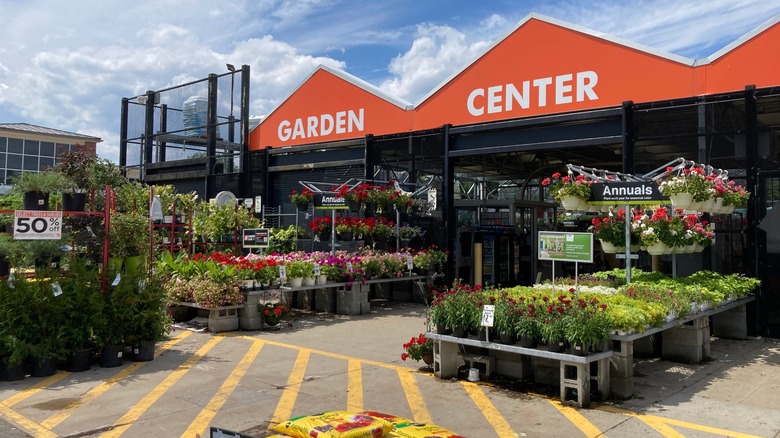 Emma'sPhotos/Shutterstock
As the weather is warming up, you're probably looking for gardening supplies, including plants, mulch, soil, pavers, mowers, edgers, and more. Luckily, Home Depot's Spring Black Friday sale has all of these items heavily discounted. For example, a bag of Earthgro mulch that usually costs around $4 only costs $2 during the sale. Miracle-Gro All Purpose In-Ground Soil is also only $2 for a 0.75 cubic foot bag — a 56% discount.
If you're looking for some flowers to add to your garden, Home Depot sells 1-gallon Double Knock Out Rose Bushes for $19.97, compared to the usual $28.98. There are also lots of gardening tools and appliances on sale, like this RYOBI push mower on sale for $299, or the RYOBI trimmer and edger, which usually costs $99, but is currently available for $79. As for more decorative garden items, there are Pavestone pavers available for just $0.25 each — this particular brand usually sells for around $0.68 per stone.
Other deals to look for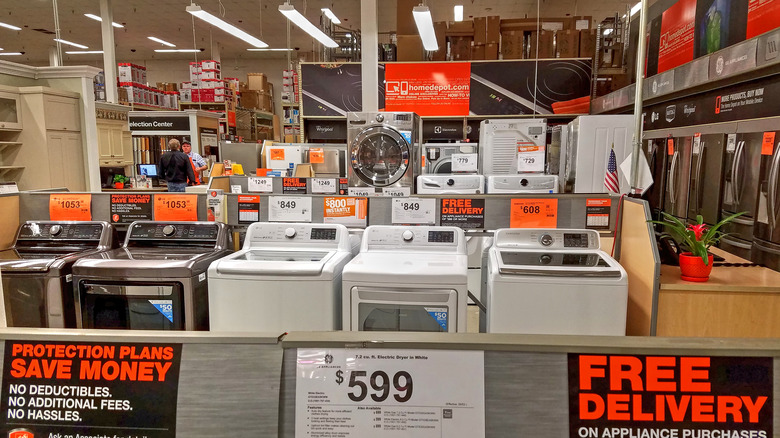 QualityHD/Shutterstock
Your garden isn't the only space in your home that can benefit from this major sale. If you've been considering getting a new patio furniture set, now may be a good time. One set of patio furniture included in Home Depot's Spring Black Friday is from StyleWell. The four-piece set includes a couch, two chairs, and a table for $399 when it regularly costs $599. Also, if you need a new grill for seasonal cookouts, Home Depot offers this Nexgrill gas grill for just $199 — a markdown of $50.
As for the inside of your home, if you want to get your garage in order, Husky storage shelves are on sale for $249 — $100 off their original price. Home appliances are also seeing some enticing discounts, like this Samsung electric range. This stove usually costs $999, but during Spring Black Friday, it will set you back only $748.