The Clever Way Martha Stewart Increases Countertop Space In A Small Kitchen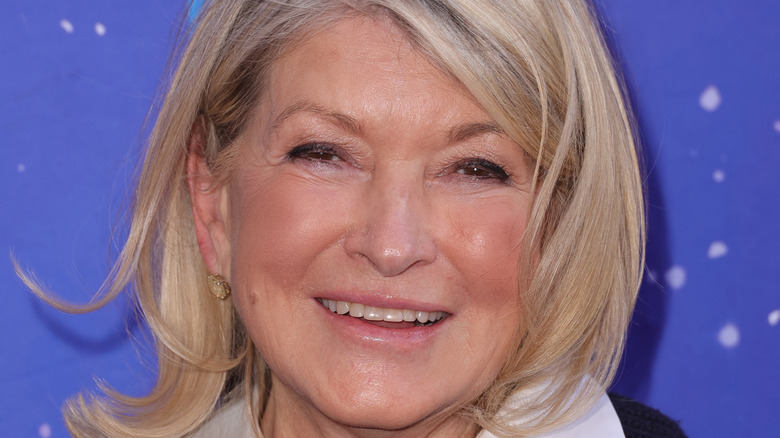 Michael Loccisano/Getty Images
Does your home feature a small kitchen? Do you find yourself fretting over storage and space in this popular hub of activity, especially when it comes to your countertops? The good news is that every size kitchen can be both functional and engaging; it just takes some creativity to figure out the best way to bring these elements out. Martha Stewart has several suggestions for limited counter space, including adding a storage shelf under your hanging cabinets to keep items that usually live on the counter. Adding more cabinetry and storage will keep your surfaces clutter-free, opening up your kitchen and giving you the necessary room to cook, clean, serve, and eat.
Updating or upgrading your kitchen to create more space is the name of the game when working with a smaller space, and you want to utilize every square inch of the room for optimal function. Shelves, cabinet storage, and even how you arrange the countertops affect the entire vibe of your kitchen. Taking advantage of the cupboards and drawers you have, as well as installing holders and racks, will turn this tiny room into the cooking center of your dreams.
Install cabinets and shelving to free up counter space
One of the most important tips Stewart offers is adding a shelf to your kitchen to get items off your cooking surfaces but keep them accessible. In her video on YouTube, Stewart shows a shelf that extends just below the upper cabinets all the way across the length of them. By sitting high off the counter, spices and other useful supplies are still easily reached while cooking, but your counter space is freed up. She explains that by installing a shelf 22 inches above the counter rather than 18 inches, you won't feel overwhelmed by cooking utensils and ingredients directly in your way, which will add to the spacious vibe of clutter-free counters.
In addition, the space above and below the countertops allows for plenty of room to keep supplies and create more counter space. In her video, she shows cupboards that sit above a counter featuring glass fronts, which produce an airy feel to the room. Anything that opens up your smaller space is essential to creating the feeling of more room, and glass front cupboards or even open shelving both have this effect.
Clever storage hacks
Your lower cabinets should each have a job, and you can use these to hide everything from pots and pans to cooking utensils. Store your cleaning products beneath the sink or in one of the lower cabinets as well, so they are easily located after cooking but don't dominate your precious counter space. Drawers and cupboards can hold cutlery, dishes, accessories, and even more ingredients. Utilize every inch of these storage units to keep your main surfaces free, which in turn will make the kitchen look more tidy and open.
The inside of your cabinet doors is a great place to install wire holders, which you can use for spices and oils. If your kitchen boasts an island, Stewart recommends installing multiple pull-out racks beneath the island counter for even more storage. Anything that keeps smaller items off the counters will ensure you have more space to slice, dice, and serve.