The Clever Mirror Idea That Will Make Your Small Bathroom Feel So Much Bigger
Jodiejohnson/Getty Images
Not every bathroom has been graced with ample space. In fact, some bathrooms can be as little as 15 square feet. That's why one of the best ways to fake an extra roomy boudoir is by incorporating a large mirror. All spaces can benefit from a bit of reflective prowess, but you'd be amazed at how a strategically placed statement mirror, or larger-than-life wall-to-wall mirror, can transform your space from a ho-hum water closet to your personal bijou spa.
Have you ever wondered why some identical bathrooms seem smaller than others? You can chalk that up to proper use of space and ample light. Mirrors excel at reflecting light, which is key if you're trying to make your bathroom appear larger than it actually is. Large mirrors not only make your space feel lighter, brighter, and more welcoming, but they can also act like a functional and stylish focal piece, diverting your eye from the less desirable parts of your privy.
If you have the wall space, go big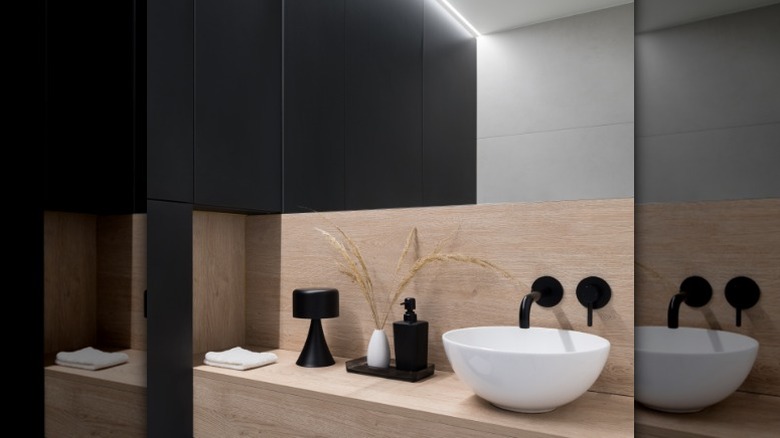 Dariusz Jarzabek/Shutterstock
When it comes to giving the appearance of a larger-than-you-think bathroom, you're going to want to go big. That's why the bigger you go, the more of a spatial transformation you'll see. Statement mirrors are both decorative and functional. They're typically hung above or across from the vanity, or if location permits, above the bathtub. Depending on the edging, shape, and uniqueness, these types of decorative mirrors can also transform your bathroom's visual appeal.
Another bold idea is opting for a full mirror, or even covering an entire wall with a mirror. Full-length mirrors can be hung or freestanding, and placing them at a diagonal or in a corner also creates a nice focal point. This means that the first thing people will hone in on won't be the chip on your toilet, but the bright, expansiveness of your "tiny bathroom" as reflected in your mirror.
If you're looking to go for a bigger, bolder, and more modern elegance to your washroom, then a wall-to-wall mirror might be your calling. This option maximizes not just space, but light, which will automatically brighten your small bathroom and make it feel more spacious.
If you're lacking wall space ...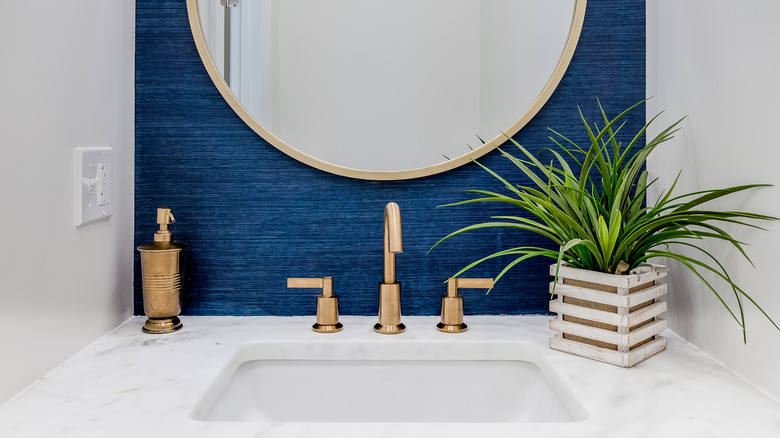 Hendrickson Photography/Shutterstock
There are a few solutions if you happen to be lacking in bathroom wall space, and a few great room-expanding options, too. First, you can opt for installing a large, frameless horizontal mirror that takes up about 70% to 80% of the width of the vanity. The second option is to install a mirrored medicine cabinet, which will also provide your bathroom with extra storage.
Medicine cabinets can be found with single, double, and even triple doors. If the wall reflected in the vanity mirror has some extra space, try decorating it with a few smaller mirrors. These will act as tiny light reflectors but still make the space seem larger than it is by acting like small mirror windows.
Also, remember that when it comes to placement, it's not a good idea to have your mirror facing the bathroom door, and not just because it can startle you if you happen to get up to use the loo in the middle of the night. It's also not advisable to hang a mirror on the back of the bathroom door because this will actually make your bathroom look smaller.