Chest Vs. Upright Freezer: Which Is Right For Your Home?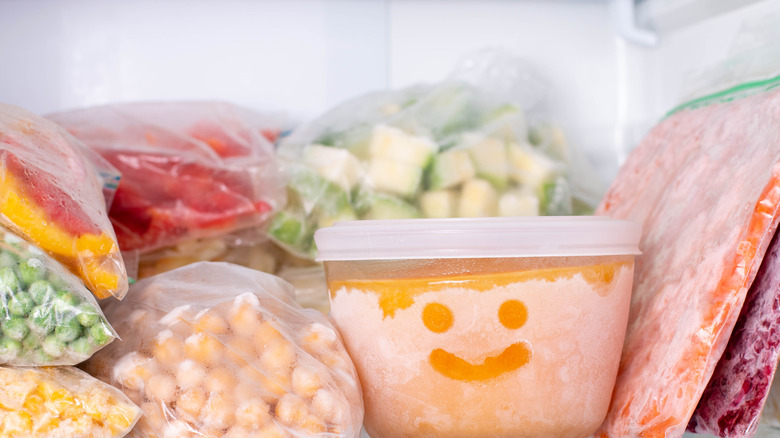 Ahanov Michael/Shutterstock
Having a standalone deep freezer in the kitchen gives you more space and allows you to shop and store food in bulk. The two main choices for home freezers are chest and upright freezers. Chest freezers look like big chests with lids, while upright freezers are shaped like normal fridges. When deciding which is right for your home, you need to consider the space in your kitchen or wherever you'll be placing it, how much you'll be storing in it, energy usage, the level of maintenance needed, and the overall cost.
Upright freezers are designed in a way that makes it easier to access the contents, while chest freezers are better suited to hold bulkier things but require more effort to find what you want since the items are stacked on top of each other. Generally, chest freezers are best if your top priority is storage space and upright freezers are best if you desire more convenience. Here's more on the two freezer types.
Chest freezer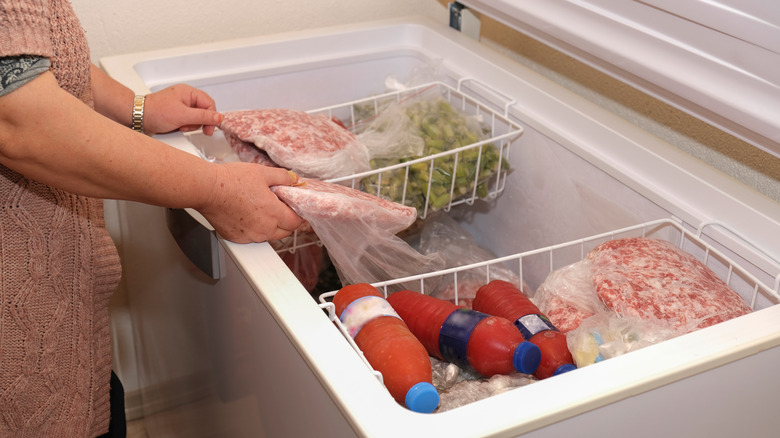 AhmetCelik/Shutterstock
Chest freezers are great for households that shop in bulk and have enough room for them. They take up more floor space than upright freezers because they're designed to be wide, but they also need head space so their lids can swing open upward. They can be stored in the kitchen or in another room like the basement or garage, which is great if they aren't used frequently. If you have enough space in your kitchen for a chest freezer, however, keep it in an area where it can receive good ventilation and away from the oven and stove.
Chest freezers are generally more energy-efficient than upright freezers because their seal is often stronger and they aren't opened as much, which means less cold air escapes. In addition to their lower energy usage, chest freezers tend to cost less overall and require less maintenance because their designs are simple. You can expect to spend somewhere from $600 to $950 on buying and installing a chest freezer. Note that they take much longer to defrost than upright freezers, but that can be beneficial in the event of a power outage.
Upright freezer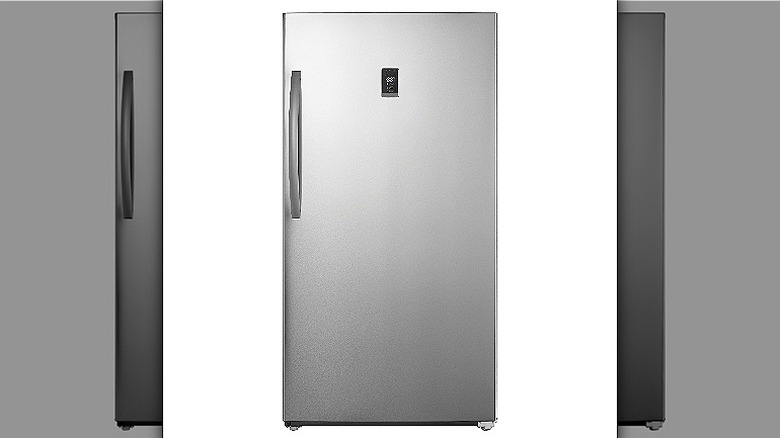 AmaPhoto/Shutterstock
Upright freezers are similar to refrigerators. They're vertical in shape with interior compartments and doors that swing out, which makes it easier to fit them into a space. Unlike chest freezers, you'll be able to reach and organize your items more conveniently in an upright freezer. They're great for households that don't need to store too many things for a long time and just need something supplementary to the fridge. They also have more style options, which means you can match them to the fridge and incorporate them better into your kitchen's décor.
You can expect to pay a bit more for an upright freezer and its installation versus a chest freezer, around $700 to $1,150. They tend to be more expensive for their overall design and features. Note that food can spoil faster with an upright freezer if there is a power outage, but it can auto-defrost, which makes it faster and easier to clean. Like chest freezers, upright freezers also need to be placed in a well-ventilated area and away from the kitchen's heat sources.