Here's How Much It'll Cost To Remove The Unused Pool In Your Backyard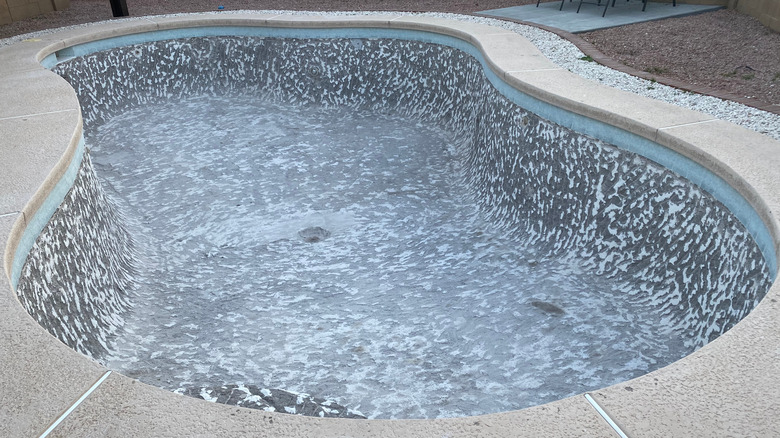 Badger13/Shutterstock
We've all considered how much better our home would be if we had an outdoor pool. There would be pool parties to throw, an activity for the kids, or a place to relax when the weather is warmer. When you decide to install an inground pool, it's best to think twice about your decision because sometimes you won't use it as much as you hoped. In most cases, you will continuously clean or maintain it so it doesn't get damaged. Some homeowners will keep their pool to increase the value of their home if there's a chance to sell it. However, other homeowners who plan to live in their homes for the rest of their lives might want to do something different with their backyard, so they decide to get rid of the pool.
There are various reasons why a homeowner might want to remove their pool. For example, they don't want to pay to maintain the pool, or their older pool needs multiple repairs, which could cost more than eliminating it. Regardless of the reason, removing an unused pool can cost between $2,700 and $19,000, but the national average is $6,000. Every pool situation will be different, depending on how large and deep the pool is, its constructed material, and the labor costs. Pool removal is a heavy and extensive project, so contracting professionals is highly recommended.
The type of pool affects the cost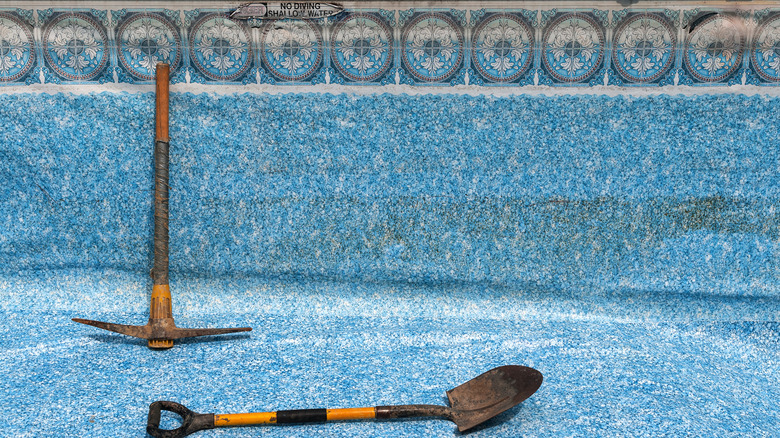 Scott L. Williams/Shutterstock
When you're ready to get rid of your pool, you have to choose between full and partial removal. Complete removal can increase the estimated cost, ranging from $4,000 to $16,000, with an average of $9,000. The process entails removing every trace of the pool, from the cavity filling to cleaning up the entire area; it can take three to seven days to complete. On the other hand, if you decide to do a partial removal, the cost will be between $4,500 to $6,250. The price is lower because the bottom part would be left intact while the rest of the pool is broken up and left inside. It would take about three days to complete, but it could cause issues with drainage.
Once you've decided how much pool you want to remove, the type of pool also affects the cost. Notably, most pool materials require complete removal instead of partial removal since they can't be broken up and left behind. A concrete pool is the only type you can partially eliminate, which can range between $3,000 to $15,000, and it's often more expensive because it takes a long time to break it down. On the other hand, fiberglass and vinyl materials require total removal. Fiberglass ranges from $5,000 to $15,000, while vinyl ranges from $3,000 to $10,000.
Additional costs to consider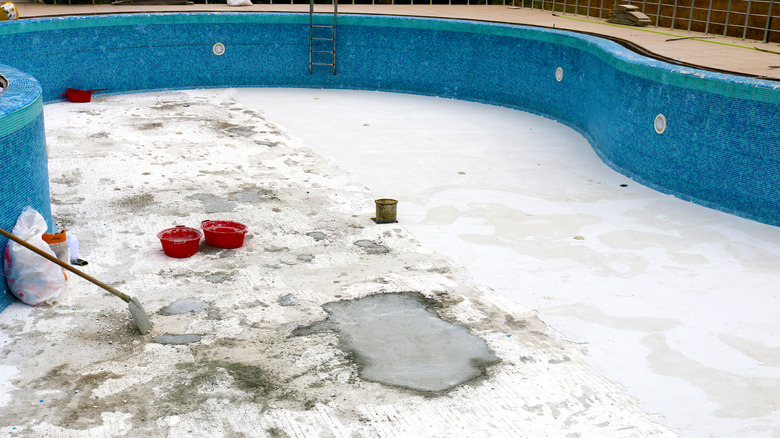 ZU Photo/Shutterstock
While removing the pool itself has a price, there are also smaller but significant factors that you should consider. Labor costs vary among contractors, but an estimated price can be between $1,000 and $3,000. A few factors that affect labor pricing depend on the size of the pool, draining the water, fill material, pool material, and the time to complete the project. However, one way to slightly reduce the cost is draining the pool yourself by renting a pump that averages between $40 and $70 instead of contractors draining the water for $175 or more. In addition, contractors have to remove the enclosures of the pool, such as fencing and decking, which can increase the rate. For example, deck removal around a concrete pool is about $2 to $5 per square foot to remove it and $4 to $8 per square foot to replace it. 
On the other hand, where you live can cause the price to fluctuate. More populated areas have a higher cost of living, making the materials and labor more expensive than less populated areas. It's best to call local contractors who can remove your pool and get a quote to get a price estimate. Plus, if you plan on fixing the landscape, you'll have to budget for plants, shrubs, and grass that'll replace where the pool was.