Here's How Much It Really Costs To Organize Your Refrigerator Like TikTok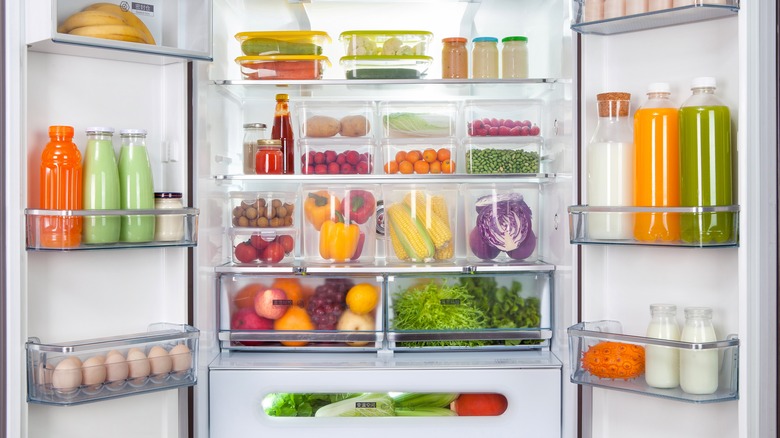 Zhane Luk/Shutterstock
Have you come across any of the countless kitchen organization TikToks? This type of content, where creators organize or stock their kitchens, has become so popular due to its satisfying effect. Just like ASMR videos on YouTube, these TikToks gain a lot of views and attention on the platform. For example, @_catben_ on TikTok has over 11 million followers on her account, where she shows her cleaning and home organization methods.
What you'll notice in this content is the use of many containers to hold all types of kitchen items. You need jars for all sorts of grains and spices for the pantry and trays to organize what goes in the fridge. To organize your refrigerator like the content you see on TikTok, you'll need storage bins in different shapes and sizes to hold your various items. A pack of 24 storage bins can cost around $30, wide bins around $22, sturdy egg drawers around $10, and can dispensers around $12 when shopping at Amazon, Target, and discount stores.
What you need
Some of the main things you need are basic bins, drink dispensers, and drawers. You'll probably buy more basic, clear bins than anything else, so they should be big enough to hold the most common items in your fridge, like fruits, bottles of water, drinks, etc., and fit perfectly into your fridge. Drink dispensers are more helpful than bins if you regularly buy a lot of drinks, while drawers can be used to store delicate or smaller items like eggs and snacks. If you have limited room in your fridge, stackable bins and drawer bins are a great way to maximize the space you have. 
A Roll Out Fridge Caddy and an 11 Inch Turntable, which is a small flat tray for sauces and tall bottles, can cost around $15 individually, while a two-pack of Small Produce Fridge Bins for little pieces of produce can cost $12. You can cut down the costs of new bins by using things you already have, like Tupperware, which provides you with multi-purpose containers. Or you can purchase a Rubbermaid 10 Piece Glass Food Storage Set for around $45 at Target. You can also get creative and reuse things like a six-pack holder instead of a turntable to securely store sauce and condiment bottles in your refrigerator. Just note that the fridge will look more organized and stylish when all the bins and containers are the same!
How to get it right
Before you buy anything, plan out what you need based on the space in your fridge by drawing the inside of your fridge with all its compartments and labeling where you would put everything, per this TikTok. Knowing where everything goes will let you know the sizes and shapes you need as well as the total number. Getting all the bins and organizers mentioned above will cost around $160 if you get just one of each, so it will most likely be more.
While getting fewer but bigger organizers and bins will save you money, you might have to merge different types of items. You will be more organized when you have distinct organizers so every product has its designated place. It is also an investment because these are one-time purchases. After stocking, you can label the containers for an added layer of organization and also aesthetics by writing on them with a marker, using pre-made labels, or creating your own, which would be another fun project for TikTok.