Home Town's Ben And Erin Napier Share How To Make Laminate Kitchen Countertops Modern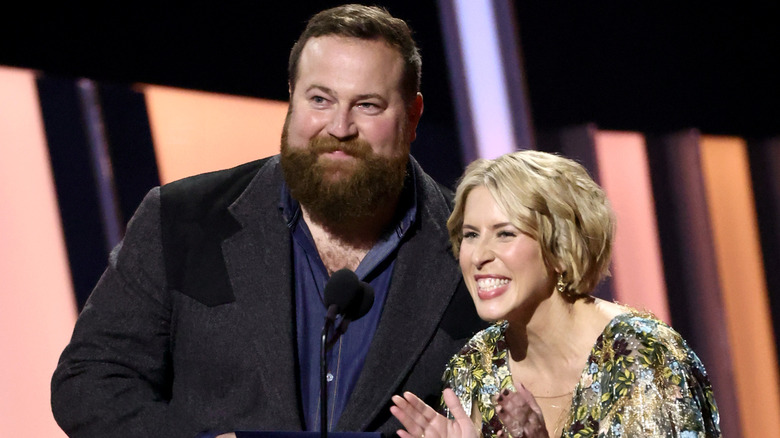 Michael Loccisano/Getty Images
Let's face it; laminate kitchen countertops have been a taboo topic over the years as many homeowners transition to more modern materials such as quartz and marble. As such, many homeowners view the material as an old-fashioned, dingy finish that doesn't belong in a modern kitchen. However, co-hosts of HGTV's "Home Town," Erin and Ben Napier, have revealed a simple tactic to give your laminate countertops an updated feel.
The Napiers — who have a new season of "Home Town" premiering on April 23 — chose laminate countertops for their budget-focused client, showcasing a specific detail that makes it work (via HGTV). "Imagine that, but with a square edge so that it feels more like stone," Erin said, holding a light gray sample with a stone-like pattern. "To me, the curved edge has always felt very 1997 laminate," Ben responded. Aside from the modern appearance of squared laminate countertops with a natural stone-inspired design, there's another key reason why opting for this material can help you modernize your kitchen over the course of a renovation.
You can't beat laminate's affordability
The most significant benefit of choosing a laminate finish for your countertops is how much you'll save renovating your kitchen. The average cost of laminate countertops is $25 to $35 per square foot, while quartz ranges from $40 to $100 per square foot, depending on the quality. So, while working with a young client hoping to renovate her first home with a budget of $75,000, the Napiers had to devise several cost-effective tactics, such as installing laminate countertops with a Calacatta marble design.
The outcome? Enough money was available to design a stunning kitchen with updated cabinetry, modern appliances, and more. "When you save money there ... you put more money toward beautiful appliances or a hood vent or a cool backsplash, which can elevate the entire space," Erin Napier said (via The Washington Post). Ultimately, the laminate countertop was paired with a mercury glass backsplash and updated appliances to give the kitchen the modern touch it desperately needed.