Small Changes That'll Make Your Home Feel More Luxurious
Followtheflow/Shutterstock
Sometimes, you look around your living space and sigh. You don't hate it; far from it. It's just that you've suddenly become acutely aware that it could do with an upgrade. The idea of any kind of home renovation task can seem gargantuan – and expensive. While that can be true, the great news is it doesn't always have to be. You can create a more luxurious space without breaking the bank. By starting small and making bite-sized changes to your space – starting one room at a time – you can create a home that feels more like a spa or five-star hotel. And you can achieve this without dipping into your savings.
You can decide to upgrade your home by adding a feature wall using easy-to-apply wallpaper. You could also turn your space into something more luxurious simply by tidying up. Now, this one you can do for free. After all, one of the critical elements of any luxury space is its lack of visible clutter. So whether you decide to trade your cotton pillowcases for silk, or add beautiful scents to various rooms in your home, here are some small but significant changes you can enact to make your home feel more luxurious.
Upgrade your lighting fixtures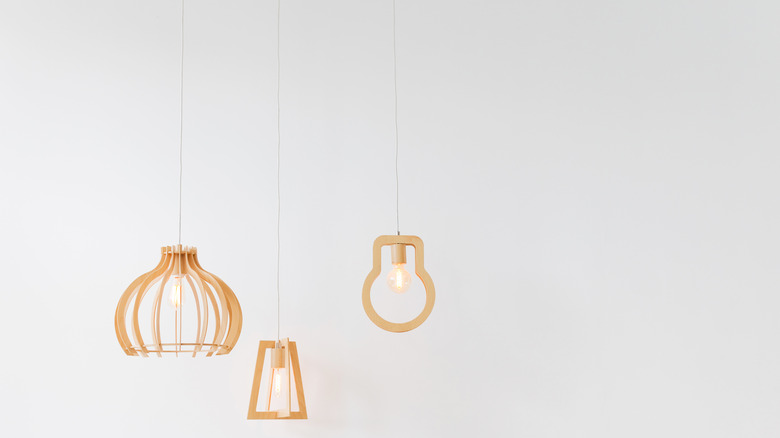 Oksana_nazarchuk/Getty Images
Let your creative flag fly with the exciting lighting trends predicted to dominate 2023. This year, it's all about curves, texture, and luxe living – within your budget. However, the fun doesn't end there. Sustainability is at the heart of many home decor trends this year. Lean into the biophilic trend and bring nature inside with materials such as bamboo, wood, and stone. Turn your fixtures into statement pieces by drawing inspiration from nature to illuminate your home. Firstly, switch to LED bulbs for energy efficiency as well as more of a natural feel. Then, try updating your existing fixtures with woven rattan covers to give your space a new look, from classic luxury to casual sophistication.
Beyond sustainable materials, pendant lighting is having a moment. Pendant lighting features a single bulb hanging from the ceiling. The fun comes in the form of the cover used to conceal the bulb. Turn your simple pendant light into an art piece using an art decor bulb exterior instead. Alternatively, geometric shapes are in this year, so find a light cover with a unique shape and turn your dull lighting fixture into something more opulent. Or go the minimalist route and find a fixture that blends in with the colors in your space for a more quietly luxurious feel. Play around with accent lights for elevation on a micro-scale. In the bedroom, invest in reading lights made of brass or copper. Or try something new with tactical lighting – smaller led bulbs that highlight your favorite art piece. Accent lighting not only creates a luxurious mood in your space but it's also a great hack for reducing your energy bill over time.
Create luxury through scent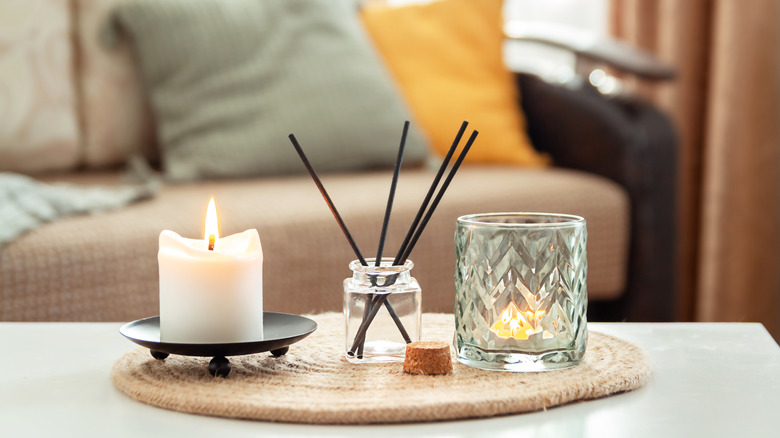 Irina Belova/Getty Images
Perhaps one of the most underrated indicators of luxury is the scent. Nowadays, scent has become a large part of interior design, the final touch that elevates a space beyond its visual beauty. The great thing about this is you have a variety of options to get your space smelling like a million bucks.
Scented candles are always a great option, and while there are affordable options, they do tend to run a little high in cost. However, you can turn a scented candle into a worthy investment by ensuring it lasts a while. One way you can do this is by freezing your candle before use. The lore here is that the wax will harden, allowing for a slower burn. Another way to ensure your candles last longer is by trimming the wick after each use.
For a more natural scent, give essential oils a try. These plant extractions come in various delicious aromas, from lavender to lemon to chamomile. Essential oils also come with a load of health benefits. According to aromatherapist Amy Grant, in an interview with Forbes, "Research supports that essential oils have antibacterial, anti-inflammatory, immune-modulating and antispasmodic properties." Less is often more when it comes to essential oils, as these plant essences can be quite strong. If you're trying to decide what scent to get, you can start with the calming scent of lavender to get you started. Other scent options for the home include essential oil diffusers, incense, or a yummy room spray.
Trade your cotton for silk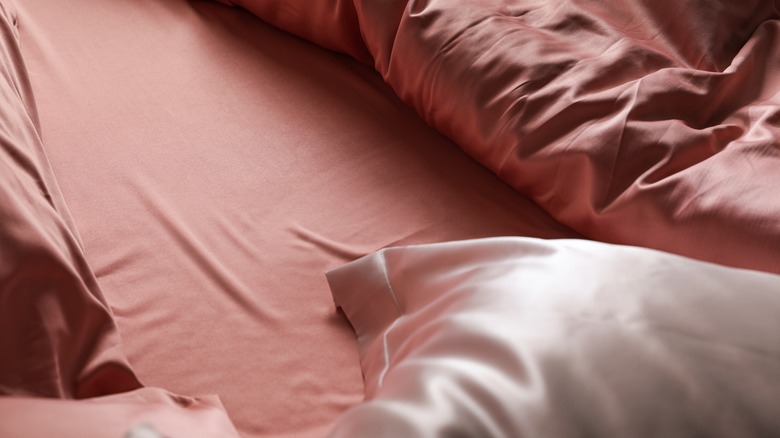 New Africa/Shutterstock
When you think of luxury in the bedroom, it's likely that silk sheets will come to mind. It's not just because of how opulent they look, but the softness and warmth of this fabric elevate your sleeping experience to a whole new level. Excitingly, silk isn't just limited to use on your bed. There are many ways to incorporate silk into your home decor for an instant upgrade. You can turn your sofa into a luxury seat by adding a silk cover for added texture and even a pop of color. If your walls are due for a bit of a touch-up, why not opt for silk paint? Compared to matte options, silk is durable, and its reflective sheen means light bounces off it very well, further illuminating your space.
On a micro-scale, silk accents strategically placed around any room can bring your luxe living dreams to life. Cushions made of silk instantly offer a lift to your sofa. Layer these by buying multiple in a spectrum of complementary colors for a pop. Silk lampshades are reminiscent of old money luxury. When considering what kind of silk lampshade to get, there are three types: Empire, Square, and Drum. Once you've decided on a shape, you'll want to consider the color. Luxury isn't limited to what hue you use but how you incorporate color into the space. Consider this when picking your accents.
Get rid of the clutter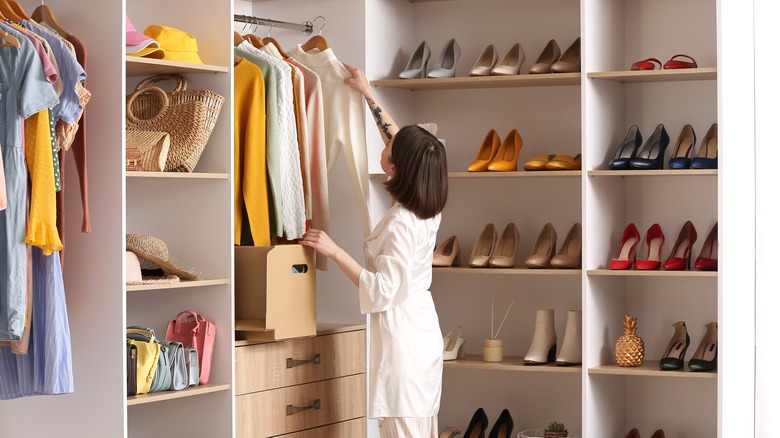 Pixel-Shot/Shutterstock
An organized space screams luxe living. So it stands to reason that one of the most affordable ways to turn your space from drab to fab is to eliminate all the mess. Not only does it leave your space looking more presentable, but it's also great for your mental health. Decluttering one's home is never a small task, but that doesn't mean you can't start small. Make it a daily task, focusing on one section of your home per day until it's done. This way, the task is broken up into smaller pieces, making it easier to manage. Sometimes, clutter is due to a lack of organization, so you'll need to be a bit strategic to get things under control. The key is to organize your home in a way that optimizes space. For example, invest in a shower caddy with enough room for all your products in your bathroom. Keep your extra items hidden in under-the-sink storage spaces or similar where possible.
Visual clutter is an accumulation of bric-a-brac that causes a home to look busy and untidy even when it's not. Reduce the noise for a more luxurious space by minimizing the objects on your flat surfaces, such as tables, countertops, and mantels. If your space has too many textures and patterns – wallpapers, tiles, cushions, or rugs – competing for attention, it might be time to consider a quieter style. An accent wall is a great way to focus the eyes on one feature space while letting the rest of the room breathe.
Create the illusion of higher ceilings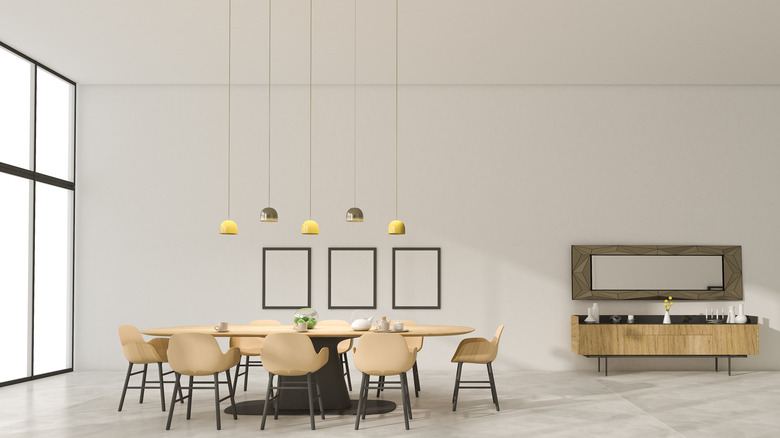 Gvoic_m/Getty Images
How do you make a small room look bigger? It's all about the illusion of space. One of the greatest hacks for making an area look more spacious is drawing the eyes upwards. You can turn your home into a luxe optical illusion by hinting at higher ceilings through ingenious yet simple decor hacks. One simple way to accomplish this is through patterns that lead the eye upwards. An easy way to achieve this without drastically changing your space is through the drapery. Using curtains with vertical patterns can give your space some added height. 
Place the curtain rods at the highest point – as close to the ceiling as you can – so the curtains can appear longer. The opposite is true of your furniture and wall art. Ensure that your furniture pieces are lower to the floor to create more space on the walls. Your wall accents can also be arranged closer to the floor to create ample space above it. If you're in the market for more accents for your living space, long pieces are a great way to elongate the space. Plants with more height than width, tall vases, basically any item of furniture that pulls the eye line upwards. It's also a great idea to place taller items in the corners of your room or line the walls for more space. Floor mirrors, which will bounce light around your space (when positioned opposite your primary light source), are another great option for making your ceilings appear higher.
Use a slipcover to bring your couch to life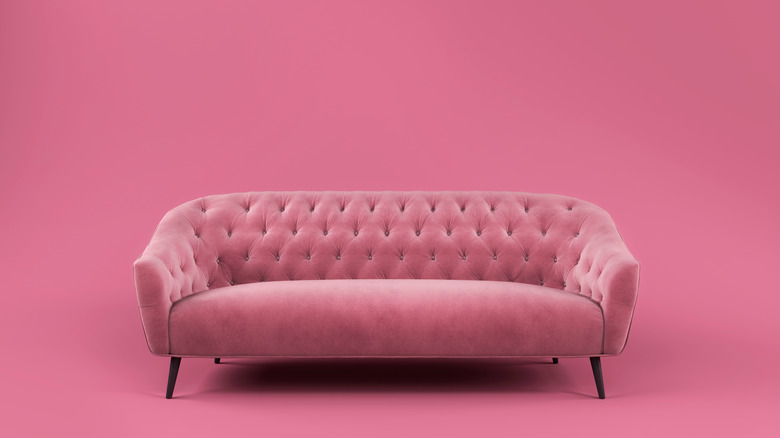 Arkhipenko Olga/Shutterstock
If you've had your sofa for a while, signs of wear and tear are expected. Very unglamorous. It might be time for an upgrade, and there's an affordable hack that makes the task less daunting. Enter the slipcover. A slipcover is a fabric designed to fit and protect your sofa. It's a convenient way to keep your sofa clean and a great opportunity to upscale your space. With a slipcover, you don't have to invest in a brand-new sofa. Instead, all you need to do is pick a design that suits your needs. If you're after an affordable luxury hack, this is a great place to start. The advantages stretch beyond an easy clean – it's a great way to keep reinventing your space, depending on your mood.
If your home lacks a bit of color, a slipcover is an easy way to brighten things up. Feeling adventurous? Opt for a bold color that livens up your space and draws attention. Pantone's color of the year is "Viva Magenta," an energetic color that will reinvent your space in seconds. You can find this in silk or velvet for even more of an opulent feel. For a subtler, unfussy aesthetic, choose a tight elastic option that perfectly fits over your sofa. It offers a clean, minimalist look that complements the whole room. When considering slipcovers, the first step is to understand the type of sofa you have. Do your research on the best covers for that specific design.
Mirror, mirror on the wall (or floor)
New Africa/Shutterstock
A luxurious space engages all the senses without overwhelming them. Subtle notes of lavender or peppermint might fill the air. Perhaps the sound of nature permeates the space creating a sense of relaxation. Your sense of touch is engaged through textured accents and layered pieces offering comfort and intimacy. And, of course, your eyes are drawn to the patterns and shapes, clean lines, and generous light. One of the best ways to emphasize the visual prowess of your home is through mirrors. These magic reflectors expand, brighten up, and add flair to any room.
With so many shapes, sizes, and types, mirrors are a great opportunity to luxuriate your space. With a full-length mirror, you can add drama to any room in your home, elongating your space and bringing in ample natural light. Stay on trend this year with a curved floor mirror, which you can casually lean against an empty wall. This is an unfussy way to elevate the space. For added pizzazz, why not place it opposite a statement piece (but adjacent to your primary source of light)? If you're hanging mirrors on a wall, place them at eye level. The appropriate height is 48 to 50 inches (via Perfect Picture Lights) off the ground, six inches above furniture if that is where it will be placed. If you're using a mirror to decorate above a mantel, plan to hang it about four inches above the surface.
Decorate with house plants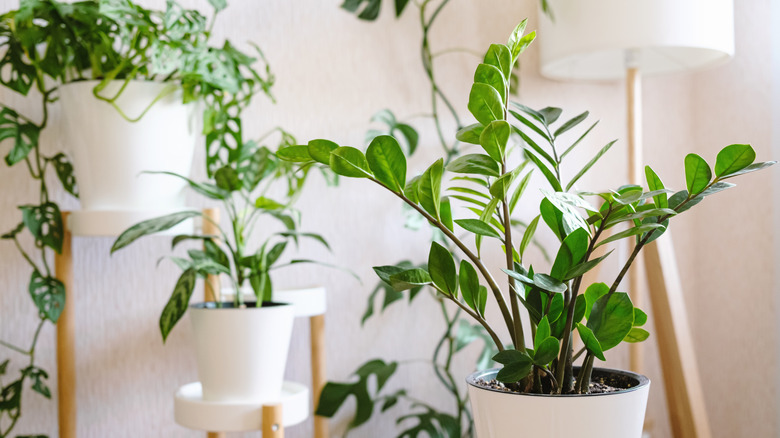 Kseniia Soloveva/Getty Images
Greenery and luxury go hand-in-hand, so you'll want to add plenty of houseplants to your space. When decorating with houseplants, you'll need to consider some things. How much light does the room get during the day? How much time are you able to dedicate to the plant's upkeep? What kind of aesthetic are you going for? These will help you narrow things down considerably and make it easier to select the perfect plant. If your home doesn't get a generous amount of natural light, then you're going to want to choose a plant that thrives in low light. A ZZ plant, spider plant, peace lily, or aglaonema are great starting points. You'll also find that a number of low-light houseplants are also easy to care for, making them the best option for plant novices or people with busy schedules. Add the bamboo tree, aloe vera, and cast iron plant to your list.
Tall plants are a great way to add some drama to your space. With its dark green leaves, a velvet cardboard anthurium plant will elevate any room. If you want to make your space a little moodier, this is a great way to go, but be aware it does require attention and care. Another plant that oozes opulence is the black elephant ear plant. This large, dark purple-leaved plant is a great addition, especially if you wish to draw the eye up, as they can grow up to six feet tall if allowed. Place near a good light source and keep the soil moist in the summer. They can also grow wide, so this plant is best suited for an area without competing for space.
Fluff up your towels and robes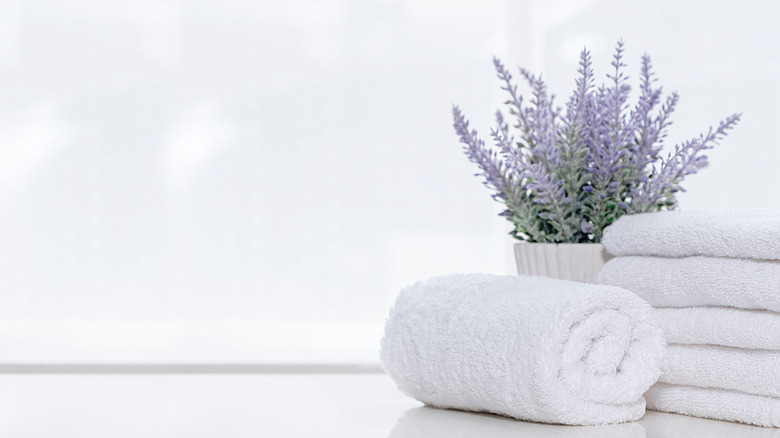 nampix/Shutterstock
Take a look at your towels and robes. What state are they in? It might be time for a new set if they seem a bit drab or lacking in fluff. When we think about easy luxury – hotels and spas, for example – we often don't consider the fluff factor of towels and robes until we put them on. Upgrading your towels is a great way to make your bathroom feel more luxurious. The heavier the towel, measured in grams per square meter, the plusher it will be. This is where the fluff resides, and it's great for that spa feeling after a shower. 
As with anything you wish to last long, maintenance is key. Believe it or not, using dryer sheets or too much detergent and fabric softener could be causing build-up on your towels, leading to a thinner fabric over time. Also, ensure that you're letting your towels dry properly before folding them away, as not doing so can lead to mold and mildew. Not part of the luxury agenda. The same goes for your robes, hand towels, and even your bath mat.
Upgrade your entryway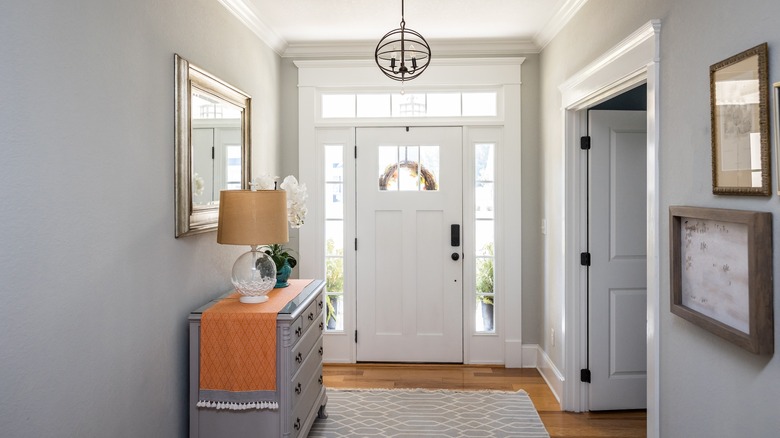 Ursula Page/Shutterstock
If you have an entryway or foyer, a great way to add luxury could be by redesigning that space. This doesn't mean you have to buy new furniture items or accents. It's sometimes as simple as rearranging the space. Your entryway is your reception, the first glimpse of your home, and as such, should offer a sneak peek of what's inside. Keep it simple, keep it light, and have fun with it. Depending on the size of your foyer, clutter could become an issue. If you don't have a designated closet at the entrance, a clever way to solve the problem of too many coats is by only keeping your everyday outerwear in view. The rest can be stored away until they're ready for use. This drastically opens up the space and lets more light in.
What are the key components of a luxurious entryway? Start with a console table free of knickknacks and trinkets. These tables are sleek and narrow and work well with small spaces, so don't overwhelm them with too much stuff. A hanging mirror is great for opening up a small space, especially when placed opposite a lighting fixture. Speaking of, if your foyer doesn't get a lot of natural light, you can also brighten up the area with a lightbulb that mimics sunlight. You don't spend a lot of time in the foyer, but a small bench or stool would be a great addition as it gives you somewhere to sit when putting on or taking off your shoes.
Style with art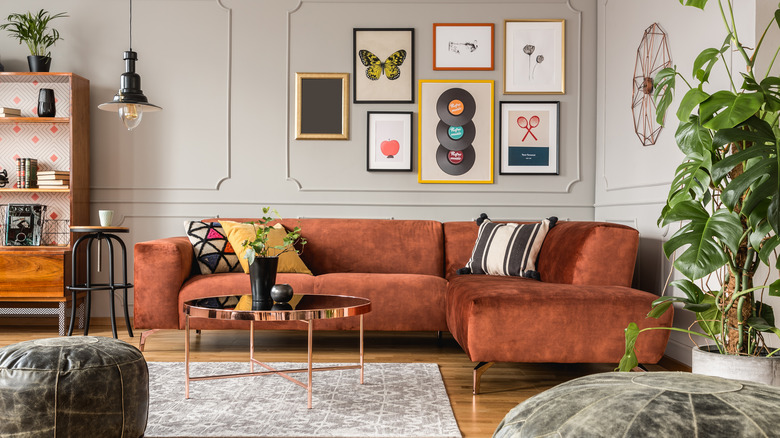 Ground Picture/Shutterstock
Creating a luxury space still requires your personality to shine through. One of the ways you can elevate a space while showing off who you are is through art. The great thing about good art is that it's subjective. Meaning if you like it, we love it. Whether it stands alone in your living room or hangs above your bed, art breathes life into any space in the home. How do you style your home using art? It's simple. You want to start with the "Hero" piece. That statement piece in your abode draws attention and pulls the room together. It doesn't even have to live on a wall. Your hero piece can be a sculpture or another type of art piece. Whichever you choose, make sure it speaks to you.
A gallery wall is an easy way to infuse art into your home for a luxurious feel. Start by deciding on a color palette for your wall. If you're happy with your wall color or cannot change it, you can use the frames to spruce things up. Once that's settled, gather your frames. Your first frame will act as the anchor and should be big enough to do that job. Play around with horizontal and vertical frames of different sizes but ensure that the spaces between each frame are equal. This is crucial to the overall aesthetic. Wonky framing is decidedly unchic. If you already have plenty of art in your space, a great way to upgrade the look is by painting your frames. This cheap and cheerful DIY method will refresh your room in minutes.
Lean heavy with the metal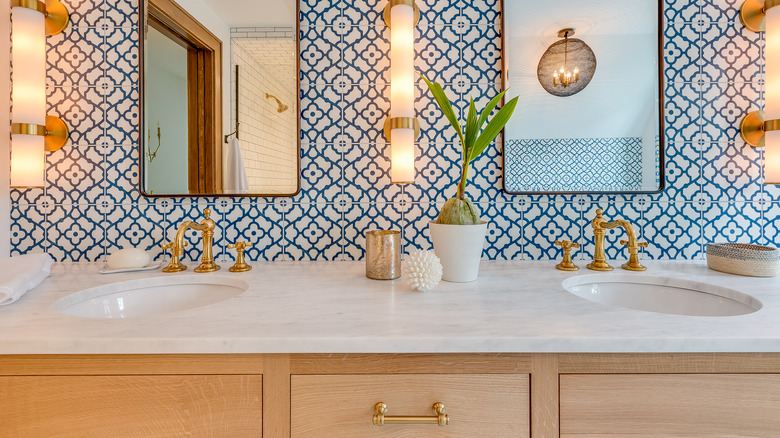 Pc Photography/Getty Images
There has been a lot of talk about neutral colors, soft palettes, and minimalist aesthetics, but more about metal is needed. From cabinet handles to lighting fixtures, you'd be hard-pressed to find a luxury home that doesn't feature some form of subtle metalwork. Lean into the possibilities to upgrade your space. There are no strict rules when it comes to mixing metal in interior design. So you can mix black-painted steel chairs with copper lighting fixtures for a playful yet chic look. Metal works well with many trends and is a fun element to explore. 
Copper and brass are great metals to pair with wooden furnishings to elevate your rustic aesthetic to the next level. Even your antique finds will benefit from metallic handles or accents. For example, lamps with a jeweled base would look gorgeous on a vintage dark wood side table. That being said, knowing what metals work best in your space is always best. Using silver metals in white or neutral spaces may dull the space, whereas gold and bronze would pop. And, if you can't afford any metallic upgrades, why not try spray painting furniture handles with a metallic finish?
Add layer and texture with throw rugs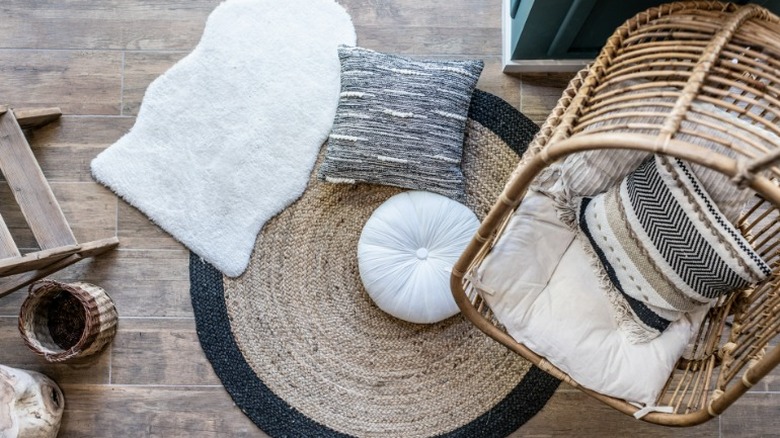 Julien Lanoy/Unsplash
Rugs are always in style, and nowadays, there are so many fascinating ways to style them in the home. Throw and accent rugs are the two types commonly found in the home. Here's how you can turn your comfort fabrics into luxury pieces. As its name suggests, the throw rug is more portable,  and is often on the smaller side; around three feet to five feet for a standard throw rug. Accent rugs are slightly bigger than throw rugs at four feet by six feet, but smaller than area rugs. 
Both of these smaller rugs are great for adding texture to a space without taking up too much of it. Don't think too small with whatever rug you choose. Your accent rug, for example, doesn't have to be limited to the floor. It can be placed on your wall as an art piece. You can even set it down in the kitchen to bring some comfort to the space. Throw rugs can be placed anywhere you need a little added color, texture, or softness. 
Add a feature wall with wallpaper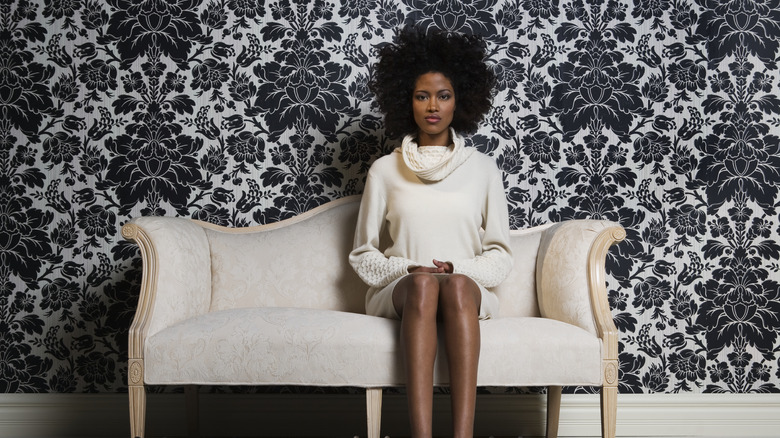 Leonard Mc Lane/Getty Images
Wallpaper has stood the test of time thanks to its versatility and adaptability. It can be psychedelic, it can be moody, and edgy, and it can exist somewhere in the middle. You get to decide what it looks like and how to use it. Wallpaper is particularly helpful if you can't or don't want to paint your walls. Using wallpaper to create an accent wall is a fun way to go. Your accent wall is the first wall you see when you walk into the main space. It's the wall that pulls focus first, so let its shape and size determine which way you go. 
Next, you want to decide the kind of wallpaper you'd like to use. If you're after the "wow" factor, something bold would work best for you. Opt for patterns that call to mind the pizzazz of the 70s, or choose a color that pays homage to the brightness of the 60s (or 80s... if your dare). Your wallpaper feature isn't restricted to just the living room or bedroom. You can add luxury to your bathroom by plastering a unique wallpaper – perhaps one that features pastel colors and fun patterns – on the wall where your mirror hangs. Putting up wallpaper is something you can do yourself and for an affordable price. All you'll need is the wallpaper of your choice and some tools – a pencil, a smoothing brush, a paste brush, a cutting blade, and a straight edge.