A Design Expert Explains Why Color Coordinating Your Rooms Is A Foolproof Decor Strategy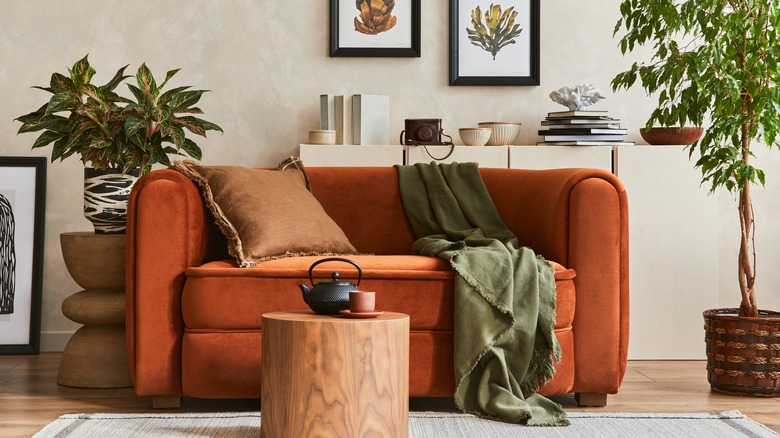 Followtheflow/Shutterstock
Whether you're designing a nursery, living room, or bedroom, decorating a room based on a simple color scheme is one of the oldest tricks in the book — and a classic technique for good reasons. Not only is color coordinating easy to achieve and maintain, but according to home staging expert and interior designer Jennifer Burt, setting a unique color scheme in each room will help you create a cohesive vibe, decorate your home on a budget, and resist future impulse buys. 
If you're struggling to make your room look complete, especially without spending too much, you need to try color coordinating your rooms. Burt tells Real Homes, "I learned this trick when I moved from a tiny Manhattan apartment to a three-story home during the recession and had to decorate on a tiny budget." However, there's a big difference between a balanced color scheme and a monochrome eyesore. Here's Burt's advice on the best way to envision your color scheme and the steps you can take to achieve the coordinated look without overdoing it. 
Perks of a coordinated palette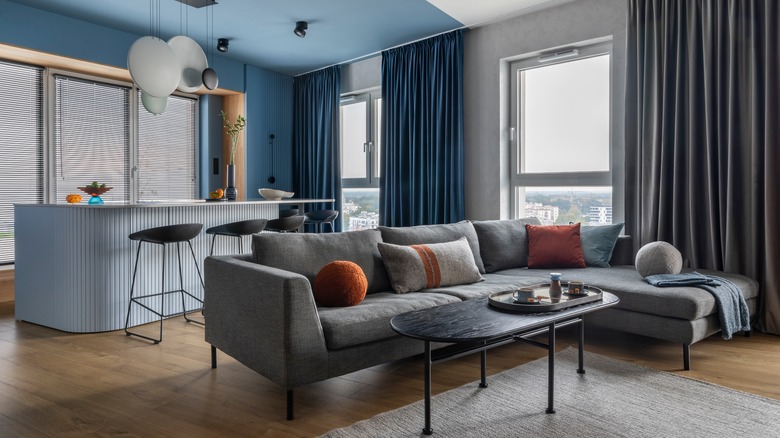 Followtheflow/Shutterstock
Designers have used a "60-30-10" rule for years, where 60% of the room features the main color (often a neutral), 30% contains the accent color, and 10% incorporates small pops of another complementary color. Afraid of being boxed into a theme? When color coordinating your home, you don't have to pick one scheme for your whole house. In fact, mixing colors up between rooms is an excellent way to keep things interesting, explore your many design moods, and ensure each corner has its own vibe. Jennifer Burt explains, "My foyer had artwork with green in it as well as green decorative boxes on the console table, the home office had orange and brown textiles and all the wood-framed pictures we owned, and the living room was a mix of pink coffee table books and black and white accessories" (via Real Homes).
Color coordinating isn't just a fun and simple design technique, it's also a very practical way to make your home feel full and vibrant without spending too much money or making it looking cluttered. When you only bring in items that fit the room's color scheme, you can more easily say no to unnecessary purchases. As Burt puts it, "Sticking to a color scheme kept me from impulse buying just because I liked something!"
How to implement your color scheme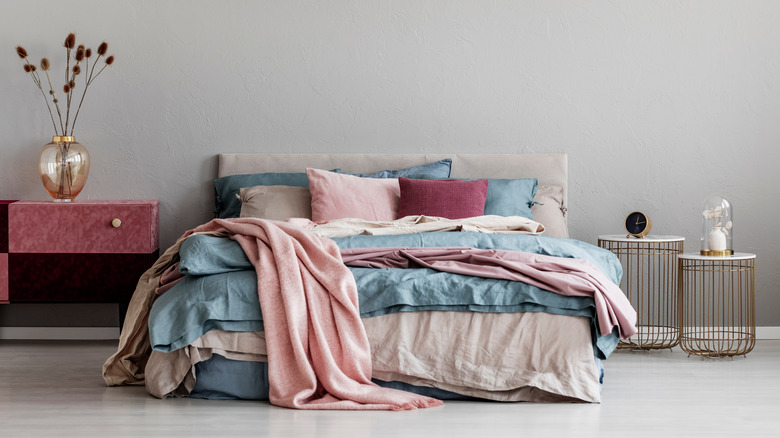 Ground Picture/Shutterstock
Start by drawing up a simple floor plan or making a list of rooms in your house, then pick a color scheme for each room. Do you tend to gravitate toward flexible, reliable shades like neutrals, or do you always opt for your favorite hue whenever possible? It may help to have one continuous color throughout the home, such as white or what Jennifer Burt refers to on her website as "tinted neutrals," simple shades with a touch of color. Once you've got your unifying shade, play around with accents. A scheme with one neutral and two accent colors will look balanced and appealing. For example, you could have beige, pink, and navy in the bedroom and beige, blue, and green in the kitchen.
When out shopping, think to yourself: I love this pink vase, but the only room with pink is my bedroom. Is there a place for this vase in my bedroom? Or does it come in another color? You don't need to overhaul your whole home or go on a shopping spree to fit your new color scheme. Instead, take a look at the items you already own. Burt tells Real Homes, "One of my favorite free design tips is to shop your own house!" Instead of buying new things, be resourceful and rearrange books, décor, and more to fit into the color scheme of each room.