Bed Bath & Beyond Announces Bankruptcy And Plans To Shut All Stores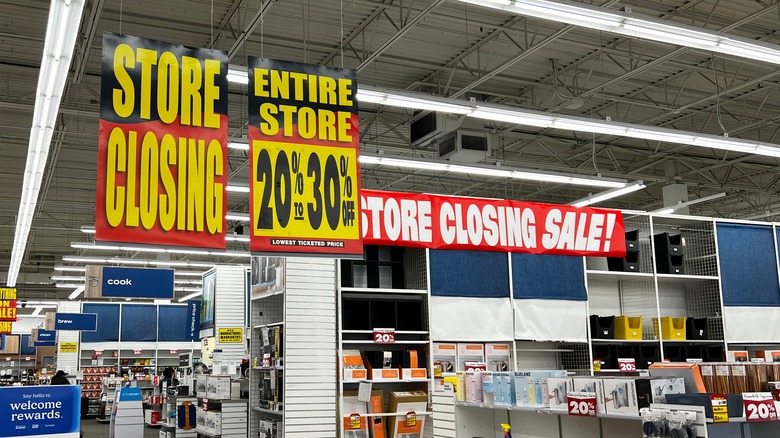 On The Run Photo/Shutterstock
Popular American home goods chain Bed Bath & Beyond filed for bankruptcy at the beginning of this week. The big box store, known for its wide variety of furnishings and household effects, will keep its online sites running and many brick-and-mortar locations open for the time being. Most stores will be shut down gradually as closing sales start. The company was founded in 1971 and expanded to other countries including Canada and Mexico. However, at the beginning of the pandemic, hundreds of stores all over the U.S. were closed in earlier attempts to stay in business. Now, CNN reports that the company is trying to find a buyer before it has to be fully liquidated.
"Thank you to all of our loyal customers. We have made the difficult decision to begin winding down our operations," reads a message on the homepage of the company website. It reiterates that Bed Bath & Beyond and buybuy BABY stores will continue to operate.
What customers need to know
acarter89/Shutterstock
Bed Bath & Beyond always offered deals and opportunities to save, and there will be even more opportunities during the closing sales starting immediately. Customers have until April 25 to use any 20% off coupons while other coupons will remain valid through April 26. Anyone who made purchases before April 26 will have until May 24 to return them; after that all sales will be final. The last day to use gift cards will be May 5.
There will be no refunds for memberships, but you can keep using them until April 26. If you have Welcome Rewards, they are valid until May 15, however, no new rewards will be issued. Welcome Rewards+ store credit cards can be usual as normal. Sales made online and through the Bed Bath & Beyond or buybuy BABY apps will continue as usual. If you are registered with Bed Bath & Beyond, the good news is that those registries won't be affected, but know that a new platform will be developed to host them later on.