The Best Material For Your Ottoman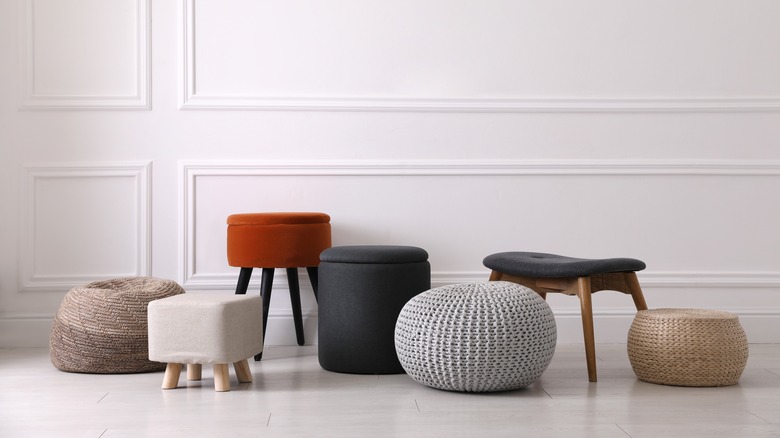 New Africa/Shutterstock
Some popular choices for ottoman materials are velvet, leather, cotton, linen, synthetic microfiber, vinyl, and polyester. The best material for yours will be based on factors like durability, comfort, style, personal preferences, and maintenance requirements. If you need something that will last and is easy to clean then linen or cotton are great options. If you want something with a luxurious appearance, opt for leather, or if this is too expensive vinyl is a good budget-friendly alternative.
Homeowners tend to opt for upholstered ottomans because they feel more comfortable to sit on, and can add style to a living space by matching with the materials or fabrics already present. Upholstery can also protect your ottoman from stains, spills, and general wear and tear. Alternatively, you can use slipcovers, which will allow you to experience a variety of fabrics, and you can switch them out for different seasons to keep them looking fresh.
The benefits of upholstered ottomans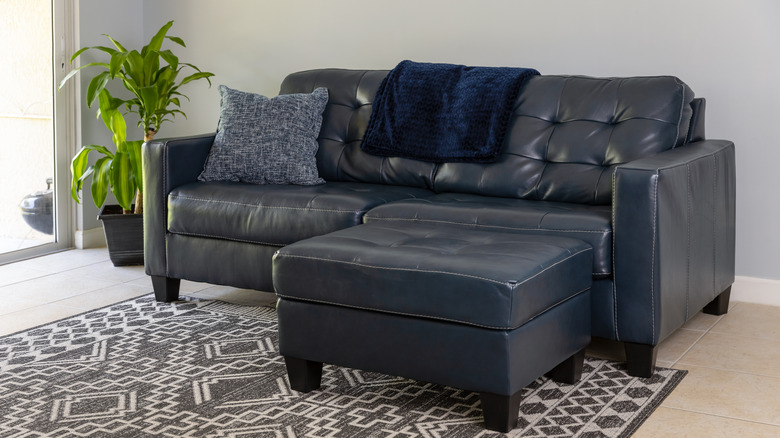 Ryan_hoel/Shutterstock
When choosing the right kind of upholstery for your ottoman, there are a few things to keep in mind. While plush materials like velvet are great for a more decorative ottoman they can be hard to clean and can lose their shine with age. Leather and vinyl, on the other hand, can withstand most spills and accidents, making them much easier to clean. Microfiber is soft and durable and can withstand staining, while polyester can withstand the effects of wear and tear like scratches, but can't handle any heat or oil well. 
In addition to the material itself, you should also consider the colors and texture of your ottoman. It doesn't have to be an exact extension of your couch or bed but it should look like it belongs in the space. To create a complementary look, you can match the shape, size, color, and style of the ottoman with the other furniture in your room, or choose something that stands out and makes a statement.
Without upholstery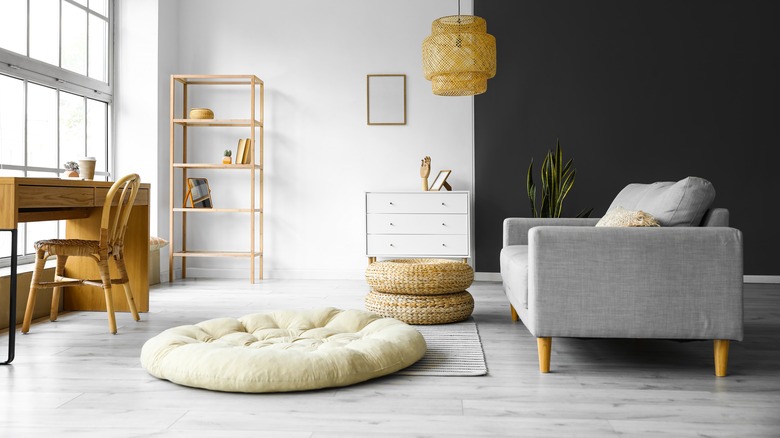 Pixel-Shot/Shutterstock
If you prefer an ottoman that isn't upholstered then materials like wood, wicker, or rattan are also highly-popular. This type of material is better for those who want a more natural, minimalist look or want the space to look more modern. Wooden ottomans are sturdy and come in a variety of finishes that can be customized to fit your style. Wicker or rattan ottomans are great in rustic themes and are often used in outdoor spaces — by using these materials instead of fabrics, you won't have to worry about stains or dirt setting into your ottoman.
To strike a balance between the rawness of the wood and the warmth of fabric, you can decorate your ottoman in various ways. A throw blanket can add some coziness, or you can choose an ottoman with a soft cushioned top, which gives you a cozier version of a coffee table that you can still sit on. Alternatively, you could try adding a small tray of indoor plants that can be easily moved when necessary.