TikTok's Aesthetic Room Trend Leaves No Decor Idea Behind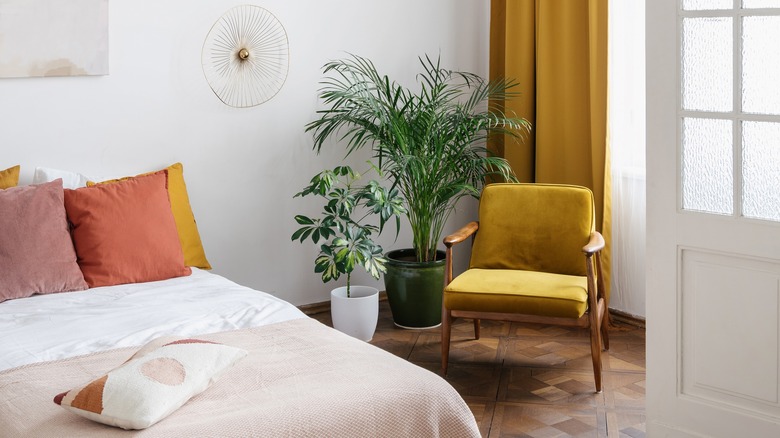 brizmaker/Shutterstock
When planning the home, it is standard to have one décor theme to design around. Some of the most popular styles are classic, modern, country, rustic, bohemian, and art deco. A homeowner can commit firmly or loosely to a theme, but the elements of the style they choose will reveal their design inspirations and give an insight into their creativity. The TikTok aesthetic bedroom trend, however, is allowing room for much more creativity as people are no longer sticking to specific styles.
Instead of the fixed, traditional décor styles that we're familiar with, TikTok users show so many ways to blend trends and combine various décor ideas. The concept of having an "aesthetic room," as inspired by this content, is then focused on the feeling of the bedroom as a whole and the inclusion of anything you'd like, as opposed to being within one particular theme. This TikTok is one example. The creator's room is mainly white with other neutrals but also has a lot of greenery, personal art pieces, and retro elements like a clock and computer keyboard.
How to create an aesthetic room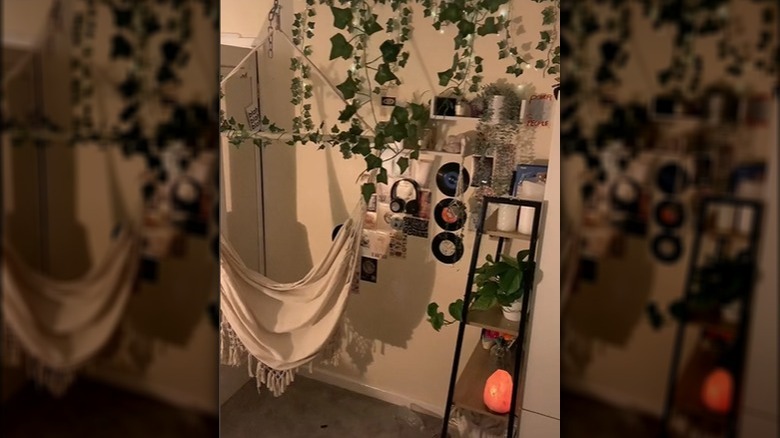 TikTok
While you can always draw on inspiration from the endless aesthetic room content out there, your room should be set up in a way that makes you happy and suits your own needs instead of being based on what others like. Keep these three things in mind when designing: your aesthetic room should show your personality, be comfortable, and look beautiful.
If you like to keep sentimental things, you can curate or create your own collection of prints, photos, paintings, and other artwork and arrange them in an aesthetic wall collage. If you like working with your hands, you can set up a canopy bed, build things like a unique table, chair, or headboard, or find ways to repurpose or upcycle items. You can also use wallpapers of images you're drawn to or colorful accent walls to beautify the space, while a cloud couch or task chair can add comfort, convenience, and style.
Common trend blends and elements
One popular aesthetic room décor trend blend you will find on TikTok is the boho chic minimalist style. It typically involves incorporating natural materials, woven textiles, earthy colors, and eclectic patterns by keeping the color schemes, lines, and organization simple and clean. This way, the personality can shine through, but the space still has a strong sense of calm and simplicity. Another trend blend is grandmaximalism which combines the known styles of grandmillennial and maximalism. As this TikTok shows, grandmaximalism involves whatever you want, from cottagecore elements of natural, rustic items and plants to various types of art like framed graphic prints, plushies, and other small toys.
Some common elements of an aesthetic room right are good lighting, great organization, and a lot of greenery. Fairy lights can create a cozy and magical atmosphere in the bedroom, while natural light is great to open up the space during the day. Keeping the room organized, especially work desks and study areas, with smart home technology and stylish accessories, makes it more functional, comfortable, and pleasant to be in. Indoor plants and gardens are always trendy, and there are numerous ways to create aesthetically pleasing arrangements.