18 Ideas To Make Your Unfinished Basement More Welcoming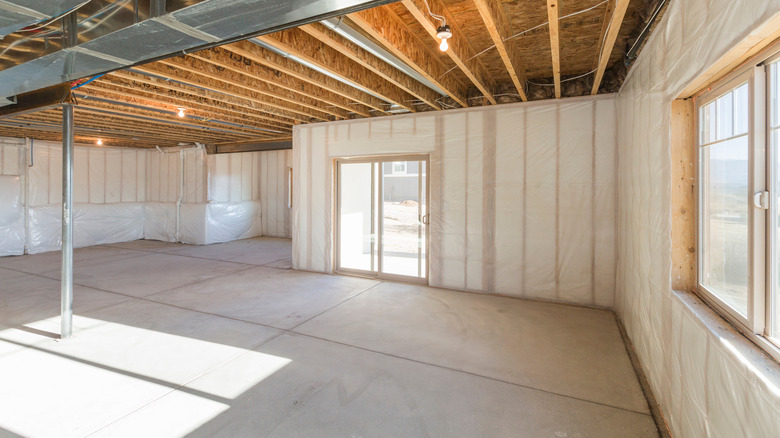 Neil Podoll/Shutterstock
We understand a full basement remodel may not be in the works for you yet, so we've gathered 18 ways to create a warm and welcoming environment without dropping thousands of dollars. Think about it; this space is likely being used as a sloppy way to store away tools, bikes, seasonal wardrobes, and more. When instead, it could be used to entertain guests during a party, watch exciting movies with loved ones, or as a play area for your children.
There are a plethora of ways to achieve a cozy atmosphere in an unfinished basement. One way is to create a sense of brightness by hanging up a few string lights along the ceiling or around exposed beams. Since basements typically don't have many light fixtures, this tactic can be used to easily add light to different areas of the underground space. For an extra cozy effect, we suggest connecting your string lights to a dimmer to control the type of ambiance it creates. However, the ideas don't stop there; we have plenty more to show you.
1. Wipe away dust and dirt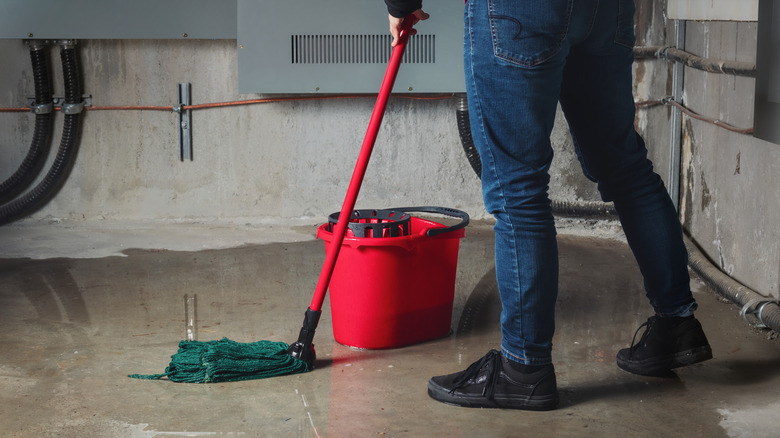 Petra Richli/Getty Images
First things first, you've got to clean up your basement, whether that's by dusting surfaces, mopping the floor, or sweeping up dirt. It's important to create a clean and fresh space before you start laying down the décor. 
2. Divide the space with curtains
If your basement is unfinished, chances are its openness and lack of walls make the space feel cold. If you'd like to close off different areas, we suggest creating division by hanging drapery along the ceiling. We encourage choosing something light and airy to avoid the feeling of a heavy and dark space. 
3. Lay down an area rug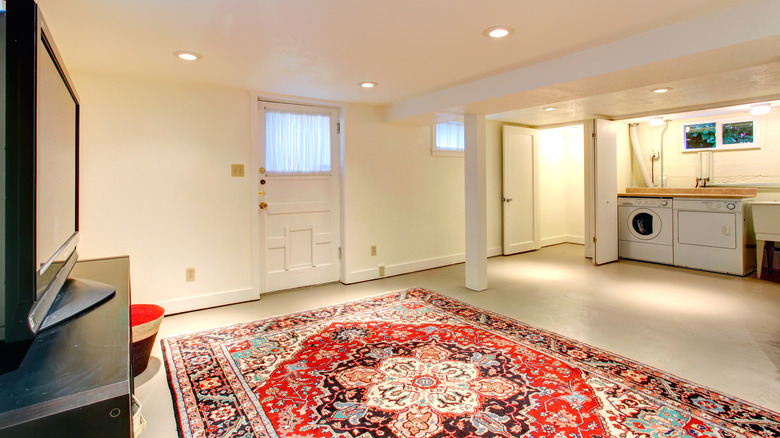 Artazum/Shutterstock
Not only does adding an area rug to an unfinished basement create a warmer and more intimate space, but also a base where you can easily create a comfortable seating arrangement. 
4. Choose durable seating materials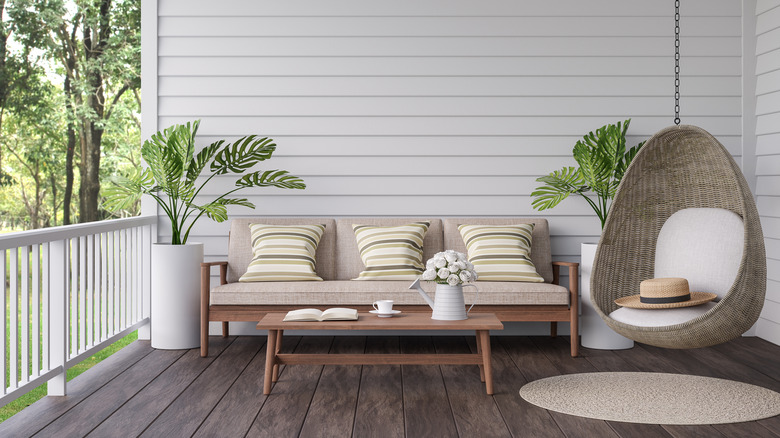 Runna10/Getty Images
If you do decide to create a comfortable seating arrangement, we advise choosing outdoor furniture because its moisture-resistant features will work best in a basement environment. 
5. Choose colorful foam play mats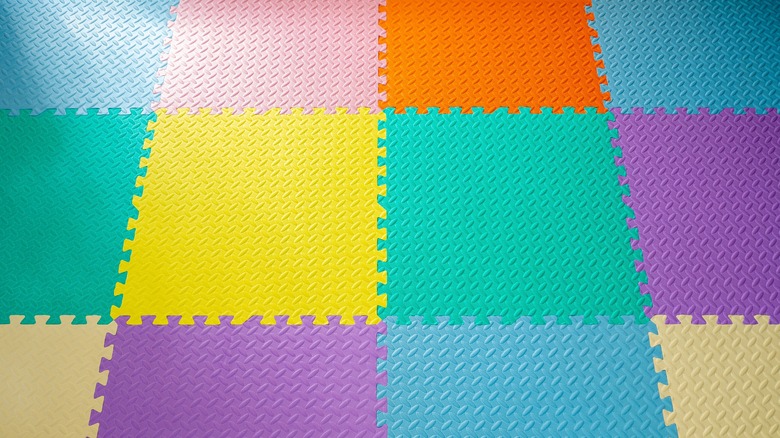 Jitti narksompong/Shutterstock
If you haven't had the chance to install some cushiony carpet to soften the blows of rough-housing children, we suggest laying down foam mats! Any color will work, but vibrant hues will evoke a more cheerful environment in the basement. 
6. Splash on a fresh coat of paint on the cinder blocks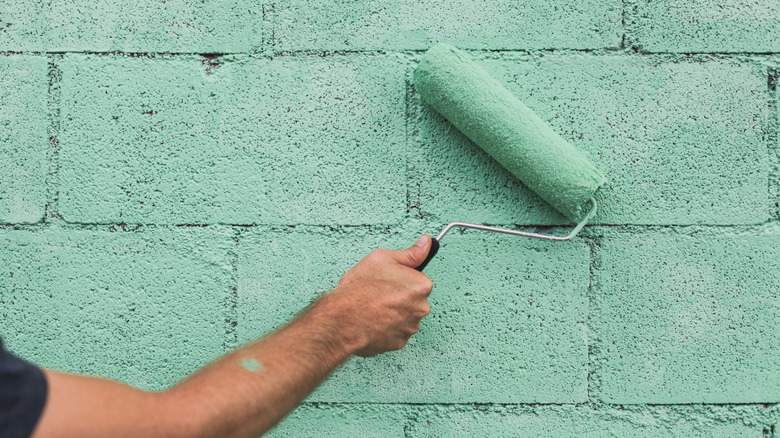 Kyle Lundquist/Shutterstock
Having gray cinder blocks installed throughout your basement is less than ideal when you're trying to accomplish a bright and welcoming aesthetic. A quick solution is simply giving them a fresh coat of paint! The options are endless, depending on the color scheme you've envisioned for the space. 
7. Add color to the rafters
If you're going to paint the cinder blocks, you might as well paint the rafters, too! Here, the rafters have been painted black, creating a moodier ambiance. However, you can choose a much lighter color if your goal is to create the feeling of a brighter and larger room.
8. Hang fabric onto the ceiling
If you'd rather not see exposed beams and pipes, you can easily cover them up by draping fabric onto the ceiling. Any color will suffice; however, neutral shades will keep the space looking calm and relaxed. 
9. Yes, you CAN paint the floors, too!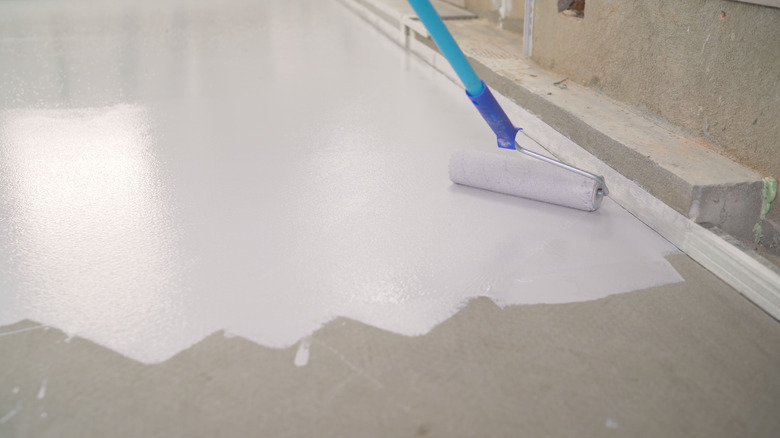 Sidorov_Ruslan/Shutterstock
Unless you're going for an earthy, contemporary feel, gray cement floors may not be your thing. Luckily, you can make a quick change by slathering on a coat of paint with your color of choice to bring about a more upbeat feel. 
10. Invest in a dehumidifier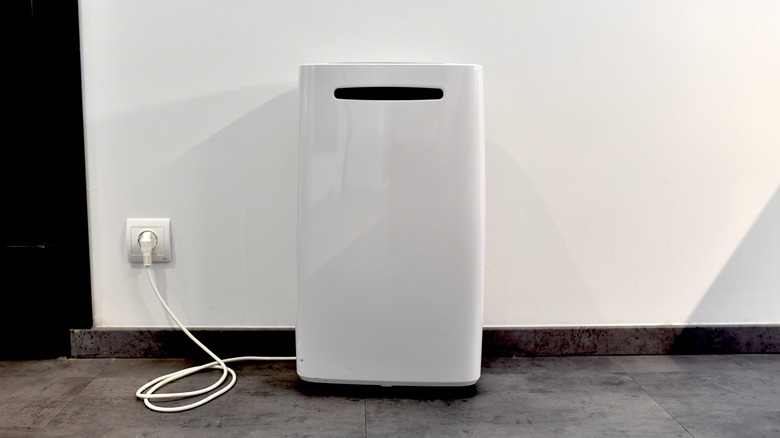 Patricia Perez R/Shutterstock
Let's face it; unfinished basements tend to emit musty smells that are not very welcoming. This is because this area is usually a bit more humid than the rest of the home. To combat this issue, it may be wise to invest in a good dehumidifier. 
11. Create an organized storage system
As we mentioned before, the basement often becomes the space where random junk is hidden away. If you're hoping to create an uncluttered area, it's important to develop an organized storage system where everything has its own place. Here, bins have been labeled and neatly placed on shelves to keep items out of the way.
12. Create a DIY space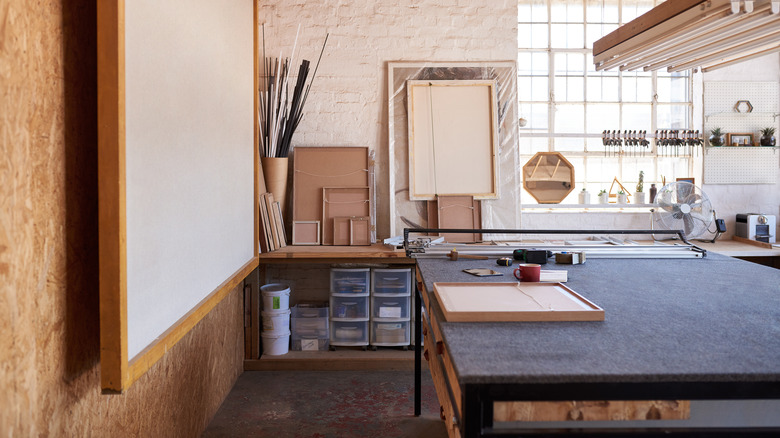 mavo/Shutterstock
If you're a fan of DIY, an unfinished basement can become your safe haven by creating a workbench with all of your necessary tools!
13. Hang artwork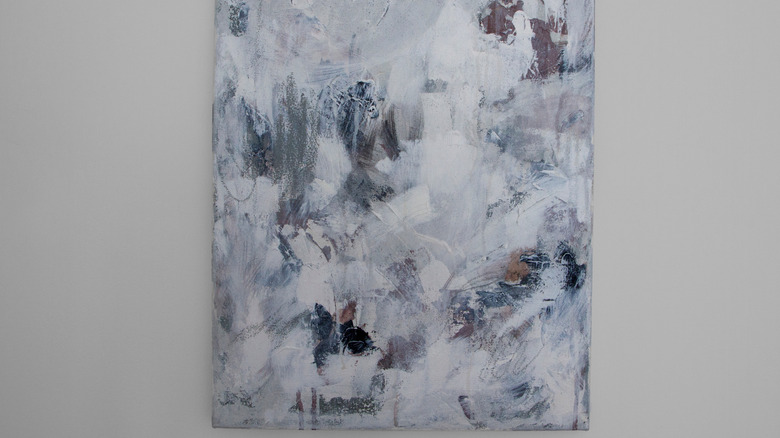 Gonzalo de Miceu/Shutterstock
Those with drywall in their unfinished basement can take advantage of it and hang some artwork! You can either choose something that will add personality to the space or something that will complement the aesthetic of your home.
14. Add wallpaper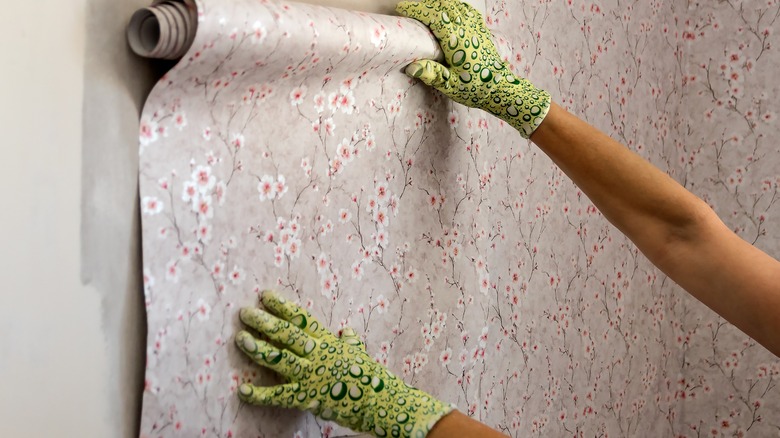 Ludmila Kapustkina/Shutterstock
If art isn't creating the energetic vibrancy you desire for your basement, we suggest hanging up wallpaper instead, featuring playful patterns, such as floral, Chinoiserie, or bold stripes!
15. Install a projector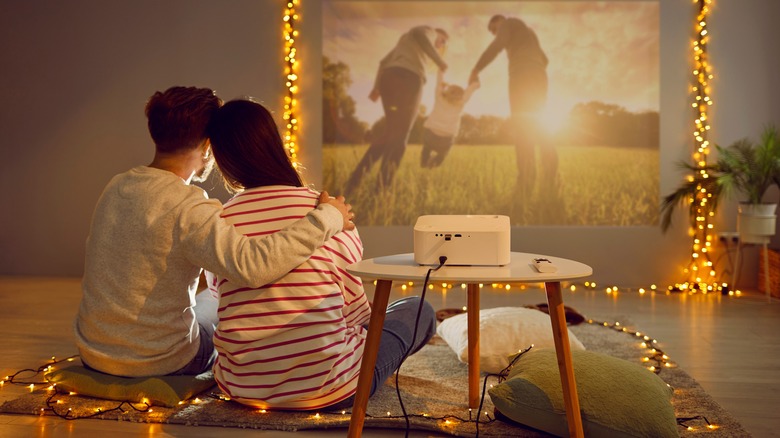 Studio Romantic/Shutterstock
Movie nights with friends and family can be a fun and cozy experience you can enjoy even in an unfinished basement. As long as you have some comfortable seating and a projector, anything is possible.
16. Add a runner to the basement stairs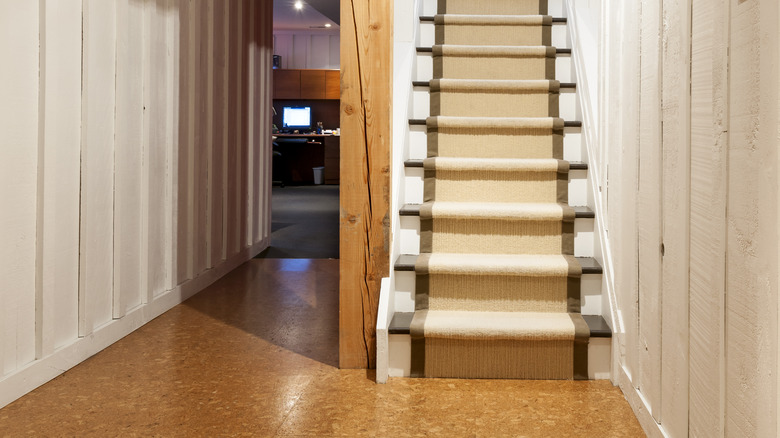 Elena Elisseeva/Shutterstock
Although it's important to implement several cozy elements within the unfinished basement space, it's also important to pay attention to the stairs. This is the first thing your guests will see, so adding a runner can be an easy way to introduce some color or add some cushion to each step.
17. Add pattern to the stair risers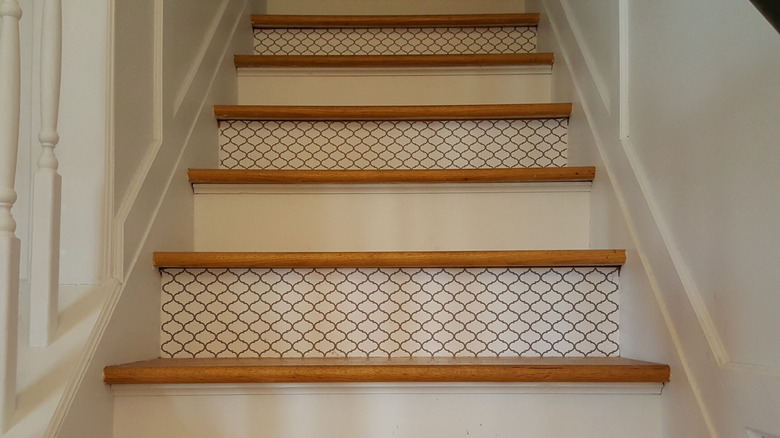 Scott Glasgow/Shutterstock
Those of you hoping to avoid vacuuming a staircase runner can opt for peel-and-stick decals you can place on the risers. There are many patterns to choose from, and this example shows you can also try different application methods, such as placing a pattern on every other riser.
18. Convert it into a wine cellar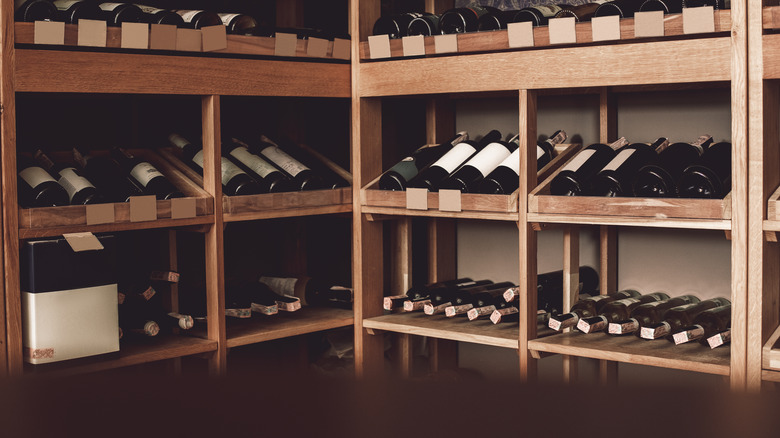 Viktoriia Hnatiuk/Getty Images
If you're an avid wine collector, your unfinished basement can become the perfect space to store your supply. But be careful; creating a stylish storage wine system and a sitting area where you can enjoy a drink with loved ones may make it to where you'll never want to leave.